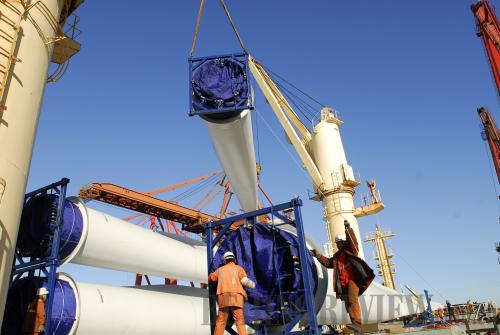 PROMISING EXPORT FUTURE: The China National Materials Group Corp. Ltd. prepares to ship a batch of wind power components to India. China's crisis-stricken export sector has recouped its strength since the financial crisis of 2008 (HU MING)
The World Bank released its Global Economic Prospects 2010 in June, saying global economic recovery is advancing with developing countries leading it. But high-income countries' debt is clouding this outlook. Is the recovery sustainable, especially in the midst of the EU debt crisis? And to what extent are developing countries contributing to the world recovery? In an interview with Beijing Review reporters Yu Shujun and Hu Yue, Hans Timmer, Director of the Development Prospects Group of the World Bank, shared his views on these issues. Edited excepts follow:
Beijing Review: The Global Economic Prospects 2010 said global medium-term prospects are for a modest recovery. Will this be a trend for the rest of the year?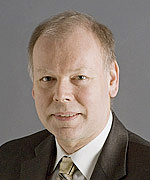 Hans Timmer
Hans Timmer: The crisis that the global economy is emerging from has been unusual in both its depth and its scope—more countries experienced a simultaneous slowdown than ever before. As a result, we have an unusual recovery as well.
It is difficult to achieve above-trend growth, which would be needed to undo the damage done in 2009. Despite industrial production and international trade bouncing back so quickly, the pace of the recovery is expected to ease during 2010 and, as a result, growth in developing countries is expected to be somewhat slower in 2011 than in 2010 (6.0 percent in 2011 compared with 6.2 percent in 2010.) That we can qualify 6.2 percent growth in developing countries as a modest recovery is revealing of the progress made by developing countries over the past several decades. Compared with the last few years and the underlying growth potential of developing countries, 6.2 percent is relatively slow. However, compared with the 1980s and early 1990s, it is actually very fast (between 1980 and 1999 developing country growth averaged 2.9 percent).
And, it's not just China or India—even excluding these two countries, developing countries as a group are expected to grow around 4.5 percent in 2010, 2011 and 2012.
What are the main contributions of developing countries—believed to be a driving force for global economic growth—to the global recovery?
Developing countries have become a major driver of global growth, both because the size of their economies has increased (in 1980 they represented 18 percent of global GDP, but as of 2009 their share had increased to 28 percent of world GDP) and because they are growing more than twice as fast as high-income countries (6.2 percent for developing countries compared with 2.3 percent for high-income countries in 2010 according to our latest projections). As a result, developing countries represent more than 50 percent of the total increase in world production this year.
Because of that strong growth, developing countries' rapidly rising imports are contributing significantly to the recovery in high-income countries. In 2010, more than 40 percent of the increase in world import demand is projected to come from developing countries, and their share in global imports has increased from 20 percent in 1995 to 29 percent in 2010. Indeed, over the past three years, while growth in high-income countries has been export-led (exports rising more quickly than imports), for developing countries the reverse has been true, as growth has been powered by rising domestic demand.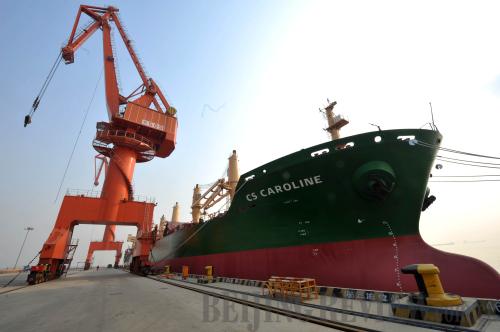 PILLAR FORCE: A ship docks in Jinjiang, Jiangsu Province. The province's vessel output has grown rapidly since last year. As the country's largest private shipbuilding base, Jinjiang accounts for 13 percent of China's vessel production and 4 percent of the global amount (JIN LIANGKUAI)
What role has China, the largest developing country, played and will play in recovery efforts? What can China do better?
China's economic stimulus measures have played a large role in supporting the global recovery. Strong import demand from China has helped jump-start the recovery in China, among its East Asian regional trade partners, and elsewhere in the global economy. In a very real sense, China led the global recovery. Its recovery started earlier and is maturing sooner than in other countries. The growth impact of fiscal and monetary stimulus is waning. Thus we see industrial production, import and export slowing toward more sustainable rates. Going forward we project GDP growth to ease toward 8.2 percent in 2012.
China is also playing an evolving role shaping global policy, both within the G20 and elsewhere.