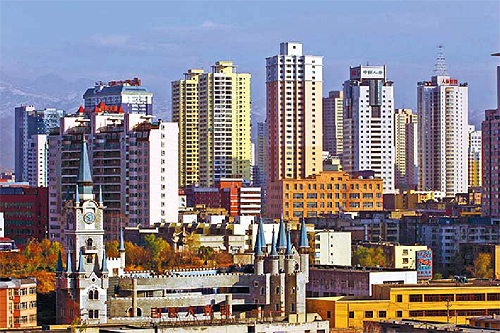 ECONOMIC PROSPERITY: Economies in China's western regions have picked up momentum. Urumqi, capital of Xinjiang Uygur Autonomous Region, is enjoying benefits from rapid growth (CFP)
China's economic growth has slowed, economic statistics released on July 15 show, confirming market expectations. But officials said the country's economy is still on track.
The recovery has gained traction in China, which registered a double-digit growth of 11.1 percent in the first half of this year.
"We will continue to implement the stimulus packages introduced after the financial crisis, adjust the economic structure and transform the growth pattern, while the economy is on track to recovery," Sheng Laiyun, spokesman for the National Bureau of Statistics (NBS), said at the July 15 press conference sponsored by the State Council Information Office.
Growth highlights
While maintaining a comparatively high growth rate, the Chinese economy has improved in growth quality in a coordinated way and reflected more flexibility in economic policies, Sheng said.
"GDP grew 11.1 percent, up 3.7 percentage points year on year, and the country has reaped its third best summer grain harvest, despite the fact that drought has caused grain losses of 400 million kg," he added.
Sheng said both domestic and overseas demand provided greater growth momentum for the Chinese economy in the first six months of 2010, measured by investment, consumption and imports and exports. China's fixed asset investment growth in the first half slowed a bit to 25 percent, compared with 33.5 percent in the same period last year. Retail sales of consumer goods maintained a high growth rate at 18.2 percent. Total volume of exports and imports recovered quickly in the first half, up 43.1 percent year-on-year, with imports posting a growth of 52.7 percent, said NBS statistics.
"Import increases are evidence of strong domestic demand, and economic growth represents a great contribution made by China to the global economic recovery," he said.
In addition, the consumer price index, a barometer of inflation, rose 2.6 percent year-on-year, reflecting moderate and steady price increases of consumer goods, effectively easing both deflation and inflation sentiments.
Employment also posted remarkable increases. While more than 5 million urban residents found jobs in the first half, about 6.32 million farmers joined the migrant workforce.
High quality also highlighted the economic growth. While fiscal revenues increased 27.6 percent, the profit of state-owned and non-public enterprises with annual sales exceeding 5 million yuan ($730,000) jumped 81.6 percent between January and May. The per-capita disposable income for urban residents rose 10.2 percent, while the real income for rural residents went up 12.6 percent.
Measures aimed to curb red-hot housing prices have also taken effect. Housing prices in 70 large and medium-sized cities slowed down in growth in June, down 1 percentage point from May. Measures taken to cut emissions and energy consumption have also kicked in. Both emissions and energy consumption have dropped significantly in energy-depleting industries since the second quarter.
Industrial performance
The industrial sector has continued the recovery trend, said Zhu Hongren, spokesman for the Ministry of Technology and Information Industry (MTII).
Industrial output grew steadily in the first half, while the gap between the growth of light and heavy industries narrowed month-by-month, and the growth of energy-depleting industries slowed down.
MTII statistics said the industrial value-added of state-owned and non-public enterprises with annual sales exceeding 5 million yuan ($730,000) rose 17.6 percent year-on-year, 10.6 percentage points higher than the same period last year. The industrial value-added of light and heavy industries went up by 13.6 percent and 19.4 percent, respectively, while the gap between the growth rates narrowed from 9.2 percentage points in January and February to 2.5 percentage points in June. Growth of steel, chemical and power industries dropped from 19.6 percent in the first quarter to 17.2 percent in the second.
The decreases in energy-depleting industries helped improve the industrial structure, sharpen the competitiveness of China's industrial sector and effectively cut emissions and energy consumption, therefore ensuring the sustainability of the economic growth, Zhu said.