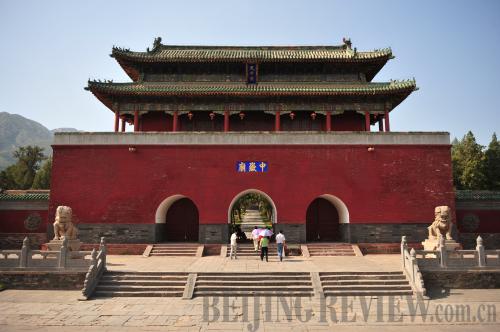 MAGNIFICENT AND SOLEMN: The Zhongyue Temple, built at the foot of the Songshan Mountain in the Han Dynasty (202 B.C.-A.D. 220), was the earliest base of Taoist activities in China (CFP)
A group of ancient architecture in Dengfeng, central China's Henan Province, was added to the world heritage list at the 34th session of the World Heritage Committee in Brazil on August 1 this year. The architectural collection is China's 39th property inscribed on the list, and the third world heritage site in the province after the Longmen Grottoes and Yinxu in Anyang, site of the capital of the late Shang Dynasty (1600-1046 B.C.).
It is the second time the ancient architectural group was presented to the heritage committee meeting. In 2009, it failed to be inscribed and was added to the candidate's list for the 2010 session.
Great value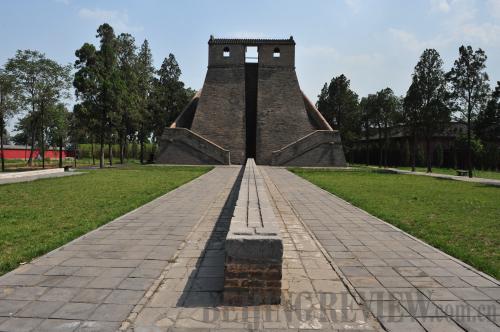 STAR GAZING: The Observatory of Stars built in the Yuan Dynasty (1206-1368) is the oldest astronomical observatory in China (CFP)
The group includes 11 ancient architectural complexes at eight historical sites in Dengfeng, a city located at the southern foot of the Songshan Mountain, one of the Five Sacred Mountains in China. Called the Central Mountain, the Songshan Mountain is a cultural and religious site and a symbol of Chinese mountain culture.
Most of the constructions are cultural relics under state-level protection in the Songshan scenic area. They were built in various dynasties—including the Han (202 B.C.-A.D. 220), Northern Wei (386-534), Tang (618-907), Song (960-1279), Yuan (1279-1368), Ming (1368-1644) and Qing (1644-1911)—and vividly present a history of central China's architecture of more than 2,000 years, containing highly valuable materials for historical, artistic and scientific studies.
The Shaoshi Towers and Qimu Towers, built in the East Han Dynasty (25-220), are the oldest state-level ritual venues, and the Zhongyue Temple and Taishi Towers (also built in the East Han Dynasty) are the most complete examples of the architectural pattern for ritual activities in ancient China.
The carvings and inscriptions on the Taishi, Shaoshi and Qimu towers, served as gates for entering into sacred areas, provide rare information for the studies on architecture, fine arts and society of that period.