In 2011, China will kick off its 12th Five-Year Plan (2011-15). Now, in this post-crisis era, how can the Chinese economy maintain sustainable growth? And where is the country headed in the next five years? With these questions in mind, Beijing Review reporters Lan Xinzhen and Yu Shujun interviewed Professor Hu Angang, Director of the Center for China Studies of Tsinghua University.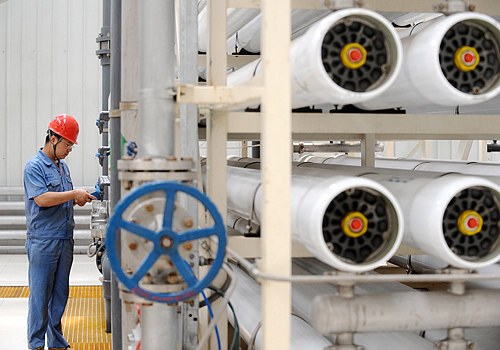 GREEN DEVELOPMENT: A worker processes factory sewage in Taiyuan Iron and Steel (Group) Co. Ltd. The sewage disposal equipment can recycle 55,000 tons of urban sewage (YAN YAN)
Beijing Review: Could you explain the domestic backdrop for the 12th Five-Year Plan?
Hu Angang: From 2011 to 2015, China will still be in its golden period of development. The fast trend for industrialization, urbanization, knowledge informationization, infrastructure modernization and economic globalization going on now are all inter-linked. They support and strengthen each other and are the five major forces driving China's development. The Chinese economy will continue to maintain relatively fast growth with a potential annual growth rate hitting 8-9 percent. The financial crisis has not swayed Chinese economic progress too much, although it has caused temporary difficulties. But this won't affect China's long-term economic growth trend. The crisis has in effect become strong evidence that China's ability to cope with external strikes has greatly improved over the years.
The 12th Five-Year Plan period is also a key period for China to shift its model of development to one with a scientific outlook. Global climate change has substantially changed the natural environment for China's development. China is one of the countries constantly hit by severe natural disasters. The frequent occurrence of bizarre climate and natural and environmental disasters that will constantly threaten normal economic development and people's lives will become the biggest obstacle for future development.
And adjusting income distribution will become another major task. The widening gap between the rich and the poor has posed a daunting challenge. Whether the gap can be narrowed or not directly affects social justice and stability, as well as the expansion of consumption demand.
Over the next five years, social conflicts will be mitigated. China will enter the middle-income era with more diversified interests of various social groups living side by side. With the government's enhanced ability to manage society, the social conflicts can be dealt with quickly and efficiently thanks to the expansion of public services and basic social security coverage.
What kind of international environment will China face during the 12th Five-Year Plan period?
During this period, peace, development (especially green development), cooperation (especially green cooperation), and scientific and technological progress (especially green science and technology) will remain as the trends of the time. Internationally, it is now a period of strategic opportunities for China's development, with the country facing more advantages than disadvantages. Meanwhile, uncertainties, and unstable and unsafe factors of the international environment are growing.
First, the world has entered the post-crisis era. The global financial crisis since the latter half of 2008 has led to negative growth in world trade and global economy. Now, the world economy is recovering, driven by a robust economic rally in emerging economies like China. A potential worldwide depression has all but been avoided. During the 12th Five-Year Plan period, the world economy and trade will enter a new period. Developed countries will continue to make progress slowly while developing countries regain their pre-crisis momentum. And now China is playing the role of the engine of global trade and world economic growth and investment.
Second, the global political and economic structure has entered a period of readjustment. Since the 1990s, the global economic unbalance has become more prominent, as mirrored in the fast growth in developing and heavily populated countries such as China and India. Their economic growth rates outpaced those of developed countries, which have led to substantial changes in the world economic pattern. According to the latest OECD (the Organization for Economic Cooperation and Development) report, OECD countries, mainly developed ones, accounted for 62 percent of the global GDP in 1990, and the rate dropped to 60 percent in 2000 with an annual decline of 0.2 percentage point. With the economies of Japan, America and Europe all but shattered by the crisis, global wealth has shifted with the rapid growth of non-OECD countries. The economic rise of countries like China and India has been profoundly influential on the global economic pattern. In 2010, the economic share of OECD economies is expected to decrease to 51 percent, with an annual decline of 0.9 percentage point. By 2030, if trends hold firm, the OECD countries' proportion in world economy will shrink to 43 percent, while the non-OECD countries rising to 57 percent.
The global political pattern has also undergone changes as multi-polarization has made significant progress. The United States is still the only super power, but is finding itself incapable of handling world affairs alone and has to cooperate with other major powers to share the leadership authority. After the outbreak of the global financial crisis, the G20 has become a major platform for the international community to conduct dialogue and negotiations on international affairs and to coordinate macroeconomic policies, which have enabled emerging economies to have a greater say in world economic governance.