On the Chinese side, its exported products are less expensive with relative good quality, which is conducive to stabilizing market prices of the importing countries, reducing inflation risks, and raising the purchasing ability and living standard of low- and middle-income groups.
"A lot of countries' economic development benefits from China's rising demand," said Zhao. Greater Chinese demand could help balance the world economy, he said.
China is also an emerging country with increasing outbound investment. It is actively expanding outbound investment and improving other countries' infrastructure. These efforts have contributed to employment and economic and social development of recipient countries. Ministry of Commerce figures show, in the first 11 months of 2010, domestic investors made direct investments in 2,786 overseas companies in 122 countries and regions. China's non-financial outbound investment amounted to $47.56 billion during this period.
Better performance
Next year, 2011, China will commence its 12th Five-Year Plan. The Central Economic Work Conference that wrapped up on December 12 said China will continue to implement its proactive fiscal policy and prudent monetary policy, expand domestic consumption and explore new economic growth engines. Yuan Gangming, a CASS macro-economic expert, said China's economic policies will also benefit the world economy.
Yuan said China's policies to boost domestic demand will spur domestic consumption, which will certainly increase demand for foreign products. For instance, imports of high-end consumer goods such as luxury cars and clothes might grow substantially, which will spur world economic growth in direct or indirect ways.
In 2011, China will speed up efforts in industrial restructuring and make changes to its economic development patterns. China's contribution to the world will no longer rely on its GDP figures, but on balancing international payments and relieving trade frictions by helping emerging economies and the development of low-carbon industries.
Zhang Yansheng, an international trade researcher at the National Development and Reform Commission, said the transition of the Chinese economic development mode will lead China from resource-oriented extensive growth to intensive growth relying on scientific innovation.
A fog of uncertainty still hangs heavy over the world economic prospects in 2011. The U.S. quantitative easing policy makes liquidity more rampant throughout the world, posing a serious challenge to China's monetary policy. As such, Chinese decision-makers must take effective management measures to handle possible world economic shocks.
Hu Xingdou, professor of economics at the Beijing Institute of Technology, said that the international community should not pin unreasonably high hopes on China, as Chinese development is still unbalanced due to the huge urban-rural gap. Chinese cities look like those of Europe, but the vast rural areas and the less-developed western part are as underdeveloped as poor African countries. Hu said what China needs most is self-balanced development, and its internal balance is the country's greatest contribution to world economic stability.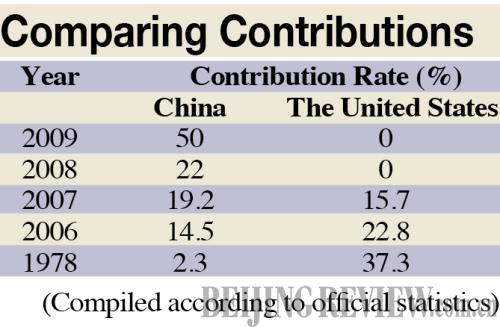 China's Contribution
After the global credit crunch, China gave $50 billion to the IMF and requested the money be used to help lesser developed countries
China signed bilateral currency swap agreements worth 650 billion yuan ($97.58 billion) with a number of countries and regions in a bid to cope with the global financial crisis
China set up a China-ASEAN Investment and Cooperation Fund to provide $15 billion in credit support for ASEAN nations
China provided $10 billion in credit support for other member nations of the Shanghai Cooperation Organization
China offered $10 billion in favorable loans to African countries, exempted the poorest African countries and the least developed nations from paying back debts, and exempted about 95 percent of products imported from the least developed countries in Africa from customs duties
China vowed to help EU nations cope with the euro zone debt crisis
(Compiled by Beijing Review)