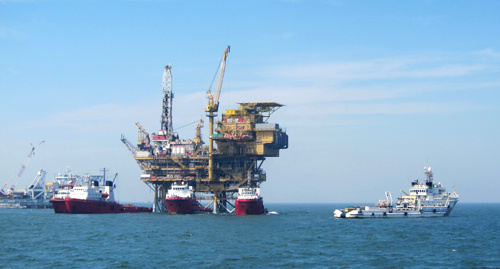 STOPPING LEAKS: A ConocoPhillips ship collects oil around the Penglai 19-3 Oilfield (ZHANG XUDONG)
Governments at municipal and provincial levels seem to be letting just about any multinational company into China these days, creating a backlash after inadequate supervision over production and operations led to a number of scandals and accidents.
ConocoPhillips China's delayed response to an oil leak in the Penglai 19-3 Oilfield resulted in thousands of tons of crude spreading across an area of at least 840 square km of the Bohai Sea, causing an ecological disaster and outrage among the Chinese public.
And not long after KFC disclosed that its soybean milk was made from a questionable powder, another public outcry erupted after reports that the U.S. fast food giant was changing its cooking oil every four days, far longer than most Chinese restaurants.
These are not the only problematic foreign companies.
On January 9, 2008, the Ministry of Environmental Protection (MEP) released a list of 130 multinationals operating in China that have illegally polluted the environment. The ministry's blacklist was based on special inspections conducted between 2004 and 2007 on suspected foreign companies.
From government investigations and reviews, it's clear that some multinationals have not and are not fulfilling their responsibilities to maintaining operations in China.
"When we open our door and are ready to enjoy products and services provided by world famous brands, are we ready to protect our consumers, our resources and environment?" Xinhua News Agency asked in a commentary published on September 9.
As China continues to reform and opening up, more multinationals are investing in China, establishing factories, research and development institutions and trading companies. Among the world's top 500 companies, more than 450 have set up shops here, promoting China's economic development, social progress, technology upgrading and introduction of strategic resources. However, this is not the reason to relax government supervision.
Gu Xiaoming, professor of sociology at the Shanghai-based Fudan University, said the government should play the leading role in urging enterprises to fulfill their social responsibilities and establish a mechanism to make enterprises regularly publicize their social responsibilities.
In the past decade, ConocoPhillips has been involved in at least five environmental lawsuits or disputes in the United States, paying out nearly $700 million in damages and restitution. But in China, under the high pressure of the media, ConocoPhillips has reversed the passive situation of avoiding environmental impact assessment and ecological damage and announced it will establish the Bohai Bay Fund. The fund will address ConocoPhillips' responsibilities in accordance with relevant laws of China and to benefit the general environment in the Bohai Bay.
Since related Chinese laws and regulations are still in their infancy, it is hard for the Chinese Government to get reasonable compensation from ConocoPhillips similar to what it had paid out in the United States. According to China's Marine Environment Protection Law, the maximum administrative fine for pollution caused by offshore oil exploration is only 200,000 yuan ($31,348).
Three months after the Bohai oil leak was discovered, ConocoPhillips has yet to receive any severe punishment. The Xinhua commentary went on to point out that even though ConocoPhillips has paid some compensation, due to the lack of a supervision mechanism and inefficient punishment multinationals will have no "heart of fear" when they come to China seeking wealth.