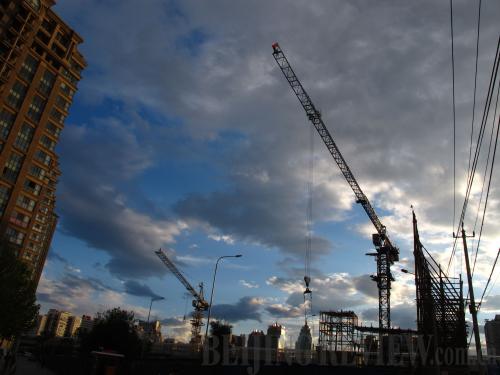 RISING UP: A construction site in Beijing in June (CFP)
China's housing sector is waiting for the second shoe to drop. Last month China sent eight teams of central government officials to 16 provinces to check on the implementation of its property curbs. With the Central Government's inspection team returning to Beijing at the beginning of August to submit reports that will be used to determine future property policy changes, speculation has arisen that China may set new property controls as early as this month.
New price-control measures may soon hit China's property market, which just began to show signs of a rebound following government measures to stimulate the slowing economy, said the state-run Xinhua News Agency.
Yang Hongxu, Vice President of E-house China R&D Institute, said the housing market currently faces pressures of price rebounds. If no new control policy is rolled out, market expectations for home price hikes will be reinforced in the second half of 2012.
The inspection comes as home prices are rebounding.
In June, more major Chinese cities saw home price rise from May, according to government statistics. It was also the first time since September 2011 that the number of cities with price increases exceeded that of cities experiencing price drops.
In July, the average new home prices in 100 major cities rose for the second month by 0.33 percent month on month, and the price rise was 0.05 percent in June, according to data from the China Index Academy.
A report by SouFun.com, a real estate website, said in July new home prices showed their biggest gain since June 2011.
First-tier cities, such as Beijing and Guangzhou, have seen a much faster recovery in house turnover. During the first three weeks of July, turnover in first-tier cities grew 29 percent compared to last year to hit 1.8 million square meters, while third-tier cities grew only 1 percent, according to Centaline Group, a Hong Kong-based property agency.
Although the warming of the realty sector was said to be the result of bigger discounts and interest rate cuts this year, the sales and price surges in some cities have caused alarm in the Central Government which fears its recent macroeconomic easing policies may have sent the wrong message to the market.
The eight teams were tasked with tapering property speculation and evaluating the effects of the curbing measures that have been introduced so far, the Central Government said.
This is the biggest inspection team sent by the Central Government in recent years, according to China Central Television (CCTV), the national broadcaster. The participation of high-rank officials from key government departments added to the inspection's leverage. The inspection team to Fujian and Zhejiang provinces was led by Mu Hong, Vice Chairman of the National Development and Reform Commission, the country's top economic planner. The team to Sichuan Province and Chongqing Municipality was led by Wang Bao'an, Vice Minister of Finance.
The government envoy visited local housing projects and talked to government officials, developers, home buyers and housing agents.
In his inspection in Fuzhou, Mu asked a staff member in a house registration department how to define the second home buyer. He also urged Fuzhou Mayor Yang Yimin to release the house transaction data in July as soon as possible.
Although the State Council's inspection teams provided positive feedback on the implementation of housing control policies in the 16 provinces and municipalities they visited, Hunan, Hubei and Hebei provinces were asked to promptly impose "corrective measures" as local home prices look likely to rebound.