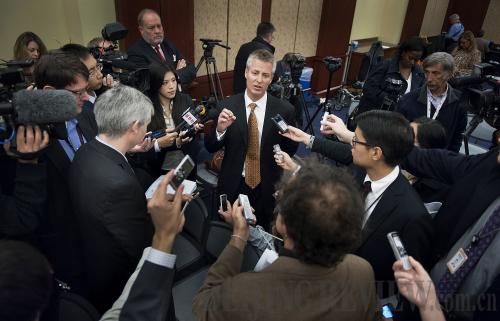 IN THE SIDELINES: William Plummer, vice president of external affairs for Huawei Technologies Co. Ltd., speaks to the media following a news conference in Washington, D.C., on October 8, 2012 (CFP)
Perhaps sattled by a report from the House Permanent Select Committee on Intelligence, claiming that "Huawei and ZTE (Zhongxing Telecommunication Equipment) threaten U.S. national security," Huawei, the second largest telecom-equipment provider in the world, has hastened preliminary steps to get listed. Despite its Beijing-based public and media office's denial of any IPO preparations, insiders reveal Huawei has been in contact with some international accounting firms and investment banks, and Hong Kong and London are the likely choices.
Some believe Huawei's IPO plan is designed to improve transparency in a bid to boost its chances of winning major overseas contracts. Among the top five telecom giants, Huawei is the only one yet to go public and is now haunted by the ill will of American politicians who are dead set against the company's expansion into the United States.
On October 8, the committee unveiled the result of its one-year investigation into Huawei and ZTE, suggesting the American Government not use equipment manufactured by the two companies. On October 14, the U.S. Congress launched a second round of investigations against the Chinese firms.
Huawei and ZTE strongly denied the accusations. Huawei argued the report was aimed at hindering Chinese ICT (information and communication technology) companies from accessing the American market. The report leveled false allegations against Chinese firms and ignored copious factual information provided by Huawei as well as its good track record of network security in the United States and worldwide.
ZTE also said that its own equipment posed no threat to U.S. national security because all equipment it supplied to American operators had been assessed by the U.S. Security Assessment Laboratory, which is supervised by the U.S. Government.
Whether or not the prospective IPO will breathe new life into Huawei's U.S. plans is uncertain. Disagreements over whether to go public are rife within the company. In November 2011, when the House Permanent Select Committee on Intelligence filed for investigation against Huawei and ZTE, Huawei's executives and board of directors raised the possibility of an IPO.
Proponents believed an IPO could enhance the company's transparency and sources of income, while opponents argued an IPO plan would not yield the desired result because ZTE was under investigation despite its status as a listed company.
Political force-out
In 2007 and 2008, Huawei's two attempts to acquire 3COM, an American network equipment manufacturer, were blocked due to U.S. national security concerns. In 2010, its bids for 2Wire and the mobile network branch of Motorola also failed to obtain approval from the U.S. Government. In 2011, the company backed away from its attempt to purchase 3Leaf, an American server producer.
Since February 2011, when the House Permanent Select Committee on Intelligence began its investigation into Huawei and ZTE, the two companies have cooperated with the committee in an open and transparent manner.
The committee insists that Huawei has been heavily subsidized by the Chinese Government, which is thought to be eager to use it as a Trojan horse to infiltrate the American communications network.
However, as allegations swirled by the U.S. Congress that both companies pose "security threats" to the country, no evidence has yet to be presented. People familiar with the inquiry revealed that those conducting the investigation dug into reports of suspicious activity and visited nearly 1,000 telecom equipment buyers. "We knew certain parts of the government really wanted" evidence of active spying, said one source, who requested anonymity. "We would have found it if it were there."