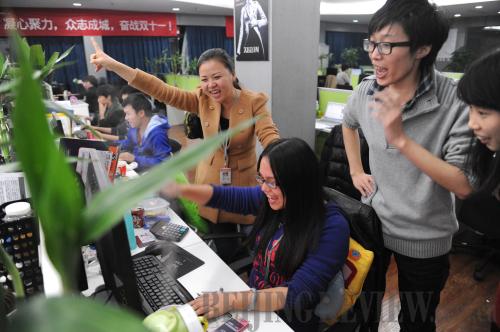 GOOD HARVEST: Staff members of Seven Princesses, a Hangzhou-based e-commerce company, celebrate surging online transactions on November 11 (XINHUA)
Wang Kang, a clerk at the Industrial and Commercial Bank of China (ICBC) in Beijing, spent the whole day sitting in front of her desk on November 11, trawling the Internet to buy stuff online sold at half-price. In the end, she spent over 800 yuan ($128.56) on clothes and shoes, and over 200 yuan ($32.14) on household goods.
"I love shopping online. It's faster, more convenient and more economical. As long as I can find what I want through online retail sites, I won't go to real shops," said Wang.
It was no coincidence Wang spent more than usual shopping online. November 11 is dubbed Singles Day, and it means massive discounts for online shoppers in the country. The name originated with a group of university students, who drew inspiration from the date: November 11 or 11/11.
The day was adopted by China's e-commerce giant Alibaba Group in 2009 as a promotional opportunity for their Web sales, analogous to Cyber Monday in the United States. Other e-commerce players such as 360buy, suning.com, dangdang.com, and Amazon China, soon followed suit.
On this year's Singles Day, over 213 million Internet users swarmed to Taobao and Tmall, two websites operated by the Alibaba Group, headquartered in Hangzhou of east China's Zhejiang Province, for its 24-hour 50-percent-off carnival. Together the sites raked in a record 19.1 billion yuan ($3.07 billion), up 260 percent year on year, according to a statement by Alibaba Group.
This massive online spending spree could be the biggest e-commerce sales day on record in China.
In comparison, online retail sales hit $1.98 billion in the United States on Cyber Monday, according to Adobe Digital Index. Cyber Monday is the day after Thanksgiving weekend and the busiest day for online retailers as U.S. shoppers prepare for Christmas.
As China's e-commerce players braced for a spending binge on Singles Day, more attention is being paid to this growing trend and its potential to facilitate domestic consumption at a time when China is working toward shifting its economy away from a reliance on manufacturing exports. Furthermore, critics contend that online shopping raises a host of problems and call for more government oversight.
Online purchase bonanza
With online shopping popular among the younger generation, Chinese retailers are quickly moving to cash in.
"E-commerce will utterly change China's business structure," said Jack Ma, Chairman and CEO of Alibaba Group, in an interview with China Central Television. "Online shopping figures are a signal that China's economy is making a transition."