DRYING UP: A woman rakes fresh coffee beans at the Aini Pu'er factory as they dry in the sun before being shipped off to Starbucks in Seattle for roasting (WEI YAO)
Having worked for over 45 years in the industry, Jeremy Wakeford is widely recognized as a coffee-quality expert. In 2011, Starbucks sent him to China at a rate of $500 per hour to oversee quality control for Starbucks' potential partner Aini Coffee, China's biggest coffee bean processing and exporting company based in Pu'er, southwest China's Yunnan Province.
Wakeford worked for half a year with Aini, observing plantation gardens and tasting different types of coffee that Pu'er, widely known for its variety of teas, offers. In January last year, Wakeford gave Aini's coffee a score of 81.5, a mark reserved for coffee considered world class.
"If you put Manzhongtian coffee beans in an oak barrel, nobody can tell the difference from the blue mountain coffee in Jamaica. Manzhongtian is one of the few superb types of coffee I've ever tasted," said the coffee master.
Following Wakeford's run at Aini, Starbucks set up a joint venture with the company in February 2012 to purchase coffee beans from Pu'er coffee farmers to ship to the Seattle-based company for roasting.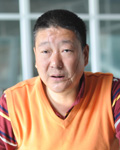 Zhu Zhihong (WEI YAO)

"China is now a vital supplier of coffee beans to foreign companies" such as Starbucks and Switzerland-based Nestlé, Zhu Zhihong, head of Aini's Pu'er factory, told Beijing Review.

Chinese consumers are addicted to foreign brands when it comes to coffee. What they may not know is that foreign brands often use China-produced coffee beans, he said.

In recent years, more local farmers have turned to the more lucrative (although not always) coffee crop, which thrives in the mountainous areas of Yunnan.

"Coffee planting has become one of the pillar industries in Pu'er," said Peng Yuanguo, Vice Mayor of Pu'er, a remote southwestern city near the borders of Laos and Myanmar named after one of China's most famous teas.

According to the Coffee Association of Yunnan, the province produced 65,000 tons of coffee in 2012, 98 percent of the total in China.

Pu'er alone produced 36,500 tons of coffee beans in 2012, more than half of Yunnan's total output, according to Peng.

In the next five to 10 years, the Pu'er Municipal Government plans to expand its coffee plantation area to over 1 million mu (66,667 hectares), with a market value of over 10 billion yuan ($1.61 billion). Five years from now, over 100,000 jobs will be related to the coffee sector, said the city's former mayor Li Xiaoping.

In January 2013, Pu'er was given the title of Coffee Capital of China by the China Fruit Marketing Association.

An upbeat trend

The enthusiasm of local coffee producer is spurred by China's growing caffeine addiction.

The value of coffee sales in China increased by 20 percent in 2011 from a year earlier, reaching 6.25 billion yuan ($995 million), according to the market research firm Euromonitor International.

The alluring and more-promising-than-anywhere-else market has attracted Western coffee chains.

Starbucks was one of the first to seize the opportunity by opening its first Chinese mainland store in Beijing in 1999. The company—with 18,000 outlets in 62 countries and regions around the world—now has more than 800 stores in 58 cities on the Chinese mainland, and it aims to have more than 1,500 stores in 70 cities by 2015.

The Chinese mainland now ranks as Starbuck's fourth largest market. The company had nearly 12,000 outlets in the United States, 1,175 in Canada and 975 in Japan by the end of 2012.

Announcing the company's record revenue for 2012 of $13.3 billion on March 20, Starbucks CEO Howard Schultz said the company has achieved stunning success in China.

"It's no doubt that one day China will become our second largest market after the United States and it's possible that, over many years, potentially the largest one," he told China Daily.