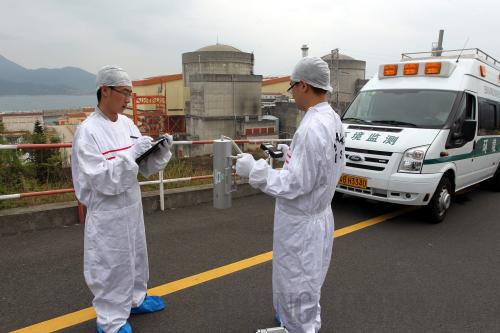 ENVIRONMENTAL MONITORING: Staff members test the air around the Dayawan nuclear power facilities (CFP)
Yao Bin, Director General of the Department of Nuclear Emergency and Safety Regulation at CAEA, said ministries and departments have joined in forming a comprehensive and well-coordinated response framework. For instance, the Ministry of Environmental Protection (MEP) has built a nuclear and radioactive monitoring network and the National Health and Family Planning Commission has set up a nuclear medicine network.
At the local level, 16 provinces, autonomous regions and municipalities have established nuclear emergency response committees. Nuclear power plant operators also have their emergency response groups.
The CAEA has also allocated nearly 1 billion yuan ($163 million) to set up four national nuclear emergency technical support centers and six emergency response and rescue units. Ma said that CAEA is also going to build a national nuclear emergency response and rescue team.
China also has competent sea, land and air monitoring systems for emergencies, said Liu Senlin, Vice President of the China Institute of Atomic Energy, with more than 60 car-borne emergency monitoring systems.
The country's nuclear emergency system has successfully responded to major events, including the Fukushima nuclear accident in 2011 and North Korea's nuclear test in February 2013, said Ma.
After the Fukushima accident, China's nuclear power plants have all strengthened their emergency response capabilities. Both operators—CNNC and CGN—have increased the number of mobile emergency power generators and mobile pumps and have added anti-flood modifications to their power plants.
CNNC Vice General Manager Yang Changli said his company has upgraded its technology on several fronts and completed safety measures in the event of multiple accidents.
In 2012, CNNC conducted 280 drills, according to Yang, to test the effectiveness and feasibility of emergency action plans of all power plants and improve emergency response capabilities.
CGN has also made safety improvements. "We don't mind rising operational costs caused by the investments in nuclear safety," said CGN Vice General Manager Tan Jiansheng.
Information disclosure
Nuclear safety has always been a common concern among the public, which has the right to know the state of operations of nuclear power plants.
The revised plan also highlights a standard procedure for releasing information in the event of a nuclear emergency, said Xu. Once a nuclear incident or accident occurs, accurate information must be released in a timely manner to both the public and the international community.