APP ON THE RISE: WeChat's logo on display inside Tencent headquarters office building in Shenzhen (LIANG XU)
Lisa Tseretzoulias, a 51-year-old office administrator living in Montreal, Canada, came across WeChat a year ago and instantly fell in love. "I like it a lot and have recommended it to family and friends."
WeChat, known as weixin in Chinese, is the country's most popular messaging and social media app developed by Tencent, China's biggest Internet firm. WeChat is often likened to WhatsApp, developed by a U.S. firm, and Japan's Line.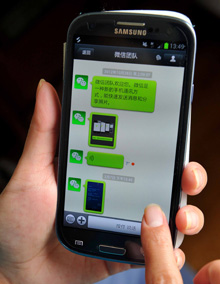 SIMPLE AND SMART: WeChat's user interface (GONG LEI)
But WeChat is more than a messenger app and packs a host of other features, including a hold-to-talk function that allows users to send audio messages to other WeChat users, much like a walky-talky. It's also a social media platform to post photos and make comments, much like Facebook. Companies and celebrities can open a special account to interact with fans and build a following. NBA basketball player LeBron James has an account.
Founded in 1998 in the southern city of Shenzhen, Guangdong Province and north of Hong Kong, Tencent has over the past decade proven itself to be China's undisputed king of messaging, with its banner instant messaging service called QQ, China's largest instant messaging service with over 800 million users. With a shift in Internet usage from personal computers to smartphones and tablets, Tencent launched WeChat in 2011.
By the end of the first half of 2013, the number of WeChat users in China had exceeded 400 million, driving revenue growth from mobile traffic up by 56.8 percent, according to the Ministry of Industry and Information Technology.
Just like the impact Skype has had on landlines, the heavy use of WeChat in China now poses a challenge for telecom operators, whose revenues for text messaging—its most profitable business—fell markedly, leading to a debate over whether or not to charge a user fee for the application. The attempt by telecom operators to pressure WeChat to charge for the service was roundly condemned by Chinese netizens and others who called on the phone companies to leave WeChat alone and develop their own products to compete. So far, Tencent has no plans to charge users for the popular app but says it will cooperate with China's big telecom players in other ways.
WeChat is already a huge domestic success and is used by everyone from teenagers to their parents to their grandparents. But Tencent is not satisfied with success in the home market and is branching out globally tooth-and-nail. Roadblocks, however, remain.