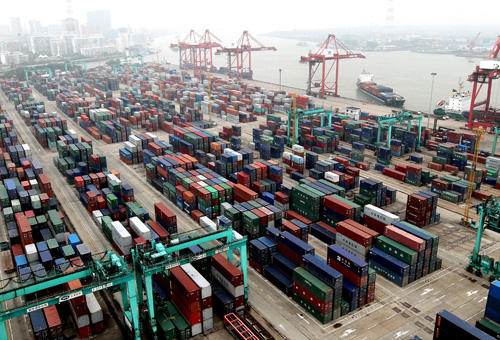 FLOURISHING TRADE: A busy scene at the Zhanghuabang container wharf in Shanghai on June 16. Data released by China's National Bureau of Statistics on July 15 showed that the economic growth rate reached 7.6 percent in the first half of 2013 (CHEN FEI)
Is China a world power second only to the United States? On September 12, when delivering a speech at the Research Institute of Tsinghua University in Shenzhen, former Chinese Foreign Minister Li Zhaoxing gave an humorous answer when he said, "Only a fool would believe that China and the United States should co-lead the world under some sort of a 'G2' arrangement." He explained that Chinese people can feel proud as China grows stronger but should not become arrogant.
Li has been retired for several years, but his frank words still express the mainstream views of current Chinese leadership and government-run academic circles over China's international position. As early as May 2009, when then Chinese Premier Wen Jiabao attended the 11th China-EU Summit in the Czech capital of Prague, he declared openly that China disagrees with the "G2" idea, stating that it is wrong to claim that China and the United States should co-lead the world.
Chinese authorities have repeatedly denied the concept of "G2" and similar views that were first raised by U.S. scholars and politicians including Director of the Peterson Institute for International Economics Fred Bergsten, Harvard University professor Niall Ferguson as well as former U.S. National Security Advisor Zbigniew Brzezinski.
Domestic strategy
After decades of blistering growth since China initiated reform and opening-up policies in the late 1970s, the country has achieved great success in many fields. It has become a mainstream international consensus that China has become one of the major powers in the world. However, the views of "G2" or "co-leading the world" are neither consistent with China's domestic reality nor with China's independent foreign policy of peace.
China's strategic outlook stresses self-knowledge, with an eye for objective and comprehensive understanding of history before making decisions about the future. Few countries in the world are as keen as China to discuss, declare and clarify their international positioning. As China undergoes changes much faster than others, it must focus on the present and look to the future when making domestic and foreign policies.
The Chinese per-capita GDP still ranks below 80 globally, with more than 100 million people still living on less than a dollar a day. China also faces severe problems such as ecological deterioration as well as social unrest. In the meantime, it has not realized national reunification and still faces threats of separatism. The country is far behind developed nations and even some developing nations in terms of soft power, as it carries little influence over international public opinion.
A basic consensus within China is that the country should keep a clear mind about its fundamental national condition and focus on its domestic affairs. It should put the transformation of its economic growth pattern as the first priority, focusing on the quality of growth rather than the quantity. China should avoid falling victim to the dreaded middle-income trap or becoming self-inflated by its achievements and competing for spheres of influence worldwide. The priority of China's foreign policy should be on resolving various problems affecting its sustainable development and protecting its growing legitimate rights and interests in the world.
The Chinese Government also believes that the "G2" concept does not imply that Washington sincerely wishes to share power with China, but rather seeks to regulate it through an established arrangement. The fundamental purpose of the concept is to serve the unipolar world dominated by the United States. If China accepts, it will be against the promises of Chinese leaders to never seek hegemony or become a superpower. It will be also against the multipolar world and democratic international relations that China advocates. "China threat" rhetoric would be much more widely accepted and trust and support from neighboring countries, developing countries and emerging economies to China will also be weakened. Finally, China would be mired in vicious competition between big powers.