It is common practice for them to go back home during the Spring Festival holidays for family reunions, but it is only a ceremonial ritual. The reason for their return comes from attachment to family and friends in their hometown, and has nothing to do with farming.
Hungering for a new identity
"Having a stable job and settling down in the city are the most widely shared concerns among millions of migrant workers, including myself. Compared with the previous generation, the new generation of migrant workers has a higher education level and more open minds. They are eager to become part of the cities where they are now living," said Yang Xiaoxia, an NPC deputy from east China's Zhejiang Province.
Born in 1981 in rural Jiangxi Province, Yang has worked in Ningbo City in coastal Zhejiang Province, some 450 km away from home, for more than 10 years. In 2006, she was named one of the top 10 migrant workers in Ningbo.
On August 16, 2007, Yang, a quality inspector from Veken Elite Co. Ltd., together with six other migrant workers, was granted a Ningbo residence certificate, becoming the city's first batch of migrant residents. In January 2008, Yang was selected as an NPC deputy, the first legislator among the 10 million migrant workers in Zhejiang.
Despite Yang's case, obtaining a city hukou, or household registration, remains a dream for most migrant workers. The hukou system serves as a barrier that keeps migrant workers from integrating into the urban life. This sense of insecurity intensifies when some arrogant policymakers and urbanites give them the cold shoulder.
According to Minister of Agriculture Han Changfu, assimilation rather than discrimination is the proper attitude for urbanites to have toward their migrant worker peers.
"Cities should avoid developing an urbanite-migrant worker dichotomy," Han said. "We will make every effort to prevent the slums that exist in some foreign cities from forming here."
Yang Xiaoxia believes that a new residence permit system that offers more flexibility and equal access to social services should be adopted to better serve migrant workers. Reform of the current residence permit system is necessary to offer the new generation of migrant workers more opportunities to settle down, she said. At the same time, more measures should be taken to ensure that migrant workers have the same access to social services as urban residents. Access to social services gives migrant workers more incentive to participate in city development in terms of economy, politics and society.
In July 2009, Ningbo City launched its Interim Measures on Landed Permanent Residence Based on Points for Migrant Workers. The program was the first of its kind in the country, offering urban residence permits for blue-collar rural workers. The pilot scheme was concluded in January 2010 as three migrant workers in addition to Yang and the six others managed to obtain Ningbo residence permits.
According to the measures, the program is open to healthy migrant workers under 45 years old who have worked full-time at the same company in Ningbo for at least five years and received social insurance benefits for at least five years. Candidates who apply must earn at least 100 out of 150 points to be eligible.
However, the yearly assessment process is rigorous. In the assessment held in November last year, only 10 applicants out of 2,500 became qualified candidates--the assessment awards bonus points for workers with technology patents or senior professional job titles, which few migrant workers have. Nevertheless, it is widely considered a feasible and reliable trial program.
"I hope that the residence permit system in Ningbo will be promoted and applied in other places across the country, helping more migrant workers find a sense of belonging in the cities, and giving them a goal in life," Yang said.
Pursuing new development
"My colleagues hope to learn more while working," Yang said. "Sometimes they study computer programming after work. They want to get a promotion and a better future rather than stay in the same position as a frontline worker."
The new generation of migrant workers is not content with their present jobs and salaries. Some call the characteristics of the new generation of migrant workers the "three highers and one lower"—they have a higher education level, higher career expectations, and higher demands both materially and spiritually, but lower career tolerance and patience.
But most migrant workers lack the necessary professional training, knowledge and skills. Worse, they are unfamiliar with the basic rules of industrial production and the service sector. In other words, they fall far short of the requirements for modern non-agricultural labor.
On the one hand, they are reluctant to become the city's manual workers like the previous generation. On the other hand, they are not competent enough to do complicated jobs that require professional skills and knowledge.
Not surprisingly, it has become harder for migrant workers to find their place in the city. Their choices are limited to labor-intensive and lower-paying jobs with high physical demands such as porters, construction workers, processors and workers in other low-end service sectors.
It is also difficult for migrant workers to develop a comprehensive understanding of a job or industry when they change jobs so frequently. The so-called professional skills they learn are superficial as they haven't finished the apprentice phase. A vicious circle gradually forms: Without any professional skills, it becomes harder and harder for migrant workers to integrate into urban life, not to mention lead lives of dignity.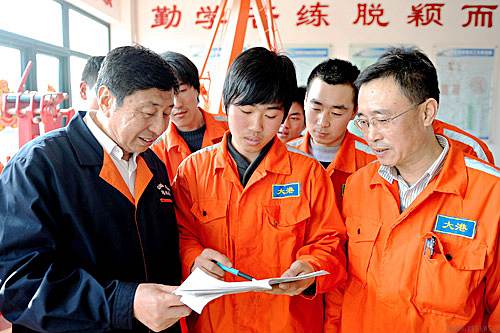 CARING FOR THEM: Chang Dechuan (left), President of Qingdao Port (Group) Company Ltd., reads an intern's training reviews at the company's training center in Qingdao, east China's Shandong Province, on February 24 (LI ZIHENG)
A recent survey revealed that the new generation of migrant workers focuses more on self-striving, considers material needs as important as spiritual pursuits and is more eager to pursue further education, said NPC deputy Chang Dechuan, President of Qingdao Port (Group) Co. Ltd.
According to Chang, migrant workers most want to acquire knowledge related to computer science, management and administration because these jobs are not only relatively satisfying, but also provide more space for potential promotion. Therefore, it is important to offer migrant workers vocational education and training, Chang said.
Chang suggested taking full advantage of the workers' union. He said the union can act as a school, assisting the company in offering vocational education and training in accordance with laws and regulations.  
Vocational education and training should help the new generation of migrant workers improve their knowledge and skill levels step by step until they finally meet company requirements, he continued.
In areas with larger numbers of migrant workers, the workers' union should set up schools for the new generation of migrant workers, exploring different models of schooling, he added.
For the new generation of migrant workers, there are a lot of problems that need to be addressed before they can truly feel at home in the cities. As time passes, they deserve continuous concern from the whole community and constant support from the government at all levels when they are facing social problems like marriage, children's education and pensions.