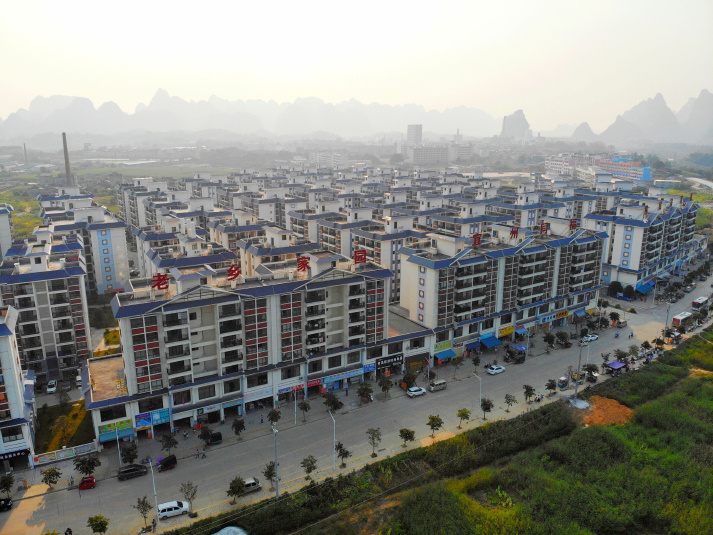 An aerial view of the Tongfu community in Yizhou District, Hechi, on August 30 (ZHANG WEI)
The truck, laden with farm produce and baskets of raw silk cocoons, was ready to leave. The driver started the engine and Qin Yongfu, standing in front of his two-story house, waved goodbye to him. Soon the truck vanished on the new concrete road, leaving the village of Zhadong behind.
The mountainous village, located in the city of Hechi in Guangxi Zhuang Autonomous Region, south China, is an important silkworm base today. It has a history of planting mulberry and raising silkworms for over 470 years.
Qin has been in this industry for 17 years. Before the concrete road came up, selling the silkworm cocoons used to be challenging.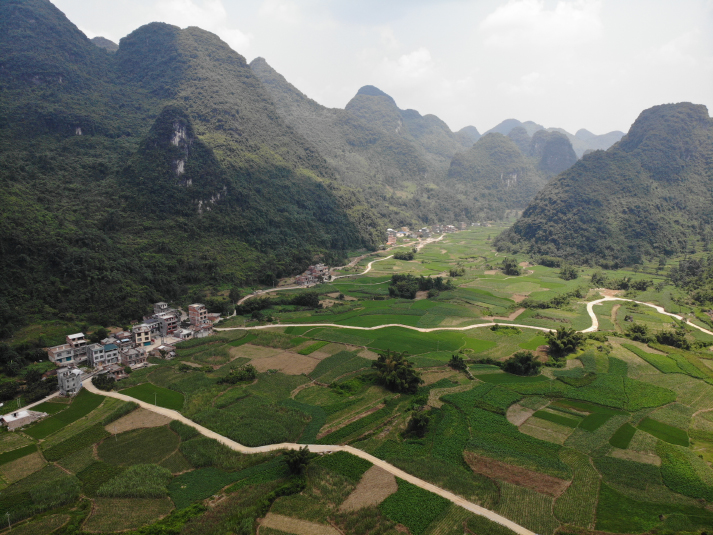 An aerial view of Zhadong (ZHANG WEI)
Finding a way
Zhadong is a picturesque village but living there was tough in the past. Surrounded by mountains, it had no proper road, making mechanical transport impossible. Even as recently as 2016, six of the 14 smaller villages that make up Zhadong had no highway, only narrow mountain paths. People lived in scattered communities, there was little arable land and life was hard.
"I had to walk all the way to the city carrying the cocoons in baskets slung from a pole over my shoulders. It meant an eight-hour journey one way. I couldn't carry more than 40 kg at a time and could make only 400 yuan ($58.9) per trip," Qin said.
The lack of roads also meant he could see his children only during the weekend. Even the nearest primary school was too far away for daily commute, so they had to live in the school dormitory on school days.
The villagers longed for roads, especially highways that would link them to other parts of Guangxi and the rest of the country.
Things finally started looking up in 2016 after a military vet from Hechi came to work in Zhadong. Appointed as first secretary of the Communist Party of China (CPC) Zhadong Village Branch, Xie Wanju faced a grueling trek to reach the village, and decided to make infrastructure construction a priority.
Not long after his arrival, he began raising money to build roads. However, there were not many contributors as most of the young people had left the village to work elsewhere. He and other villagers' committee officials then contacted enterprises for donations. He even took part in a local TV show to spread the word about the initiative, which resulted in more than 43,000 yuan ($6,304) in donations from viewers.
Finally, there was enough money to start building roads and by the end of 2019, the villages had been connected to each other by concrete roads and to the outside world through highways.
Now Qin no longer needs to carry his baskets and walk for hours to sell them. The buyers drive up to his home every month. He has built a new house in place of the old ramshackle one. He lives on one floor while the other is used to breed silkworms.
"I would have to wait for many years to save money and live a better life had it not been for the new roads," he said.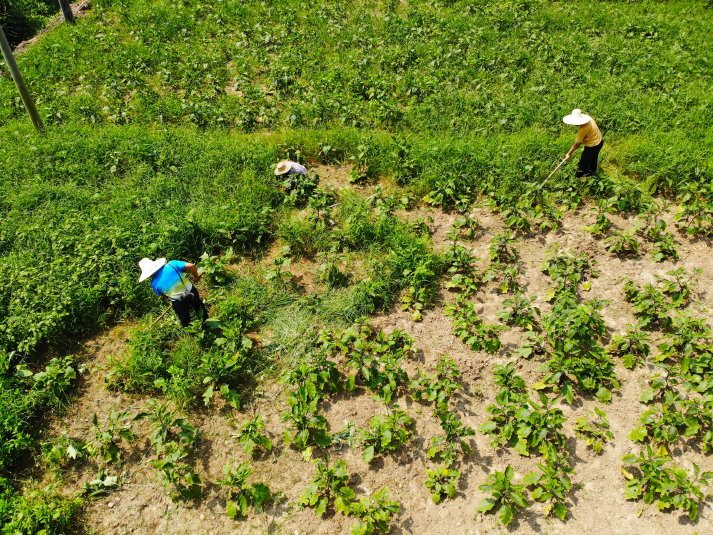 Farmers work in the field in Zhadong on August 30 (ZHANG WEI)
Rebuilding lives
There are many new homes, spacious and well-lit, on the outskirts of Yizhou, a district in Hechi. Besides neat rows of seven-story residential buildings stand grocery stores, supermarkets and restaurants. Some of the buildings house workshops for ancillary businesses that have sprung from silkworm farming. For example, on the first floor of a building, workers, mostly women, are busy making cardboard boxes needed to breed silkworms.
This is the Tongfu Community, a relocation site. The district has four such relocation sites, built to accommodate 8,000 villagers officially registered as living below the poverty line.
Ben Yonghong is one of the relocatees. Her five-member family moved here in 2018 along with nearly 180 other villagers. She used to live in a tiny village with just 10 people. Although the village was connected with other parts of Guangxi after the roads were built, people's living standards did not improve significantly.
Ben's husband became a migrant worker while she stayed in the village, looking after the children and farming. But when the children grew older, there were no schools nearby and she had to rent a small house in an urban area. It meant constant travel back and forth between the village and the city.
So when the relocation policy was implemented, Ben was one of the first poor families in Yizhou to move into the relocation area. Last year, she was elected secretary of the community branch of the CPC.
During the battle on poverty, people living in remote areas with limited or no income have been offered opportunities to relocate to new housing in more developed areas, with the government paying a fraction or the entire amount for the new housing. To ensure their livelihood, factories and workshops have been established in the community or nearby, providing jobs to residents.
"After we moved here, my husband returned and found a job nearby and we were finally reunited," Ben said. "Without the government support, we might never be able to afford living in the city."
However, some villagers have chosen to stay where they were. In January, there were still 131 impoverished people in Zhadong.
"Many of them are elderly people," Xie said. "They have lived in the village throughout their life and are emotionally attached to the place. But though they chose not to relocate, we will ensure that they have improved housing."
In early 2016, over 100 families in Zhadong still lived in old adobe houses with leaky roofs and cracked walls. During the rainy season, the houses were liable to collapse, posing a threat to life.
To improve the environments, the local government has renovated the dilapidated houses or built new brick ones with bedrooms, kitchens and toilets.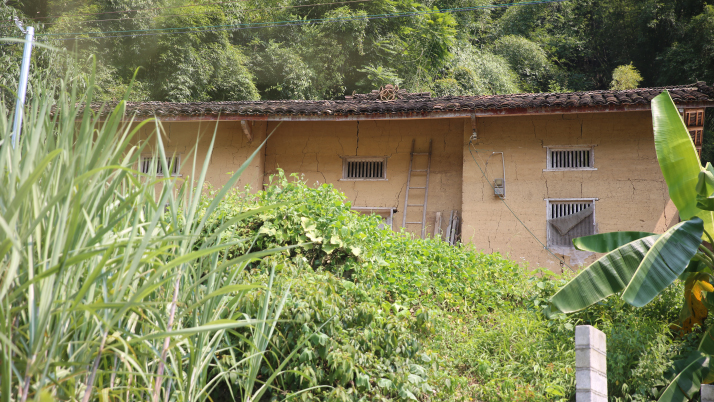 An old adobe house in Zhadong on August 31 (ZHANG WEI)
New growth drivers
Zhadong is also witnessing the development of distinctive industries. Passion fruit cultivation is one of them.
Qin Yongqiu left the village a few years ago with her husband to work in Yizhou but returned when the new roads were built. Following Xie's advice, they started growing passion fruit in their corn field.
The soil in the village is suitable for growing the cash crop, which fetches greater revenue than corn. According to Xie, growing corn in a small plot generated around 300 yuan ($44) per year. However, passion fruit can triple or quadruple the income. To encourage farmers to plant the new crop, the government has provided them free seeds and subsidies.
This year, due to the novel coronavirus disease (COVID-19), the Qins could not work in their fruit orchard for several months under virus prevention measures. Then came the floods in July and August, severely affecting the crop in the entire village. Her husband had to leave again to work outside. So Qin Yongqiu is being helped by the villagers' committee to find a new source of income.
She is not alone. Silkworm farmer Qin Yongfu has also suffered headwinds. Though Yizhou has many silk processing enterprises, which export to more than 10 countries and regions such as Japan, Italy and Romania, the pandemic has halted exports.
So he is considering branching out into another industry. Cattle raising has become a profitable industry in recent years with a high domestic demand, and he is keen to expand to beef cattle breeding.
Villagers pick mulberry leaves in Zhadong, a village in Hechi, Guangxi Zhuang Autonomous Region in south China, on August 28 (LI KAIZHI)
Catalyst for change
Five years ago, Zhadong had 314 people living below the poverty line, almost 49 percent of the population. But after these years of efforts, by the end of August this year, only 16 people—six families—were still on the list of the registered poor. By September, the entire village had enough food and clothing, access to compulsory education and basic medical services as well as safe housing. The official confirmation that Zhadong has been removed from the list of impoverished villages is expected soon.
Xie attributes the change to the transformation in villagers' way of thinking. Previously, some were not aware they were impoverished and lacked the willingness to change things. This has changed after the roads were built, distinctive industries developed and relocation started.
"Along with the development of the village, more and more people have started to proactively explore new ways to improve their income and step out of poverty, which is a major progress," he said.
(Print Edition Title: When Fortune Smiles)
Copyedited by Sudeshna Sarkar
Comments to liyifan@bjreview.com