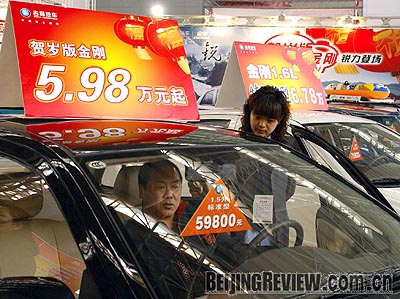 A GOOD DEAL? People in Harbin of Heilongjiang Province look at an economy car in an auto showroom. The rising number of automobile purchases nationwide is becoming a major force in China's efforts to upgrade its consumption structure (WANG JIANWEI)
The global financial crisis is far from over as world economic growth continues to decline. Can China stop the downward tendency of economic growth and reach an economic soft landing? Can China take the lead in getting out of the shadow of the economic crisis? Chen Huai, Director of the Economic Research Institute of China's Urban and Rural Development under the Ministry of Housing and Urban-Rural Development, discussed these questions in a recent article in the Economic Information Daily. Edited excerpts follow:
In taking the lead to get out of the shadow of the economic crisis, China is more confident than any other country in the world. Our confidence comes not only from our room for adjusting short-term macro-control policies such as monetary policy and fiscal policy and our huge market of 1.3 billion people, but also from our late-mover advantage as an emerging economy and the development stage that China is in.
Fast urbanization process
Among the engines of China's economic growth in 2009, urbanization will be the one that is the most independent of international capital compared with exports, small and medium-sized enterprises, manufacturing industries, finance and the capital market.
During the past 30 years, especially since the 1990s, the urbanization process has become one of the strongest driving forces for China's fast economic growth. In 1978, China's urban population was only 170 million, accounting for 17.92 percent of the country's total population. In 2007, the above two figures reached 590 million and 44.9 percent.
The accelerated urbanization process is not only seen in the increased urban population, but also in the country's massive accumulation of fixed assets and infrastructure construction. For example, China's urban areas have expanded from 12,900 square km in 1990 to 35,500 square km in 2007, while the total road length in Chinese cities has increased from 95,000 km in 1990 to 246,000 km in 2007.
We have experienced the initial stage of urbanization when large input has not only driven up economic growth, but also rapidly assembled hundreds of millions of urban residents and produced huge amounts of fixed assets and infrastructure in urban areas. All these have provided a strong material foundation for future economic growth that has occurred more rapidly than investment growth.
Now China is in a development stage of a "fast increasing marginal effect" on the urban economy; that is, a small amount of added input will produce much more economic output.
The ongoing global financial crisis fundamentally resulted from a surplus of capital. When industrialization and urbanization ended, developed economies had capital surpluses. Industrial sectors could not contain excessively large amounts of capital; hence, surplus capital became "hot money" and was poured into the stock market, bond market, foreign exchange market, futures market and oil market that are in a fictitious sense, as well as various complicated derivatives markets. The risks of accumulated surplus capital led to today's crisis. The problem of a capital surplus will absolutely not be easy to solve with the temporary rescue measures worked out by the governments of various countries.
China's urbanization process is still going on, so that there will not be capital surpluses in China. At present, more than 20 Chinese cities are building subway and light rail systems, showing that in cities, multilevel transportation services and other infrastructure are inadequate, and meanwhile the demand for housing is still urgent.
In short, the difference between China and developed countries is that we are facing an urbanization process that is emerging and vigorous, while developed countries are facing urbanization that is over-saturated, aging and declining. The vast room for investment and the continuously increasing marginal effect of investment in cities are important sources of China's confidence.
Upgrading the consumption structure
People have reached a consensus that expanding domestic demand is the primary way for China to take the lead in getting out of the shadow of the economic crisis. Can China realize its goal of expanding domestic demand?
First, we should note that the key way to expand consumption demand lies not in whether people are willing to spend their money in hand, but how they will dispose of the money they will earn in the future, especially the increases in their future income-not simply spending more money based on the old consumption structure, but upgrading the consumption structure by expanding the means of consumption and forming new lifestyles and new consumption demand when their income grows.
International experience shows that during the process of industrialization and modernization, there are four stages for changes in consumption structure: first, the stage of meeting basic demands, when people are spending most of their money on basic daily commodities; second, the stage of improving their quality of life, when home appliances become necessities; third, the stage of meeting demands after getting rich, when houses and cars become the new demands; and fourth, the stage of development-oriented demands such as travel, education, health care and property management.
Compared with developed countries, China has advantages because its consumption structure is in a period of fast upgrading. At present, the consumption structure of urban residents has passed the first and second stages and is in the third and fourth stages. For example, the number of domestic trips taken by Chinese citizens rose from 744 million in 2000 to 1.61 billion in 2007, up 116.4 percent. Their total travel expenses rose from 317.55 billion yuan ($46.43 billion) in 2000 to 777.06 billion yuan ($113.61 billion) in 2007, up 144.7 percent.
Besides the huge potential for consumption demand, China also has another advantage: the potential expressed by Engel's coefficient.
Engel's coefficient basically tells how much people spend on food out of their total income. The Engel's coefficient for China's urban residents stood at 57.5 percent, 54.2 percent, 39.4 percent and 36.3 percent in 1978, 1990, 2000 and 2007, respectively. In most developed countries, the Engel's coefficient is lower than 30 percent. In an economic sense, the consumption structures in these countries have been stable and fluctuations of social consumption levels can just rely on the business climate in the short term. On the contrary, the Engel's coefficient in China is in a period of obvious change. In other words, the measures to stimulate consumption by the U.S. Government can only produce a short-term expansion in consumption, but China's advantage is that its regulating measures to "ensure growth" have vast room to form new consumption points.
Therefore, we can sum up the difference between China and developed countries: The problem China faces is how to make people spend the money they must spend and guide society to move beyond the critical point in consumption structure upgrading. The problem developed countries face is how to repay the "debt" created by over-consumption and help consumers reduce the risks brought about by over-consumption.