Venture capitalists will find no safe haven worldwide as the prospects for the majority of economies to pick up remain dim for the next two years. Still, if some of them have the money and the guts for more investments, analysts recommend China. While the rest of the world groans for salvation, China expects to reap an 8-percent GDP growth this year.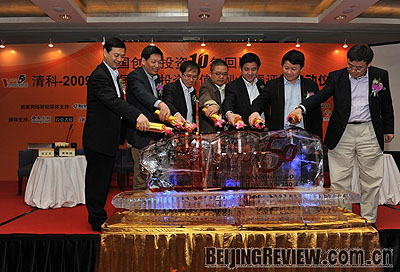 HIGHLY CONFIDENT: Venture capitalists start a new round in their annual selection of the top 50 Chinese start-ups at the launching ceremony of Zero2IPO-Venture 50 on March 11 in Beijing (COURTESY OF ZERO2IPO)
After the Internet bubble burst in 2001, venture capital investments in China gained momentum around 2005 and reached a record high last year when venture capitalists injected $4.21 billion in 607 investments and had capital stock of $24.4 billion by the end of last year.
Yet, 2008 marked the turning point when a number of U.S. venture funds retreated from China because of liquidity squeezes amid the financial turmoil. Overseas venture investors as a whole became more prudent and rational in assessing the performance of companies and selecting potential investment targets this year.
"China will not be able to regain this venture investing prosperity in terms of total investment amount during this round of economic adjustments," said Ni Zhengdong, President of Zero2IPO Group Co. Ltd., a Beijing-based company that provides online financial information services about China's venture capital and private equity markets, during the launching ceremony of the group's annual selection of China's top 50 start-ups, Zero2IPO-Venture 50 in Beijing on March 11. "We believe local venture funds will replace overseas funds to be the main force of the market in the next decade."
While expressing confidence in the future performance of China's venture capital market, venture fund managers at a panel discussion during the ceremony repeated their calls for a Chinese counterpart to the Nasdaq Stock Market, as a stable and effective exit channel for venture capital and a financing marketplace for small, venture-backed, high-growth companies.
"I believe this is the best timing for China to launch its second board market," said Hugo Shong, Global Senior Vice President of U.S.-based International Data Group (IDG). "We want a real second board for companies like Baidu.com, Sohu.com and Sina.com to emerge, not a copy of the small and medium-sized enterprise (SME) board at the Shenzhen bourse with lower thresholds." The three companies he mentioned are all domestic online firms that got their start with venture capital funding.
Play the role
Unlike more developed markets where controlling stakes or buyout transactions are often the focus of many investors, private equity investing in China generally takes the form of venture investing, or financing for small start-ups with prospective long-term growth potential.
Along with cash in exchange for minority shares, investors may bring managerial and technical expertise, and hence have a say in company decisions. Usually, investors will eventually realize high returns by holding an initial public offering (IPO) or selling the company.
In the past decade, venture capital investors, and overseas venture capitalists in particular, have injected $15 billion in 3,176 cases of investments, of which 53 percent was provided to companies in China's nascent technology, media and telecommunications industry, according to Zero2IPO.
They have smoothed the path to fame and fortune for whiz kids in niches of Internet, software and hardware, telecommunications, IT services and optoelectronics. Backed by venture capital, they first struck gold in IPOs, became leaders in their respective niches, and are now moving toward more service and product innovations to find diversified profit edges.
Venture capital investments have increased at an annual compound rate of 25 percent, from $580 million in 1999 to $4.2 billion in 2008, while investments in individual start-ups rose from $2 million in 2002 to $7.8 million last year.
Venture capitalists have helped companies in the Internet, new energy and biopharmaceutical sectors upgrade their technology and business models, and have made great contributions to the country's economic growth and job creation in the past decade, Ni said.
Venture investors also have helped 89 companies to conduct IPOs in overseas stock markets and 84 in domestic markets from 2000 to 2008. The market values of these companies were $52.3 billion and $29.9 billion, respectively, at the end of last year, according to Zero2IPO. IPOs remained the most effective exit channel for venture capital particularly in 2007 when 70 percent of venture capital withdrawals were completed through an IPO, the company said.
Local advantages
Local private equity funds got a boost when the Ministry of Commerce enacted a new regulation on the acquisition of domestic enterprises by foreign investors in September 2006. The regulation tightened the approval process for red-chip listings, or overseas IPOs by the actual controller of a domestic company via special purpose vehicles established in offshore tax havens such as the Cayman Islands and the Virgin Islands. No foreign venture-backed Chinese company has conducted an overseas IPO in this way since then, Ni said.
In 2008, local yuan-oriented funds invested in 270 start-ups, almost matching the 296 overseas venture investments, although the local funds are generally smaller than overseas venture funds in terms of average fund and investment size.
According to Zero2IPO, local private equity funds accounted for less than 20 percent of funds larger than $500 million in 2007. Of the newly raised funds that year, overseas private equity funds averaged $177 million, while local funds averaged $40 million.
Since 2005, local private equity investors have been investing more frequently and actively in start-ups in traditional industries and the service industry.
Local private equity funds differentiated their investing strategies from overseas venture funds, favoring companies in traditional and service industries in an expansionary stage, because of their comparatively weak capital strength and long investment cycles. On average, it usually takes at least five years for a local private equity fund to exit an investment through an IPO, while overseas funds need two or three years in China.
"We will surely steer toward investing in mature companies with sufficient cash and shun start-up businesses with higher risks, if the Shenzhen bourse can't launch the second board in the near future and the A-share market is our only choice," said Wu Shangzhi, Managing Partner of CDH China Holdings Management Co. Ltd. China requires IPO candidates to be profitable for at least three consecutive years prior to a public listing, and their major shareholders are subject to a three-year lock-up period before they can realize cash returns on the IPO.