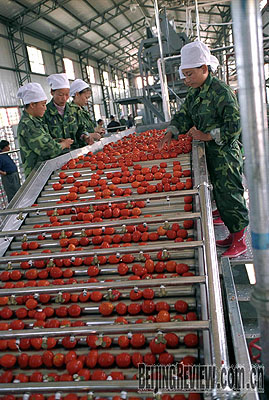 RED INDUSTRY: COFCO Xinjiang Tunhe Co. Ltd. has become the biggest ketchup producer in China after obtaining leasing rights to tomato fields in Ningxia Hui and Xinjiang Uygur autonomous regions 
The average Chinese woman may spend a typical morning eating Xiangxue bread for breakfast and later a piece of Le Conte chocolate as a midmorning snack. She will brew a cup of Chinatea brand green tea in the late afternoon. In the evening, she might buy herself a Snow Lotus brand cashmere sweater at Grand Joy Shopping Mall at Xidan, the most crowded commercial center in central Beijing, and later relax at home with a glass of Great Wall wine.
But during the course of her day, it will have never occurred to the young woman that all the products she bought or consumed are produced by one company-China National Cereals, Oils & Foodstuffs Import and Export Corp. (COFCO), the country's largest agricultural trading and processing company based in Beijing.
Founded in 1952, COFCO is a top grain, oil and foodstuff import and export group and one of China's largest food-processing companies. It has a total staff of more than 50,000 and has been selected as one of the world's top 500 enterprises for 15 consecutive years, according to Fortune magazine.
COFCO's current business covers five areas, including foodstuffs and oil trading, agriculture and food processing, biomass energy production, real estate development and financial services. It also has five listed companies: China Foods Co. Ltd. and China Agri-Industries Holdings Ltd. are listed on the Hong Kong Stock Exchange. The other three-COFCO Xinjiang Tunhe Co. Ltd., COFCO Property (Group) Co. Ltd. and Anhui BBCA Biochemical Co. Ltd.-are listed on exchanges on the Chinese mainland.
Despite the current economic recession, "COFCO managed to do well last year, because demand for its food products had not dropped," said Ning Gaoning, President of COFCO, at a forum on the economic crisis sponsored by Peking University on March 3 in Beijing. The company avoided the pitfall of other food suppliers during last year's edible oil shortage in March and April. Many companies stored large amounts of edible oil, which was risky and speculative, Ning said. Such risky activity was easily subjected to fluctuations in both product demand and price, not to mention the effects of the financial crisis, he said.
The company also remains relatively optimistic about its business prospects. The ongoing financial crisis seems to be a good opportunity for COFCO to complete its industry chain, Ning said. "We will seize this opportunity to make our industry chain complete," he said.
Steady and healthy
Last year was COFCO's best in its history, Ning said.
Some of COFCO's subsidiaries fared well in 2008. China Foods, the country's top supplier of wines and edible oils, had total sales of HK$8.2 billion ($1.1 billion), a 90-percent increase year on year, while its net profit hit HK$242 million ($31.2 million), a 20-percent increase year on year.
China Agri-Industries Holdings, which produces biofuels and biochemicals and brewing ingredients, processes oilseed, rice and wheat, and trades rice, had a profit of 1.98 billion yuan ($291.2 million) in the first three quarters of 2008, an 80-percent increase over all of 2007.
COFCO Xinjiang Tunhe, one of the largest tomato-processing and tomato-product marketing enterprises in the world, realized a net profit of 164 million yuan ($24.1 million) in the first three quarters of last year.