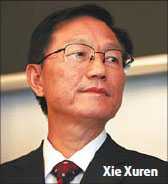 Finance Minister Xie Xuren has shrugged off US President Barack Obama's claim that the US dollar was "extraordinarily strong" and called for a faster reform of the international monetary system.
"It is necessary to push forward for an international monetary system consisting of multiple currencies," Xie said in an interview posted on the ministry's website. "We should let more currencies play a part in maintaining the stability of the global monetary system."
Xie's comments came two days after Zhou Xiaochuan, the central bank governor, said that it was necessary to displace the US dollar with a super-sovereign reserve currency. Zhou also said the Special Drawing Rights, a currency basket of the dollar, the euro, the British pound and the yen, had the potential to become an international reserve currency. It was unclear if Zhou's comments also represented those of the government's.
Zhou's idea echoed rising concerns over the instability of the US dollar, as the US government's massive stimulus package was likely to inject significant liquidity into the system, thereby deepening the risk of inflation. That could also lead to a depreciation of the greenback, which would mean losses for China's $1.95-trillion foreign exchange reserves.
Obama had responded to Zhou's suggestion saying the US dollar was "extraordinarily strong" and that there was no need to create a new global reserve currency. Treasury Secretary Timothy Geithner and US Federal Reserve Chairman Ben Bernanke had also defended the dollar's dominant status as a reserve currency.
"The fact that we are in a crisis may renew interest on this question," said International Monetary Fund Managing Director Dominique Strauss-Kahn on Wednesday. "The discussion about the new currency is a discussion which is absolutely legitimate."
Strauss-Kahn also said the bigger focus now should be on finding a way out of the global financial crisis and said Zhou's proposal was not likely to be acted upon "in the coming months".
"We do need to reform the international financial architecture to secure global financial stability and facilitate world economic growth," said Alberto Isgut, an economist with the Economic and Social Commission for Asia and the Pacific, a regional arm of the United Nations.
Xie also said China would help international financial organizations such as the IMF and the World Bank to increase their resources.
Hu Xiaolian, vice-governor of the central bank, said earlier this month that the IMF was studying new ways to raise money, including issuing bonds. Hu said China would consider buying these bonds once the IMF decides to issue them.
Xie noted that the "new resources" should come along with improvements to the governance structure of these organizations and should play a more effective role in helping developing nations cope with the financial crisis.