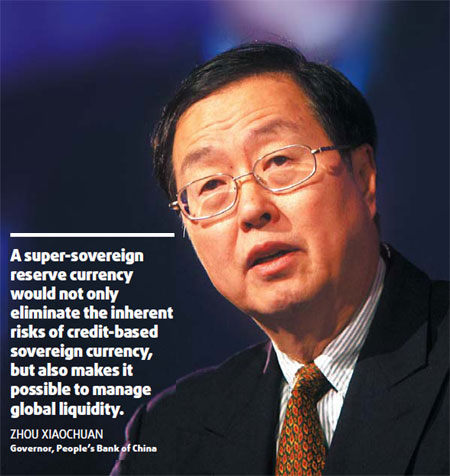 The government's prompt moves to stimulate the economy have taken effect and appear to have arrested the drastic economic slowdown, the central bank governor said yesterday.
"The macroeconomic measures have produced preliminary results and some leading indicators are pointing to a recovery of economic growth," Zhou Xiaochuan said in an article posted on the People's Bank of China website.
Economic growth dropped to a seven-year low of 6.8 percent in the fourth quarter of 2008, as overseas demand dwindled and investment weakened. The central bank quickly reacted, with five interest rate cuts since last September and much lower requirements of banking reserves to ensure liquidity and boost loan growth.
In November, the government put forward a $586 billion stimulus package which the World Bank said forcefully supported economic activity and sentiment.
JP Morgan's Asia Pacific Research team wrote in a note that recent data showed an "improving trend" in the Chinese economy as demand held steady, and property and auto sales as well as consumer spending stayed at "strong levels" with sequential improvements.
"Compared with other major economies, the Chinese government has taken prompt, decisive and effective policy measures, demonstrating its superior systemic advantage when it comes to making vital policy decisions," Zhou said.
Zhou's observations come about a week before the G20 summit, when leaders of the world's major economies are expected to hammer out solutions to pull the global economy out of recession. The G20 leaders have yet to reach an agreement on a coordinated global stimulus package and on how to reform the existing financial system.
In an earlier paper posted on the central bank's website, Zhou mentioned the need to replace the US dollar with a super-sovereign reserve currency, which he believes would bring more stability to the global financial system. Although it was not clear whether his idea represented government thinking as well, it fanned speculation about China's agenda during the G20 summit.
"To stabilize markets under severe stress, finance ministries and central banks need to act fast and apply extraordinary measures," Zhou said in his latest comments.
Zhou suggested that "national governments and legislatures may consider giving pre-authorized mandates to ministries of finance and central banks to use extraordinary means to contain systemic risk under well-defined stress scenarios, in order to allow them to act boldly and expeditiously without having to go through a lengthy or even painful approval process".
Zhou said it often was a lengthy procedure for Western central banks and finance ministries to obtain authorization to stabilize the market. And such delays often leads to loss of opportunities to act.
"We have already seen such delays in the current crisis," said Zhou.
Economics Nobel laureate Joseph Stiglitz said in a forum held in Beijing last weekend that the US government's stimulus package was "too small and too late".
In contrast, he said, China's effort to stimulate the domestic economy was "much better" and likely to be "more successful".
The essay, titled "Changing Pro-Cyclicality for Financial and Economic Stability," also discussed features of the global financial system that magnified swings in the market.
(China Daily March 27, 2009)