Chinese President Hu Jintao met with French President Nicolas Sarkozy here Wednesday night.
"Our meeting today means a new starting point for the bilateral relations, and I hope the two sides work together to usher in a new phase in Chinese-French ties," Hu said at the start of his meeting with Sarkozy.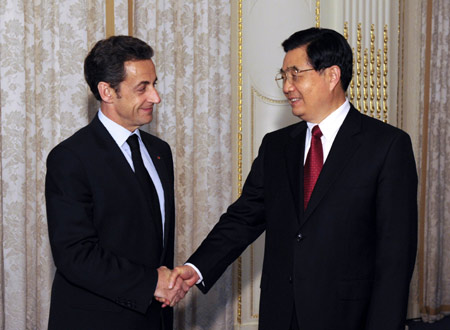 Chinese President Hu Jintao (R) shakes hands with French President Nicolas Sarkozy during their meeting in London, Britain, on April 1, 2009. (Xinhua/Li Xueren)
The two leaders were meeting ahead of a Group of 20 summit on the financial crisis, scheduled here for Thursday.
China and France said in a press communique issued Wednesday simultaneously by their foreign ministries that the two sides "attach great importance to China-France relations" and reiterated their adherence to the principle of non-interference in each other's internal affairs.
In the communique, France pledged not to support "Tibet independence" in any form.
(Xinhua News Agency April 2, 2009)