Chinese President Hu Jintao on Thursday called on the international community to join hands to tide over the current global financial crisis at the second Group of 20 (G20) financial summit here.
As the financial crisis continues to spread and deepen and its impact on the world's real economy becomes increasingly evident, the international economic and financial situation remains complex and grave, Hu said.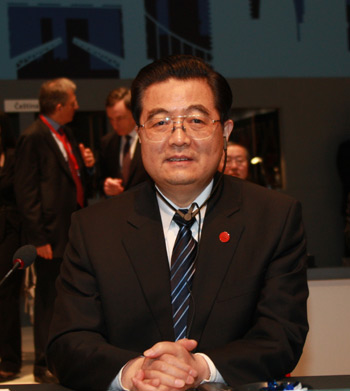 Chinese President Hu Jintao attends the Group of 20 summit in London, Britain, April 2, 2009. (Xinhua/Ju Peng)
The Chinese president called on the international community to strengthen confidence to confront difficulties.
"We have the enabling conditions to tackle the financial crisis," Hu noted, saying that the world economy is "on a solid material and technological footing."
The world has far more macro regulatory tools than before and also the common will to enhance coordination and cooperation, he added.
"As long as we strengthen confidence and work together, we will tide over the difficulties and achieve our shared goals," said the Chinese president.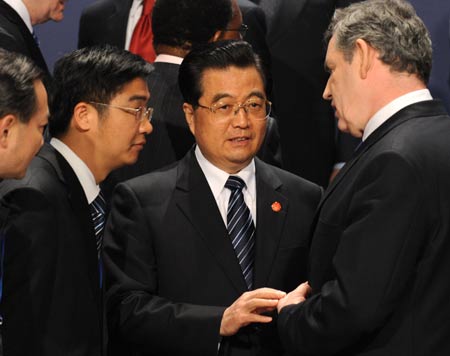 Chinese President Hu Jintao (2nd R) talks with British Prime Minister Gorden Brown (R) as they prepare to pose for a family photo during the Group of 20 summit in London, Britain, April 2, 2009. (Xinhua Photo)

He then urged the international community to further intensify cooperation to fight the crisis as no country can stay immune from the crisis.

"The only right choice is for all of us to work together and deal with it," he said.

Hu described the G20 as an important and effective platform for concerted international efforts to counter the economic and financial crisis.

At the summit, the Chinese president also called for advancing reform of the international financial system, saying the world should work together to build "a fair, just, inclusive and well-managed international financial order."

Hu also stressed opposition to protectionism. "We should work together to oppose trade protectionism in all manifestations and reject attempts to raise the market access threshold under various excuses and all forms of investment protectionism that harm the interests of other countries," he said.

(Xinhua News Agency April 3, 2009)