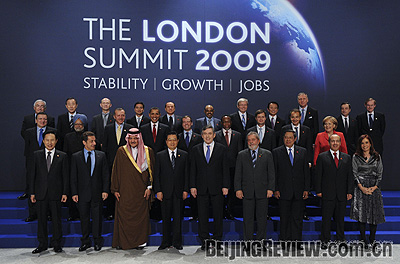 JOINING FORCES: The G20 London summit strikes a note of confidence for the global economy as world leaders show a high degree of unity in dealing with the global financial crisis (LI XUEREN) 
When the leaders of the wealthiest nations and largest developing countries gathered at the London G20 summit at the beginning of the month, they knew exactly what their decisions would mean for the world's future.
The depth of the global economic woes and a darkening outlook placed great onus on the one-day meeting for a source of growth, although no one expected a quick fix. All in all, it was not the last chance for the world to restart its growth engine, but it definitely was a crucial one.
As a confidence-boosting message, the summit's outcome was surprisingly satisfactory. In a joint communiqué released after the meeting, the leaders agreed to a $1.1-trillion injection for the International Monetary Fund (IMF) and other world economic organizations to help heal wounded economies. The G20 governments' fiscal stimuli will amount to $5 trillion by the end of next year.
Meanwhile, the leaders pledged to steer clear of protectionism that might strangle the already anemic global trade and vowed a tough overhaul of the lightly regulated global finance that many blame as a trigger of the crisis. Moreover, the leaders committed to an $850-billion package to help revive the crisis-stricken emerging markets and grant them a greater say in the IMF.
Although the actual effect of the summit still depends on follow-up measures, it is widely considered a key milestone on the path to resume growth. By installing a stringent and transparent regulatory framework, it is also expected to bring order to the shaking global financial system and lay a firm foundation for future recovery. U.S. President Barack Obama said the measures would bring about "a turning point in our pursuit of global economic recovery."
Concerted efforts
Fears had even been swirling that disagreements among major countries at the summit might prevent them from reaching any consensus. For instance, the EU had turned down calls from the United States to step up its fiscal stimuli over concerns of rising deficits and urged an emphasis on tightening financial supervision.