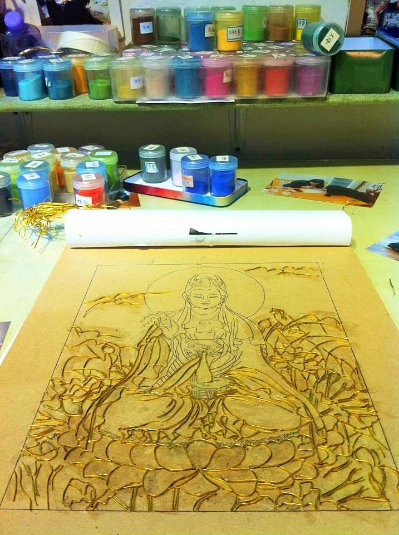 A semi-finished thangka painting (JACQUELINE MILLER)
I first heard of the term "thangka" when I moved to my present neighborhood near Beijing's Yonghegong, the site of an imperial Buddhist temple of the same name which was established during the Qing Dynasty (1644-1911). Today, Yonghe Temple is one of Beijing's biggest tourist attractions, popularly known as the Lama Temple. There I got to learn more about thangkas, Buddhist paintings that can be used as meditational aids.
My first hands-on experience with thangkas was last winter, when I was going through a difficult period in my life. I had discovered a thangka workshop in an alley near my home and sought a haven there.
Making a small thangka would take me roughly 20 hours, I was told. I could come and go as I pleased, and I could squeeze in thangka-making sessions between work or other activities. Aspiring or seasoned thangka artists could choose either a Buddhist or secular pattern (ethnic minorities, flowers, goldfish) from one of their books or create their own, from a photo or the like.
I thought working on a thangka would be a good exercise in self-discipline and concentration. It had a slight meditative touch, and I could use my hand-eye coordination skills and relax. I also enjoyed using my hands in a totally different way.
In fact, thangka art has been practiced for over 1,000 years and is part of Himalayan cultural heritage. In an exhibition on thangkas I visited at the Beijing Culture and Art Center, the process was described as "the spiritual cultivation of the creator."
I chose to make a Guanyin thangka. Guanyin is the Buddhist goddess of mercy; the deity's name is short for Guanshiyin, which in Chinese means "perceiving the sounds (or cries) of the world." In my painting, Guanyin is shown in a white robe, with legs crossed over one another sitting on a lotus flower, looking down demurely, holding a water flask and a willow branch. The composition is relatively simple, one figure with a human appearance and a serene expression on her face.
Guanyin is a figure a non-Buddhist such as myself can easily relate to not only because of her anthropomorphic appearance, but because compassion and mercy are universal values. Plus, looking at that particular painting gave me a sense of temporary peace. Basically, it was a motif I as a Westerner could identify with as well.
There are different kinds of thangkas. Some are painted directly onto a canvas, and others are like the ones we created in the workshop, where you glue metal strips upon a design you have drawn in pencil on a wooden board, bending the strips in a serpentine way or laying them straight as the pattern dictates.
After you have recreated the pattern of your design with the metal strips, you mix colors and paint them in, sort of like coloring in the fields in a coloring book. You use a color copy of your chosen pattern to give you guidance on the colors, but you can deviate. For example, I made my sky a romantic cotton-candy pink, and the shade of hair of my Guanyin was more dark brown than black (after all, it was a "foreign" Guanyin!).
Finally, you shake the painting gently to make sure the paint settles evenly before drying; otherwise the thangka will be lumpy in some parts. Once you have finished your thangka, the workshop frames it, although traditionally thangkas are unframed scrolls.
I completed my thangka, roughly two months after I had started it at the end of December 2017, over the Western and Chinese New Year's celebrations. While working on my thangka, Guanyin had taken on a life of her own, as I had "created" her body parts, clothed her, and provided her with attributes. Sort of like playing Prometheus and Frankenstein without the negative outcomes.
My teacher said my work was not too bad, considering it was my first thangka, but compared to seasoned thangka makers, it was certainly no masterpiece. My Guanyin is now in my living room, sitting high up on a cabinet. From far away, she looks perfect, but if you look closely, you will see the blemishes but that doesn't matter.
What matters is that working on my Guanyin was, from start to finish, a labor of love and healing during a difficult period in my life. After all, it was about the journey, not the destination.
The author is an American living in Beijing
Copyedited by Chris Surtees
Comments to baishi@bjreview.com