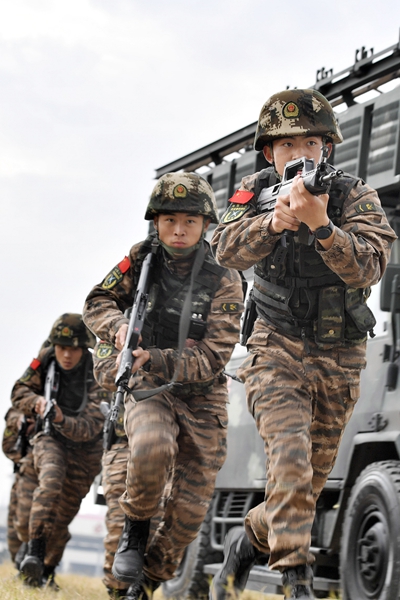 Armed police officers participate in an anti-terror drill in southeast China's Fujian Province on February 3 (XINHUA)
Zhang Wanqian joined the Chinese People's Armed Police Force (CAPF) after graduating from a military university in 2015 and is serving in a CAPF unit in northwest China's Xinjiang Uygur Autonomous Region. This year is the third time he has celebrated the Spring Festival with his squadron. During the holiday, the armed police officers continued with their duties to maintain social security and stability. "Some of my colleagues have not returned home to celebrate the Spring Festival with their families for nine years," Zhang told Beijing Review.
According to him, the atmosphere during the Spring Festival in their barracks was quite vibrant and exciting. On the Spring Festival Eve, the officers decorated the residential compound and the catering team cooked up a traditional feast. "We had our own Spring Festival Gala and all the programs were performed by my colleagues," Zhang said. Off-duty officers could also relax in the squadron's gym and snooker room.
Zhang called his parents to send New Year greetings. "My parents visited me at the beginning of 2019," he said. However, after traveling more than 2,000 km from Guyuan City, Ningxia Hui Autonomous Region, the couple met their son only twice during the three-day New Year's holiday, a total of six hours, because of Zhang's tight duty shifts.
"Instead of the Spring Festival, my annual vacation is the time my family regards as the most important time of the year. We enjoy precious family time and sometimes take a road trip," Zhang said.
The lack of time for parents is Zhang's only regret, but he said the decision to wear the uniform embodies his commitment to his country.
The glory and pride of a relative who had made accomplishments in the army sparked Zhang's interest in entering military service when he was in junior school. After enrolling in high school, he realized that he wanted to build his career without parental help, which was another reason why he decided to become an armed police officer. "I've never regretted my choice," he said.
Zhang has had eight years of military life. The experience has taught him what it means to be part of something bigger and contribute to society. "Kids often salute us when they see us on duty," he said with pride. "I am glad to see social security and stability improving with our efforts."
Copyedited by Craig Crowther
Comments to liqing@bjreview.com