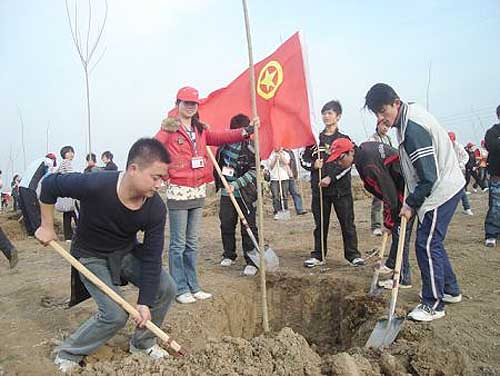 Students from No. 10 Middle School in the city of Fuyang, south China's Anhui Province, plant trees on March 17, 2009 (www.fyradio.com.cn) 
China plans to increase its forest coverage in three phases, increasing forest coverage to 20 percent by 2010 in the first phase, 23 percent by 2020 in the second phase, and 26 percent by 2050 in the third phase, according to the State Forestry Administration (SFA).
The SFA released its Program of Forestry Action to Cope With Climate Change on November 6. The program will raise China's forest coverage rate to 26 percent by 2050, compared with 18.21 percent in 2008.
"Climate change presents a serious challenge to mankind," said Jia Zhibang, the head of the SFA, at the United Nations Summit on Climate Change held in New York on September 22. "Forests play an important role in coping with climate change. Increasing forest coverage also increases carbon assimilation, while reducing forest coverage increases carbon emissions."
Each cubic meter of trees absorbs an average of 1.83 tons of carbon dioxide annually and concurrently releases 1.62 tons of oxygen. The sharp reduction in global forest coverage is one of the key factors contributing to climate change. As a result, government leaders are focusing on raising the forest coverage rate.
Rehabilitation and protection of forests is one of the fundamental measures to minimize the effects of global warming. Favorable measures to protect and construct forests will greatly reduce greenhouse gas emissions and increase forest carbon sink, according to the Intergovernmental Panel on Climate Change (IPCC), a scientific intergovernmental body established by the World Meteorological Organization and the UN Environmental Program, two organizations of the United Nations.
Forest carbon sink refers to the process by which forests absorb carbon dioxide and temporarily store it in vegetation and soil.
Chinese President Hu Jintao said at the UN Summit on Climate Change on September 22 that by 2020 China will greatly increase forest carbon sink, augment forest coverage by 40 million hectares, and increase forest stock volume by 1.3 billion cubic meters from the 2005 level.
Wang Zhuxiong, head of the Forestation Department under the SFA, told Caijing.com that "the working out of the program is to honor the commitment of the abovementioned targets, though it will require great effort to achieve them."
The gross amount of forest resources in China falls short of demand, with some 530,000 hectares of sand areas and land with slope greater than 25 degrees having failed to be planted with trees. In addition to adverse natural conditions, the cost of labor and rising prices of production materials add to the cost of forestation in these areas.
The Chinese Government has invested approximately 500 billion yuan ($73.52 billion) in the forest industry in the past decade. However, more investment and scientific and technological support is needed to expand forest coverage. Meanwhile, the industry needs to speed up restructuring and reform so as to ensure the quality of forestation, Wang said.
Since 1978, China has launched a series of regional large-scale shelterbelt projects in the drainage areas of the Huaihe, Liaohe and Pearl rivers, along with the area surrounding the Taihang Mountains, and around Beijing and Tianjian municipalities.
In 1998, China began to implement Six Key Projects. They are protection of natural forests, reforesting unfit cultivated farmland, removing sandstorm sources around Beijing and Tianjin, building shelterbelts in north China, northeast China and northwest China and the middle and lower reaches of the Yangtze River, constructing wild animal and plant protection parks, and setting up fast-growing, high-yield timber production bases in targeted regions.
As of 2008, the Six Projects had completed 51.53 million hectares of forestation. Total investment stood at 278 billion yuan ($40.88 billion), with 87 percent coming from the Chinese Government.
(The article is based on a report on Caijing.com November 6, 2009)