The Copenhagen climate change conference will open on December 7. China and the U.S., which have attracted the worldwide attention on climate change, have announced their emissions reduction targets respectively. The U.S. will offer a 17 percent reduction by 2020, and an 83 percent reduction by 2050, compared with the levels of 2005. China, meanwhile, pledges to cut its greenhouse gas emissions per unit of GDP in 2020 by 40 to 45 percent compared with that of 2005.
Can these announcements push for the agreement at the Copenhagen conference? Can China's emissions reduction target be realized? Beijing Review reporter Zeng Wenhui interviewed Pan Jiahua, a renowned environmental economist and the director of the Centre for Urban Development and Environment at the Chinese Academy of Social Sciences on these questions.
Beijing Review: Two of the world's largest emitters of greenhouse gases, China and the U.S., have both announced their plans to cut the emissions. Can this mean a cheerful prospect of an agreement at the Copenhagen summit?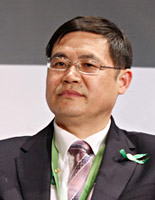 Pan Jiahua(DAONONG.COM)
Pan Jiahua: The announcements of the two countries are quite different in nature. The announcement of the U.S. was made without authorization of the U.S. Congress, so it contains great uncertainty. Meanwhile, it failed to meet international expectations. The targets it pledged to achieve -- a 17 percent reduction by 2020 and an 83 percent reduction by 2050 – are inconsistent and even contradictory. In addition, the U.S. did not make any promise on financial or technological support.
Therefore, although the announcement showed its stance on this issue, it is not made out of the will to proactively promote the Copenhagen conference, but a passive and forced compromise.
According to the Bali Roadmap, as a developing country, China need not make a promise with quantified emission reduction targets. So China has acted beyond the expectation of the international community. The Bali Roadmap suggested emissions reduction acts of developing countries should be connected with financing, technology transfer and capacity building support by developed countries. 
China, however, made this promise unilaterally, without any such requirements. The target it promised is a tough one, according to its current development stage, and even compared to the level of developed countries. It is a proactive promotion of the Copenhagen conference, and a representation of being responsible.
The announcements were made out of different motivations – but they are better than nothing. At least they show China and the U.S. are concerned with the outcome of an agreement at Copenhagen.
Nevertheless, only the announcements of the two countries are far from enough to ensure an agreement in line with the requirements of the Bali Roadmap at the Copenhagen conference.
For one thing, none of the promises of developed countries meets the requirement of the Bali Roadmap. More specifically, according to the Bali Roadmap, developed countries should cut their greenhouse gas emissions by 25 to 40 percent by 2020 compared to the level of 1990.
The second reason is that none of the developed countries made corresponding promises on financial and technological support. What's more, many developing countries, for example, such as India, have not yet made clear timetables for emissions reduction.
Without these contents, the Copenhagen agreement can be nothing more than a political agreement or a framework, in which the details are to be enriched. However, this political agreement is also an achievement and a success resulting from the active manner of China and the U.S., as well as other countries.
Within China's economic stimulus plan, 40 percent of its capital is being invested in fields related to energy conservation and emissions reduction. In addition, Beijing has pledged to cut its greenhouse gas emissions per unit of GDP in 2020 by 40 to 45 percent compared with that of 2005. According to this trend, do you think is there any difficulty in realizing this target? What are the major problems?
It will still be quite difficult for China to achieve this target. Reducing greenhouse gas emissions involves three main aspects: economic restructuring, adjustment of energy structure and technical expertise.
China has stressed economic restructuring for many years, but the results are not sufficient. Beijing is now in a development phase of a "structural steel". Moreover, its current industrial structure shows the nature of steel, which is too hard to be adjusted.