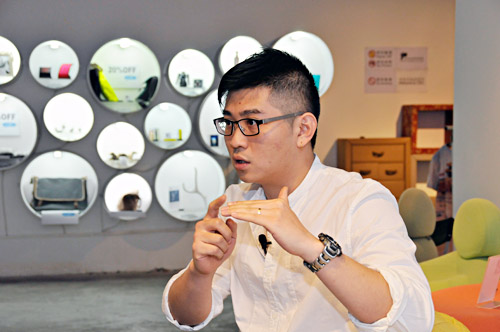 Bai Minghui (SHI GANG)
A wallet that looks like a piece of newspaper, an atlas, or an express parcel ticket? No kidding.
Bai Minghui, a 26-year-old Beijing-based designer, builds his art work using Tyvek, a synthetic paper material which is difficult to tear, waterproof and, importantly, totally recyclable. The completed, folded articles are seamless.
Bai demonstrates the wallet. "You can insert your credit cards here. It has two folds inside. You can keep your business cards and receipts here. It's thin and easy to store. At first, many people have no idea of what it is, because it looks like a piece of newspaper or an express parcel ticket, and feels like real paper. But it's hard to tear," he said.
In the spring of 2008, Bai Minghui watched an exhibition about Tyvek in Beijing's 798 art zone, and then worked with the material, trying to create his designs.
After months of research and development on printing and designing, the first generation of his paper wallet made a stunning debut in May 2008. The second generation, which displayed a greater range of pattern options, was put on the market at the beginning of 2009.
"You can have graffiti or write down phone numbers on it; or paint whatever you like. I would like people to be able to use it easily. That will be cool!" Bai said.
Besides his own design, Bai Minghui and his design studio ONEDAY also likes to recruit less well known designers for the paper wallet series. Bai said the third-generation paper wallet would be launched next year.
"I don't want to do things without creative ideas. Chinese designers are as good in this area as their foreign counterparts. I'd like to use the paper wallet as a platform for them to develop their ideas and talent," he said.