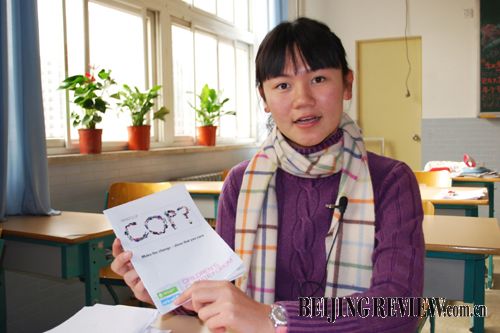 Li Chuheng displays the declaration of the Children's Climate Forum 2009 (MIAO XIAOYANG)
At the 2009 United Nations Climate Change Conference (COP15) in Copenhagen, the conference president received a declaration from the Children's Climate Forum 2009 that was issued by 165 young delegates from 44 countries.
Li Chuheng, a Senior 2 student at Beijing No.8 Middle School, is one of the two Chinese delegates who took part in drafting the declaration.
Drafting the declaration
The Children's Climate Forum 2009 was held from November 28 to December 4 in Copenhagen. During the week-long forum, Li participated in drafting the prologue of the declaration.
"All the young delegates issued this declaration together, as an important result presented to the president of COP15, committing to personal changes in their own lives and demanding that governments take immediate action to protect the world from the terrible effects of climate change," Li told Beijing Review.
"There are five parts to the declaration: the prologue, the commitment of young delegates, recommendations for adaptation, recommendations for mitigation and the conclusion. Although it is not long, each word represents our voices after deep consideration and voting," she said, holding the declaration in her hands.
Li said the different stories that youth delegates brought from their home countries impressed her greatly, as climate change has had various influences on different regions and countries.
"The experience of a girl from Haiti is impressive," Li said. "As she said, Haiti, an island country in the Caribbean, was hit by storms four times in only two months in 2008. Each time after flooding, the local people would move to the hills and have to cut down trees for a living. But this creates an annoying vicious circle, as deforesting will hurt the environment as well.