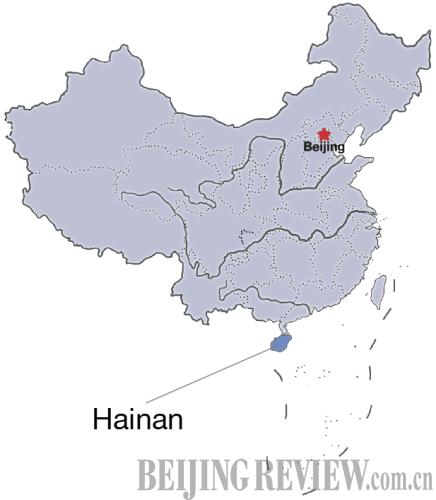 Crystal-clear seas, year-round sunshine, palm-lined beaches and lavish hotels—Hainan, located in the South China Sea, has never lacked the charisma of a tropical paradise for those looking for a breath of fresh air. All it needed was a chance to shine. And the island may finally be getting that opportunity.
On January 4, the State Council mapped out a long anticipated national blueprint to turn Hainan, once an agricultural island decades ago, into an "international tourism destination," in hopes of luring overseas visitors and bringing in extra income to its vast and underdeveloped countryside.
The goal was to lift tourism to account for more than 8 percent of its GDP by 2015 and more than 12 percent by 2020.
While sun-blessed coast and comfortable accommodations might satisfy the average traveler, those seeking an exceptional experience require much more. That is why Hainan has never spared any effort to make a visit worthwhile for travelers all over the world.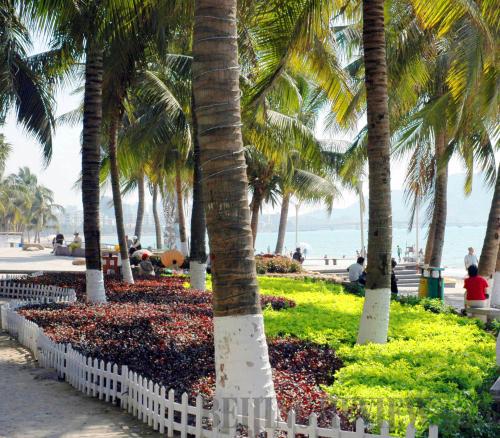 ECONOMIC BOOM: Sanya, located in south Hainan, has grown from a small fishing village into a popular tourist destination (CHENG CHUNXIANG) 
As a boost to its fun factor, the island received a green light to tap into sports lotteries and open more duty-free shops for departing foreign tourists. Duty-free shopping, in particular, was widely considered the strongest perk for the tourism industry and has paved the way for many Asian economies to take off. Hong Kong, for instance, is basking in the glow of a duty-free shopping spree.
The good news is Hainan is playing a swift game of catch-up. On September 1, 2009, Sanya, an economic hub located in the island province's south, opened the island's first duty-free shops outside airports, providing a selection of top-brand cosmetics, jewelry and garments catering to bargain hunters from all over the world.
"Hainan will be more of a complement than a threat to Hong Kong as a shopping paradise, and we have a lot to learn from Hong Kong," said Luo Baoming, Governor of Hainan Province, at a press conference on January 6 in Beijing.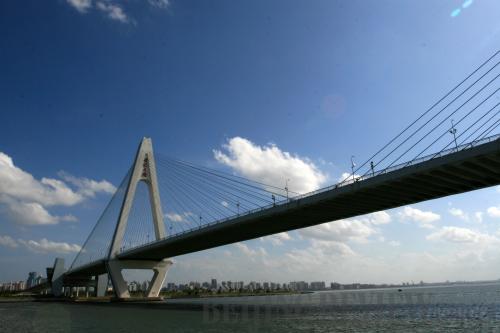 BRIDGING HAINAN: The Century Bridge of Haikou, capital city of Hainan Province. The Chinese Government has vowed to improve the infrastructure of Hainan (ZHANG MAO) 
Other stimulative measures included a trial program for cross-border trade involving renminbi (yuan) settlement and support for rural finance, as well as debt issues and share flotation of qualified tourism firms.
In addition, the island's visa exemption scheme will be widened to cover five countries including Finland, Denmark, Norway, Ukraine and Kazakhstan from the previous 21 nations, including the United States, Japan and Canada.
Meanwhile, the Central Government pledged vigorous efforts to improve infrastructure, modern tropical agriculture, the service industry and information technologies that will no doubt bolster the business environment and create thousands of jobs. The government also made it clear that it will build a national oil reserve base in Hainan as part of its strategic energy-stockpiling plan.
"The investments will not stand in the way of environmental preservation and ecological improvement," said Luo. "This will definitely require a compromise on economic growth, but given the far-reaching implications, it is well worth the effort."
"The strategy is part of the country's economic rebalancing to rely more on green industries and the service sector," said Xu Fengxian, a senior economist with the Chinese Academy of Social Sciences. "More importantly, tourism prosperity will have a chain effect for a string of relevant sectors, such as airlines, catering and entertainment."
Sparking interest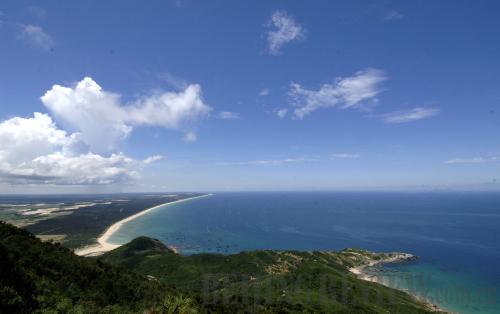 GREEN AND BLUE: Hainan kicked off construction on its biggest tourism project—the Wenchang Tongguling Ecological Tourism District (ZHAO YINGQUAN)
After becoming the country's youngest province and special economic zone in 1988, Hainan represented a beacon of hope as China's next economic miracle, due to its proximity to Hong Kong and Shenzhen. However, while other coastal provinces drew strength from export booms, the island's economy languished due to a rocky manufacturing foundation and infrastructure bottlenecks.
In recent years, the waves of tourists that wash the sandy Hainan beaches have reached almost tidal proportions, injecting energy into a once-flagging economy. Meanwhile, travel agencies have rushed to cash in on the bonanza. Premium hotels and restaurants have sprouted up almost everywhere.
The overall Hainan economy grew by a robust 11.7 percent in 2009 year on year, painting a clear picture of the upward momentum to come. The island's tourism, in particular, is bursting with vitality as travelers once again reach for their cameras and suitcases after a brief traveling hiatus during the financial crisis, said Tang Yibo, a senior sales manager with Ctrip.com, a major online travel company headquartered in Shanghai.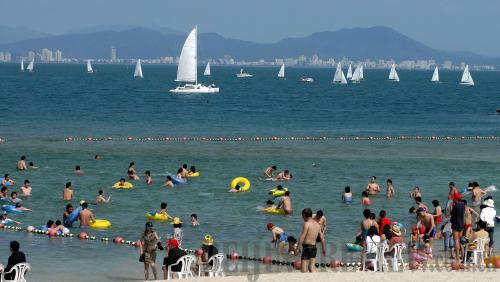 TROPICAL PARADISE: Tourists enjoy the warm weather and sandy beaches in Sanya (MENG ZHONGDE) 

However, despite facilities and scenery that are comparable to Bali, Indonesia or the Hawaiian islands, the beauty of Hainan has yet to spark global interest. The island played host to 970,000 overseas travelers in 2008, a number dwarfed by the 19.62 million domestic tourists who came to soak up the sun.