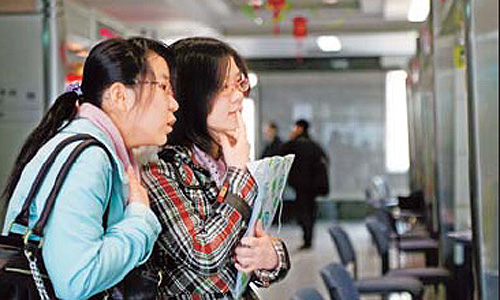 Job seekers join a job fair that claimed to be low-carbon. The event included no promotional material from companies and encouraged more online resumes, March 21, 2010 (CHINA DAILY) 
Beijing Review Reporter Zeng Wenhui made the following calculations before a recent interview in Beijing
"Departure: 24 Baiwanzhuanglu, Xicheng District
 "Destination: 6 Yongchangnanlu, Yizhuang Economic-Technological Development Area, Daxing District
"Distance: 36 km
"Carbon footprint:
"A: Take a fuel-efficient car (consuming less than 8 liters of gasoline per 100 km), which, in accordance with the carbon footprint calculator released by the Beijing Forestry Carbon Administration, emits 5.62 kg of CO2, except for any additional emissions caused by traffic jams, and takes one hour under normal traffic conditions.
"B: Take a bus, which emits 1.3 kg of carbon and takes two and a half hours."
Zeng finally chose option B, which reduces carbon emissions but lengthens travel time.
In late 2009, just after the end of the UN Climate Change Conference in Copenhagen, Beijing Review website planned an ambitious special report called "2010: Low Carbon in Progress." The website is mobilizing all its reporters to follow a person, family, community, company or any interviewee for one year, recording exactly how much they reduce their carbon emissions. At the end of the year, reporters will calculate the amount of carbon emissions reduction and any effects it may have.
"We will participate in the effort to curb global warming and save the Earth!" the editors vowed in applause. Some of them even proposed to carry out all interviews in a low-carbon way.
Zeng was the first to take on this challenge. Inspired by the low-carbon ardor, she carried her backpack and traveled by bus and subway. Taking five hours to travel there and back, she completed the interview, achieving her low-carbon aspirations if not considering time costs.
But reality made the editors' plan seem naïve. One interviewee born in the 1980s said he fully supports the low-carbon initiative, but he is not keen to part with the car he recently bought. Another interviewee indifferently said he has no low-carbon plan and will just "turn off the lights or something." Beijing Review had planned to interview a "rich man" who has a BMW but does not drive, as well as a "poor man" who has no air conditioner and is thus forced to live a low-carbon lifestyle. But these two initiatives were finally given up for various reasons. Looking back on them, the editors do feel a bit sheepish.
Since the Copenhagen conference, low carbon and global warming have become even hotter topics worldwide. Politicians, scientists and mass media are clashing, and the maneuvering among various countries, international organizations and big companies or consortiums is turning into a real-life "vanity fair." In the meantime, many polls indicate that people in almost every country are less trusting of climate change and related political and economic interest groups.
A lot of media are still diligently spreading the idea of low carbon, promoting the carbon footprint calculator, spreading knowledge about climate change, providing various tips on how to reduce carbon emissions in daily life, and reporting on NGOs and enthusiastic people who are devoted to saving energy, reducing emissions and protecting the environment.
The public is anxiety-ridden: Is the Mayan prophecy from the movie 2012 coming true? Are the rich and politicians really building a Noah's ark to preserve human civilization? While the skeptics and pessimists continue to argue with environmentalists, more people are realizing that before the low-carbon movement degenerates into a political show, it should first become a compulsory course in today's world for the benefit of our offspring. Hence, "low carbon" is increasingly becoming the attribute or prefix of nouns such as office, traffic and household life.
Historians say that ideas change history. Environmentalists believe that action will save the Earth.
More and more people are embracing a low-carbon lifestyle, and it is easy to spot 365 pieces of tips on how to reduce carbon emissions, such as to do as much work as possible in the daytime, shut down computers not in use, hold shorter meetings, eat less meat, stop wearing leather and fur coats, wear short hair, etc. The most dedicated low-carbon advocates are even considering protecting the Earth through marriage, because statistics show that the per-capita resource consumption of divorced people is 42-61 percent higher than it was before divorce.
To common people, low carbon is more importantly a kind of faith. If enough people adopt a low-carbon lifestyle, everyday and everywhere, it could change history. Every individual effort makes a difference.
Throughout 2010, Beijing Review website will report on how common Chinese people are adopting low-carbon practices.