Hello and welcome to the 44th issue of Beijing Review.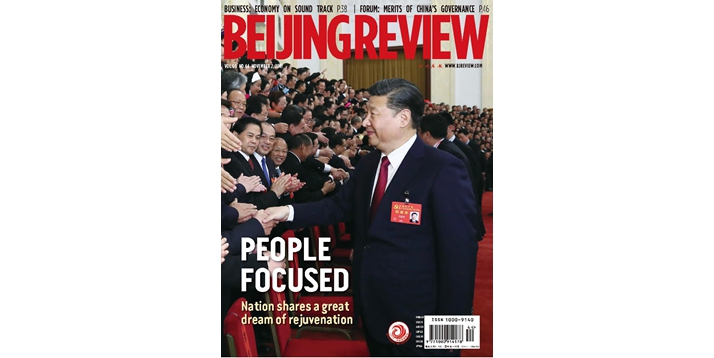 Photo by Wang Yajuan
COVER STORY
Embarking on a New Journey is about the new lineup of top leaders of the Communist Party of China (CPC) and the vision of a great modern socialist country focusing on common prosperity for all and rejuvenation of the nation. The congress included "Xi Jinping Thought on Socialism with Chinese Characteristics for a New Era" into the Party constitution.
COVER STORY
Foreign Perspectives on China is about perspectives on China by foreign journalists covering the 19th CPC National Congress. The reporters remarked favorably on China's growing global presence, economic achievements and developments in making life better for the Chinese people.
BUSINESS
Full Steam Ahead is about the Chinese economy and its strong growth momentum in the first three quarters of this year. The international community raised the forecasts for China and, although there are downward risks in the coming quarter, continued economic structural transformation and new driving forces should lay a good foundation for continued growth.
Copyedited by Pamela Tobey
Comments to linan@bjreview.com