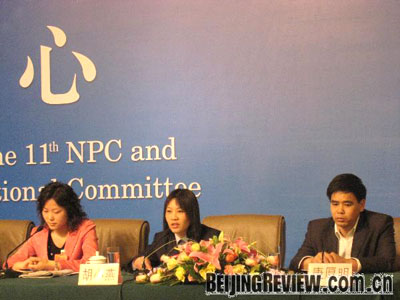 Migrant workers Zhu Xueqin from Jiangsu Province, Hu Xiaoyan of Sichuan Province, and Kang Houming from Chongqing Municipality, are conspicuous among over 2800 deputies to the 11th National People's Congress (NPC), China's top legislature. They are the first to be elected as deputies, representing some 200 million migrant workers nationwide.
Not surprisingly, what their foremost concern is the welfare of their peer migrant workers.
31-year-old Zhu, a worker in a Japanese garment company in Shanghai, has made social insurance her focus. According to current policy, an employee is eligible for old-age pension only after he/she pays social insurance fees for at least fifteen years.
"That seems a mission impossible to most of us, for we often move from one place to another to make a living," said Zhu. Her proposal is thus about establishing a nationwide network, so that migrant workers can deposit social insurance fees via cards (something like having a savings account in a bank).
Hu, a worker in a ceramic factory in southern China's Guangdong Province, gives priority to educational problems. According to the fifth nationwide consensus in 2005, the floating population in China reached 120 million, some 20 million among them children.
"Flooding big cities with their parents, their school dropout rate is as high as 9.3 percent," said Hu. "Even worse, nearly 1 million children cannot go to school at their right ages, which puts their future at risk. There is no doubt that the direct consequence will be disaster."
It is common practice in China that a "sponsorship fee" is charged when children transfer to a new school. To migrant worker parents, this fee is usually exorbitant and unaffordable. In other words, their children's access to normal education is blocked.
At present the government is sparing no effort to protect the rights of these children to compulsory education; one of the measures introduced is a new registered residential system, eliminating the dividing line between urban and rural students.
Kang, a worker in a local road-construction company, has made physical health his number one priority.
"Contamination around one's working environment leads to occupational diseases," he said. "It would be ideal if the government could provide regular physical checkups for migrant workers, which will prevent and treat diseases faster."
"To be honest, I feel a bit nervous for I have little experience in participating in politics," said Zhu at a press conference, "But it is a good opportunity to learn from others on how to get one's voice heard, as well as give reasonable proposals."
Zhu's view was echoed by Hu and Kang.
In recent years, migrant workers have emerged as the pillars of China's workforce, thanks to the rapid growth of the country's economy. In March 2007, the NPC annual session approved a draft resolution on legislative elections, which stipulated that provinces and municipalities with a large population of rural migrant workers should have a reserved quota for NPC deputies.
According to Jiao Hongchang, professor of constitutional studies at China University of Political Science and Law, it can be regarded as a positive signal in China's election system that migrant workers are gradually getting involved in lawmaking processes.