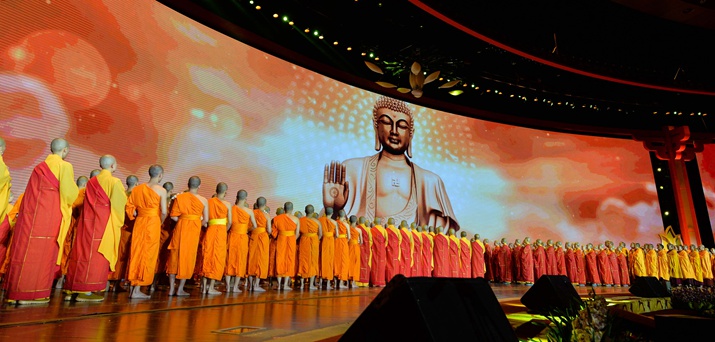 The Fourth World Buddhist Forum opens in Wuxi, Jiangsu Province, on October 24 (XINHUA)
The late U.S. political scientist Samuel P. Huntington famously predicted that people's cultural and religious identities would be the primary source of conflict in the post-Cold War world. In contrast, Buddhist masters attending the recent Fourth World Buddhist Forum in China believe religion has actually brought civilizations together, and can be a force for peace. Eminent monks present at the forum agreed that mutual learning and exchanges between cultures can break the spell of the "clash of civilizations" theory postulated by Huntington.
The global event as a whole, with a theme of Common Aspiration, Common Action--Embracing Exchanges and Mutual Learning, was designed to discuss the positive role of Buddhist thought in solving the problems that affect the lives and development of human beings. In a declaration as a result of the forum, signatories called upon diverse civilizations and religions in the world to coexist in harmony and learn from each other through exchanges.
Held on October 24-25 in Wuxi, Jiangsu Province, the forum attracted more than 1,000 monks, scholars and other celebrities from 52 countries and regions. A booming town in east China, Wuxi has a long and rich religious tradition. It features an 88-meter bronze statue of Buddhism founder Sakyamuni, the tallest in the world; and is home to several centuries-old temples.
This was not the first time that Wuxi hosted the World Buddhist Forum. The Second World Buddhist Forum was held in the city in 2009. Now, it is a permanent venue of the forum.
The conference was jointly proposed by Buddhist communities in the Chinese mainland, Taiwan, Hong Kong and Macao in 2004. It was established as a platform for Buddhists to communicate and cooperate.
At the event, Master Xuecheng, President of the Buddhist Association of China, urged Buddhists across the world to promote exchanges between different civilizations, contribute their wisdom to solving common survival and development problems facing the human kind, and join hands in building a community of common destiny.
"First, we should promote exchanges and mutual learning between Buddhists following different traditions and from different sects, countries and regions; second, we should strengthen dialogues and cooperation between Buddhism and other religions; and third, we should enhance integration between Buddhism and modern science and technology," he said.
Xuecheng himself is a pioneer in bringing modern science and technology into Buddhism. On February 2, 2006, when microblogs were nascent, he embraced the medium by opening his personal account, becoming the first microblogger in the Chinese Buddhist community.
Now, he has opened microblog accounts in 10 languages including Mandarin Chinese and Tibetan, English, French, German and Thai, with followers in two thirds of the countries and regions in the world.
Whenever the Internet-savvy master sends a message, full-time and volunteer translators will quickly render that into different languages and update his accounts in a timely manner.
At the age of 49, Xuecheng became the youngest president of the Buddhist Association of China in the organization's 62-year history when he was elected on April 21. He also serves concurrently as the abbot of Longquan Temple in Beijing, Guanghua Temple in Fujian Province and Famen Temple in Shaanxi Province. He also holds various social positions including member of the Standing Committee of the CPPCC National Committee.
Now, constantly evolving media technology has turned the world into a global village, and a big society of shared prosperity and destiny, Xuecheng said. He believes it is very important for civilizations to defuse conflicts, foster friendship and seek common progress, and the Internet is a convenient way to achieve that.
New media technology has been widely used in the Buddhist community. The Third World Buddhism Forum held in Hong Kong in 2012 was covered with new media technology such as microblogs, while three new media sub-forums were held during the most recent forum.
Copyedited by Mara Lee Durrell
Comments to tangyuankai@bjreview.com