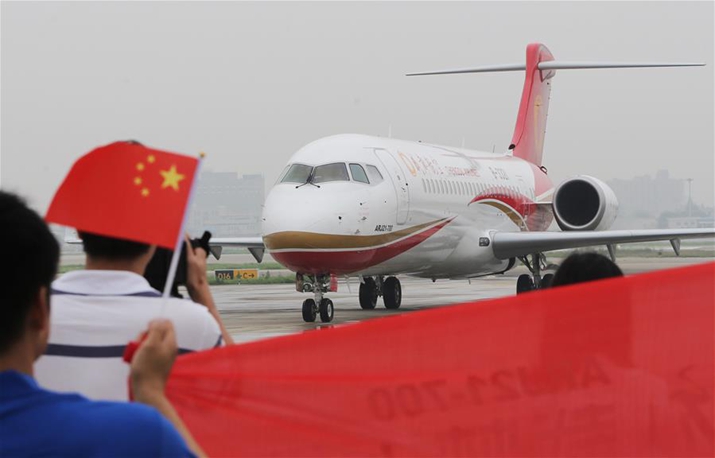 Chengdu Airlines ARJ21-700 arrives at Hongqiao International Airport in Shanghai on June 28 (XINHUA)
China's first regional commercial aircraft, the ARJ21, began commercial operation with a flight from Chengdu to Shanghai.
The jet landed at Shanghai Hongqiao Airport at about 11:37 a.m. after a flight lasting two hours and 12 minutes.
This is Chengdu Airlines' maiden flight from the capital of Sichuan Province to Shanghai, the country's financial and business center.
The ARJ21, or Xiangfeng (Flying Phoenix), will fly three days a week, on Tuesdays, Thursdays and Saturdays.
Shuai Zhiyong, vice president of Chengdu Airlines, said with more jets being delivered, the carrier will introduce them on other air routes.
Chengdu Airlines has ordered five more ARJ21 jets, and delivery is due before the end of 2016. In five to six years, the company hopes to have a fleet of 30 ARJ21 aircraft.
"In terms of many functions, the ARJ21 does not lose to rivals Boeing and Airbus. Like those two, many of its parts are purchased from overseas suppliers," said Zhang Fang, the jet captain and vice president of Chengdu Airlines.
Zhang, also former chief test pilot for the Civil Aviation Administration of China, has flown most Boeing and Airbus models for a total of 10,000 flight hours. He has flown the ARJ21 more than 600 hours.
The regional jet has flown 110 hours as required by the country's aviation regulator to receive certification for commercial operation, Shuai said.
The ARJ21, produced by the Shanghai-headquartered Commercial Aircraft Corp. of China (Comac), is a 90-passenger twin-engine jet with a flight range of 2,225 to 3,700 km.
Comac has received more than 300 orders from 19 airlines, including three from the Republic of Congo.
The plane is China's first regional jet manufactured according to international standards. Following its maiden flight in 2008, it was put through six years of grueling tests before being awarded airworthiness certificates from the Civil Aviation Administration of China and the U.S. Federal Aviation Agency.
Comac has also developed a prototype for a larger jet, the C919, to compete with Airbus 320 and Boeing 737.
(Xinhua News Agency June 28, 2016)