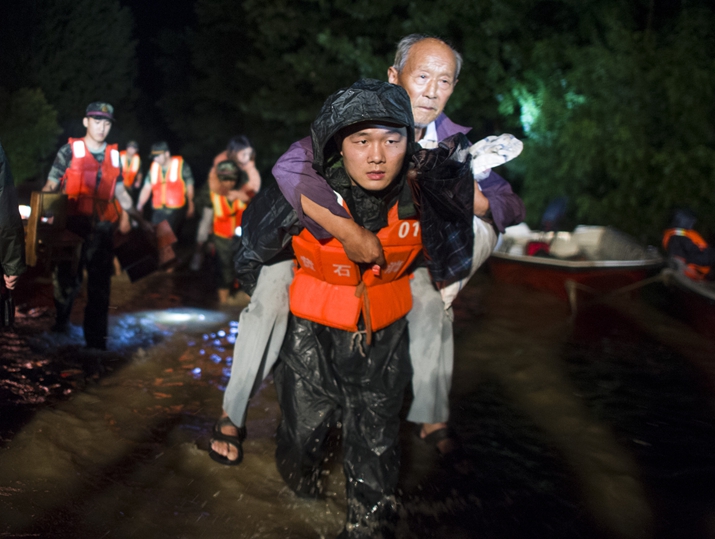 A soldier from the armed police in Hubei Province transfers an elderly resident to safe area after the breach of a levee in Xinzhou District of Wuhan, capital city of the province, on July 2 (XINHUA)
The long line of workers wearing rain boots, wide straw hats and wielding large bamboo brooms worked in unison, their movements seemingly choreographed. Man against nature—the massive clean-up campaign was unenviable, but vital.
On the hot afternoon of July 10, the streets of Yongtai County in southeast China's Fujian Province were thick with sludge and debris, the aftermath of Nepartak, the first typhoon to land on China's mainland this year. The storm abated as it moved further inland, leaving in its wake a trail of destruction. Submerged farmland, waterlogged cities, collapsed homes and sadly, human casualties. As the sun set, the sound of the sweeping brooms continued deep into the night.
The typhoon made landfall on the shore of Shishi City in Fujian at 1:45 p.m. on July 9 and was downgraded to an ordinary storm on the afternoon of July 10.
As a semblance of order returns to the area, roads are being repaired, and facilities disinfected. With assistance from the government, people are returning to their normal lives.
Death and destruction
This year, China's flood control authorities have been on alert for deluges brought about by a strong El Nino that ended in May. In the first half of the year, precipitation across the country was 23 percent higher than that during the same period of last year, said Liu Ning, Secretary General of the State Flood Control and Drought Relief Headquarters (SFCDRH) and Vice Minister of Water Resources, at a press conference held on June 29.
Nepartak had sent down 100-250 mm of rain in 20 counties of Fujian, with Minqin County receiving the heaviest rainfall of more than 350 mm, according to a meteorological report.
As of 9 a.m. July 11, the typhoon had contributed to the deaths of nine people, left 18 missing, displaced 213,000, and affected a total of 452,000 people in 54 counties of nine cities in Fujian, according to the province's Department of Civil Affairs. More than 900 houses were destroyed as well as crops damaged, with total direct economic losses estimated at 900 million yuan ($134.4 million).
The Fujian Commission for Disaster Reduction and the Department of Civil Affairs allocated 10 million yuan ($1.54 million) for disaster relief.
At 10 a.m. on July 11, the National Commission for Disaster Reduction and the Ministry of Civil Affairs activated the national level emergency response system. Relief supplies were being delivered to the disaster-stricken area in Fujian.
Days before Nepartak landed, the middle and lower reaches of the Yangtze River recorded heavy rainfall. The National Climate Center reported 100-200 mm of precipitation in this area from June 30 to July 4.
According to the center, these days saw the heaviest rainfall in the region to date this year, with 401,000 square km receiving precipitation of more than 100 mm, and 64,000 square km receiving more than 250 mm.
The Hubei Department of Civil Affairs estimated that as of 5 p.m. on July 4, the storm had affected 9.57 million people in 79 counties of the province, leaving behind 38 dead and 17 missing.
Floods triggered by rainstorms damaged the houses of 13,995 households, displaced 308,900 people and flooded a large area of farmland, causing a direct economic cost of about 12.85 billion yuan ($1.92 billion).
On July 11, the Ministry of Civil Affairs released a report on natural disasters across the country in the first half of this year. It revealed that, in the first six months of this year, floods and related geological disasters such as landslides affected 34.02 million people, causing 367 dead or missing. A total of 68,000 houses collapsed and 469,000 were damaged, and a large area of crops was ruined. The direct economic loss was 45.51 billion yuan ($6.79 billion).
Generally speaking, the losses were comparable to the same period in recent years, said the Ministry of Civil Affairs. Most of the flood-related disasters took place in southern provinces, such as Hunan, Guizhou, Jiangxi, Hubei, Anhui and Fujian.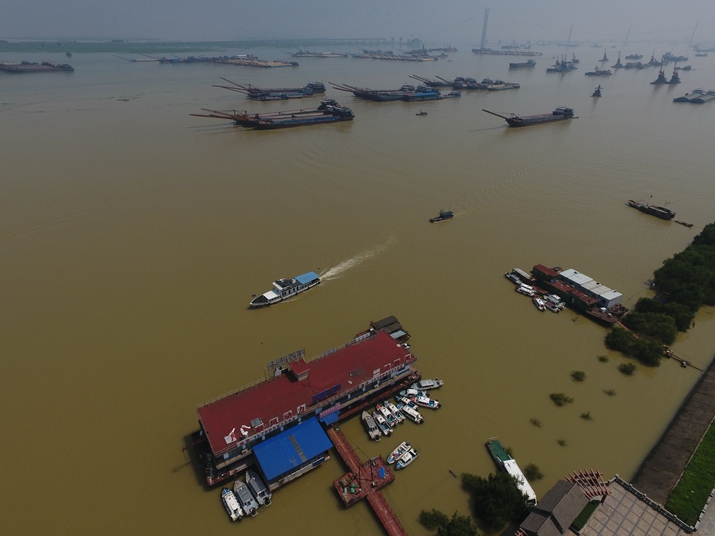 Water in the Dongting Lake in Yueyang City of Hunan Province, exceeds warning level on July 8 (XINHUA)
Rescuing efforts
The government attaches great importance to preventing and controlling floods. On July 5-6, Premier Li Keqiang visited Fuyang in Anhui, Yueyang in Hunan and Wuhan in Hubei to inspect flood control and disaster relief work in the areas.
During the visits, he stressed that protecting people's life and property safety must be the top priority.
The SFCDRH has sent expert groups to southern provinces to guide related work. Local residents in the provinces and the People's Liberation Army and armed police forces have also been deployed for flood control.
The SFCDRH disclosed that from June 30 to July 4, a total of 733 levee breaches were reported in the five provinces in the middle and lower reaches of the Yangtze River, including three along the mainstream of the river. During the period a total of 1.54 million people had participated in flood control.
Incomplete statistics revealed by the SFCDRH showed that on July 4, about 424,300 people (including 17,100 troopers) were assigned to inspect dams and close levee breaches, including 76,400 in Hubei, 103,800 in Hunan, 16,000 in Jiangxi, 221,600 in Anhui and 6,500 in Jiangsu.
In the battles against flooding, soldiers and armed police played an important role.
On the Internet, pictures of drenched military rescuers with blistered hands were widely circulated.
When Nepartak pummeled Damo Village in Hongwei Township, Minhou County in Fuzhou, capital of Fujian, about 1,000 villagers were trapped by raging water. The Fuzhou branch of the armed police dispatched a batch of 50 officers and soldiers, who transported villagers to safety with speedboats.
Firefighters in Yongtai County, Fuzhou, saved 132 residents in the town of Qingliang, where roads were cut off, bridges broken and houses collapsed in the flood.
During the rescue mission, soldiers also faced risks. On July 9, three soldiers were washed into the Meixi River by mudslides on their way to disaster-stricken Minqing County in Fujian. Soldier Liu Jingtai remained missing while the other two have been rescued.
Flood control review
The storms and floods elicited heated debates about flood control measures. Flood control is a complicated engineering system consisting of reservoirs, embankments, river and flood diversions and storage areas, said Ding Liuqian, Director of Flood Control and Drought Relief Engineering Research Center under the Ministry of Water Resources.
When floods occur, firstly the role of reservoirs and embankments should be optimized, and if this is inadequate, we need to resort to diverting floods to alternative flood storage areas according to the emergency plan, said Ding.
"If not for the reservoirs that blocked the flood water, the consequences would have been unimaginably terrible," Luo Yijun, an official with the Flood Control Office of Hunan, told Xinhua News Agency.
He said, on July 1, water in Zishui River in the province surged, and Tuoxi Reservoir began to store the flood water. Up until July 4, the reservoir had blocked and stored more than 500 million cubic meters or 75 percent of the flood water, protecting people downstream of the river.
While the embankment of large reservoirs and rivers has been consolidated in recent years, Ding said that small and medium-sized rivers and small reservoirs are vulnerable to breaches. In addition, he pointed out that human activities, such as overly developing river and lake beds will aggravate flood risk, and such improper activities should be restricted by law.
Another problem that Ding noted is serious waterlogging in some cities, such as Wuhan. Days after the rainstorms in early July, some residential compounds in Wuhan were still drenched in water more than 1 meter deep. A reporter with The Beijing News found that one such neighborhood was marked as a lake on a traffic map of Wuhan published in 2000, and other soaked neighborhoods were either wetlands or originally planned to be developed into water parks.
Ding said that cities should improve the drainage capacity of their underground pipeline networks and urban rivers, strengthen planning for low-lying land and lakes, and construct underground water storage and infiltration facilities.
Copyedited by Francisco Little
Comments to wanghairong@bjreview.com