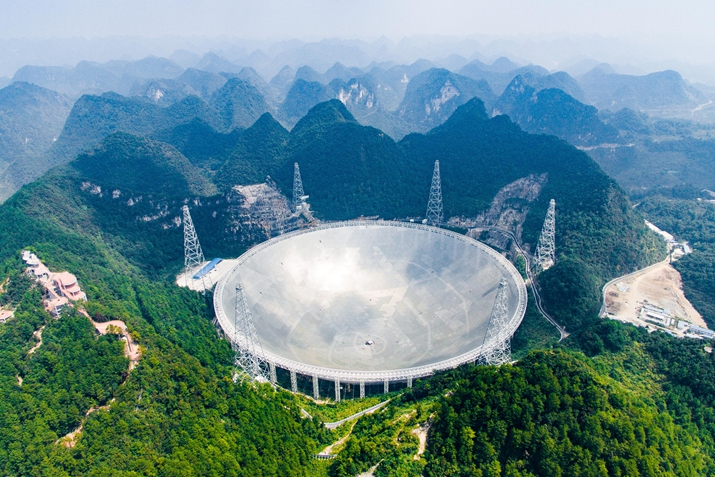 The Five-hundred-meter Aperture Spherical Telescope in southwest China's Guizhou Province on September 24 (XINHUA)
Though nicknamed "the world's factory" due to its manufacturing capacity, China has progressed steadily in scientific and technological development in recent decades by investing heavily in fundamental research. This year, such endeavor has borne fruit in many fields including space exploration and oceanography. How these achievements will eventually affect human life remains an open question. But, they will certainly contribute to efforts aimed at making our world a better place. The following recaps some of this year's notable developments:
Largest Radio Telescope
Shortly after noon on September 25, in a karst valley in Pingtang County in southwest China's Guizhou Province, the Five-hundred-meter Aperture Spherical Telescope (FAST)—the world's largest and most sensitive radio telescope—was put into use.
As the world's largest single-dish telescope, FAST can accurately image twice as much of the sky as the Arecibo Observatory in Puerto Rico, home to a 350-meter radio telescope, with double the sensitivity and five to 10 times the speed.
Work to develop the nearly 1.2-billion-yuan ($180 million) project started in 2011. The installation of the telescope's main structure—a 4,450-panel reflector covering an area equivalent to 30 football pitches—was finished in early July 2016.
FAST's tasks include observing pulsars, investigating interstellar molecules and searching for interstellar communication signals. During a test, the telescope received high-quality electromagnetic waves generated by a pulsar about 1,351 light years away, said Qian Lei, an associate researcher with the National Astronomical Observatories under the Chinese Academy of Sciences (CAS), which manages the project.
FAST's lead engineer, Wang Qiming, said the telescope, which was designed and built by Chinese scientists, will remain the global leader in the field for the next 10 to 20 years.
"[It] will certainly generate enthusiasm, bring people into science, and make China important in the world of science," Joseph Taylor, an astronomer at Princeton University, told Xinhua News Agency. Taylor was awarded the Nobel Prize in Physics in 1993 for discovering indirect proof of gravitational waves with the assistance of Puerto Rico's Arecibo Observatory.
"FAST's innovative design and huge collecting area give it unsurpassed speed and sensitivity, making it vital to the search for extraterrestrial intelligence in the coming decades," Douglas Vakoch, President of METI International, an organization that promotes messaging outer space in the search for extraterrestrial intelligence, told Xinhua.
However, FAST will not initially be outfitted with the signal processing capabilities to search for aliens, he said. This technology will be added at a later stage, and when that happens, FAST will be able to scan the heavens for signals that "can't be created by nature, but only by advanced civilizations," Vakoch said. He also predicted that FAST will lead to "a dramatic increase in the number and variety of pulsars discovered." Pulsars, one of FAST's main scientific objectives, are dense, rotating stars that act as cosmic clocks, emitting pulses with remarkable regularity.
This could also provide scientists with the capability to detect gravitational waves, or ripples in space-time, from pairs of massive black holes, since FAST has the potential to precisely measure tiny changes in pulsars' pulse rates as gravitational waves pass by.
"With the opening of FAST, China continues to demonstrate that it is a world leader in space exploration, now from an Earth-based observatory as well as from space," he added. "Astronomers around the world can be grateful to China for creating an observatory that may lead to discoveries beyond our wildest imagination."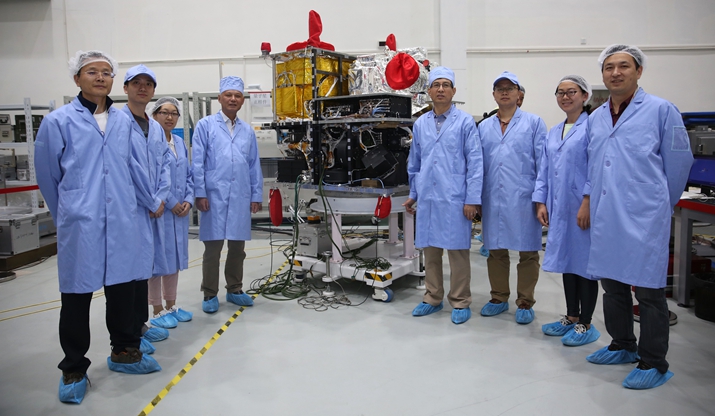 Scientists pose with the world's first quantum satellite in Shanghai on May 25 (XINHUA)

First Quantum Satellite
China successfully launched the world's first quantum satellite from the Jiuquan Satellite Launch Center in northwest China's Gansu Province on August 16. The 640-kg satellite, known as Quantum Experiments at Space Scale (QUESS), is nicknamed Micius after a fifth-century B.C. Chinese philosopher and scientist credited as the first person ever to conduct optical experiments.
Having entered a sun-synchronous orbit at an altitude of 500 km, the satellite circles Earth once every 90 minutes. During its two-year mission, QUESS is designed to establish "hack-proof" quantum communication by transmitting uncrackable keys and to provide insights into quantum entanglement, the strangest phenomenon in quantum physics. Quantum communication provides ultra-high security. As quantum photons can neither be separated nor duplicated, it is impossible to intercept or decipher information thus encoded and transmitted.
According to the CAS, the first batch of data from Micius was received at the China Remote Sensing Satellite Ground Station, situated on the outskirts of Beijing, on August 17.
"The newly launched satellite marks a transition in China's role—from a follower in classic information technology (IT) development to one of the leaders guiding future IT achievements," Pan Jianwei, chief scientist of the QUESS project, said at a media briefing.
Scientists expect quantum communication to fundamentally change society in the next two to three decades, as enormous prospects exist for applying the new technology in fields such as defense and finance.
"If China sends more such satellites into orbit, we can expect a global quantum communication network to be established around 2030," said Pan.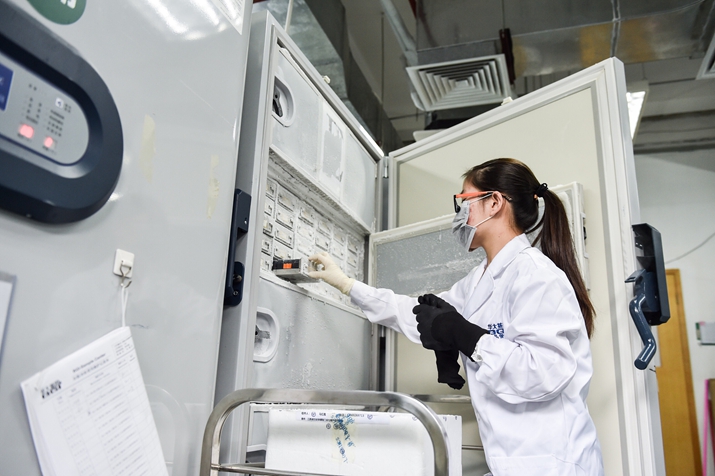 A staff member works at the China National GeneBank in Shenzhen, south China's Guangdong Province, on September 20 (XINHUA)
World's Fourth National Gene Bank
The China National GeneBank (CNGB), the country's first national gene bank, opened in Shenzhen, south China's Guangdong Province, on September 22, aiming to promote human health research and the conservation of global biodiversity.
The gene bank contains over 10 million bio-samples and has made cooperation and research arrangements with more than 100 organizations worldwide in areas such as human health, biodiversity and biological evolution.
Initiated by the National Development and Reform Commission in 2011, the gene bank was established by Shenzhen-based BGI, one of the world's leading genomics organizations. According to BGI President Wang Jian, CNGB's mission is to "preserve the essence of a billion years of evolutionary history and deposit the life foundations of billions of people."
CNGB is the world's fourth national-level gene bank. Prior to its establishment, gene data produced by China were stored in three international databases—the National Center for Biotechnology Information (NCBI) in the United States, the European Bioinformatics Institute (EMBL-EBI) in the United Kingdom and the DNA Data Bank of Japan (DDBJ).
Different from the other three gene banks, CNGB is not only a database, it is a combined bio-information bank, a bio-samples and genetic resources bank, and a living resources bank of plant, animal and microbe species, according to CNGB Director Mei Yonghong.
"Generally speaking, we collect biological resources all over the world, read the genetic data of living things with sequencers, use supercomputers to obtain the results and write the gene code on … [our] platform," Mei told Xinhua.
Gene research is not only an effective way to prevent birth defects and discover early-stage genetic diseases, but is also of great significance in disease treatment and biodiversity protection.
"Stored human cells may help cure many diseases in the future with the improvement of medical technology," CNGB Executive Director Xu Xun told Xinhua. "For example, skin stem cells saved at a young age may be able to help people restore youthfulness by enabling skin reproduction. Immune cells stored at a good health stage may help restore people's immune systems later in life."
CNGB also aims to create a network to foster global collaboration and communication and to promote innovation in the community, he added.
The gene bank has established guidelines for the exchange and sharing of its data and genetic resources with the world's three major databases—NCBI, EMBL-EBI and DDBJ—and with bio-banks including the Svalbard Global Seed Vault, Heidelberg University and the Smithsonian Institute.
CNGB's establishment has been applauded by the international scientific community. "[A] large collection of individuals in national cohort studies will allow us to better predict and eventually prevent the onset of diseases. CNGB will be essential to improving the life and health of future generations," Irina Lehmann, head of environmental immunology at the Helmholtz Center for Environmental Research in Germany, told Xinhua.
"The grand opening of CNGB is a major leap forward in China's ongoing effort to position itself at the very top of worldwide genomics," Roland Eils, a professor of bioinformatics and functional genomics at Heidelberg University, said.
Members of a Chinese expedition survey the prospective site for China's planned fifth Antarctic station by the Ross Sea on February 8 (XINHUA)
Icebreaker's Antarctic Trip
Scientists from China wrapped up their 32nd scientific expedition to Antarctica as the nation's icebreaker Xue Long, or Snow Dragon, returned to Shanghai on April 12. Carrying 277 scientists from over 80 research institutions, Xue Long covered about 30,000 nautical miles during the 156-day expedition.
As part of the mission, China's first fixed-wing aircraft for polar flight, the Snow Eagle 601, completed 264 hours of test flights covering nearly 80,000 km, according to Sun Bo, deputy head of the expedition team. China will develop a fleet of such aircraft and set up a specialized Antarctic aviation team, Sun said.
During the expedition, Xue Long completed its second circumnavigation of Antarctica on February 27. The 75-day voyage of over 18,000 nautical miles was also the research vessel's first counterclockwise trip around the ice-covered continent.
The expedition team conducted marine environmental assessments in waters around the Antarctic Peninsula. The team confirmed earlier speculation about the South Pole being home to the world's largest canyon and found many sub-glacial lakes and currents connected to the canyon that together form a giant "wetland" beneath the Antarctic ice.
The team also collected 630 pieces of meteorite. China now has 12,665 pieces of Antarctic meteorite, just short of the amounts collected by scientists from Japan and the United States.
Notably, the icebreaker arrived at the southernmost point ever reached by a Chinese vessel—77.47 degrees latitude south, 166.16 degrees longitude east—in the Ross Sea on February 6. Researchers conducted a final survey for China's planned fifth Antarctic station, in Victoria Land adjacent to the Ross Sea, mapping the site and assessing the ecological and environmental impacts. The Ross Sea region is a leading gateway to the continent. The region has unique biological and geological features including active volcanoes and the largest ice shelf on Earth.
China's four existing Antarctic research stations—Changcheng, Zhongshan, Kunlun and Taishan—are located elsewhere on the continent. Building a station in the Ross Sea region is of great significance to the nation.
Other Major Scientific Achievements in 2016
- Dark-matter detection satellite:
China's first dark-matter detection satellite completed three months of in-orbit testing in March, with initial findings expected before the end of the year, according to the CAS. The Dark Matter Particle Explorer satellite detected 460 million high-energy particles in a 92-day flight and sent about 2.4 terabytes of raw data back to Earth, said chief scientist Chang Jin.
- Retrievable scientific research satellite:
China put into space a retrievable scientific research satellite, the SJ-10, in the early hours of April 6 to facilitate the study of microgravity and space life science. During its 12-day trip, the satellite carried out 19 experiments, including one on the early development of mouse embryos in microgravity, to shed light on human reproduction in space, and another on space radiation's effects on the genetic stability of fruit flies and rat cells. The satellite's re-entry capsule landed safely on April 18.
- New-generation carrier rockets:
The Long March-7, China's next-generation carrier rocket, lifted off on its maiden flight on June 25. The rocket, which took eight years to develop, can carry up to 13.5 tons to a low Earth orbit. The Long March-7 will be used to launch cargo vehicles for China's planned space station and is expected to become the main carrier for future space launches. China also expects to launch the Long March-5, its largest carrier rocket to date, which is designed to carry 25 tons into a low Earth orbit, later this year.
- World's fastest supercomputer:
The TOP 500 list of the world's fastest supercomputers was updated on June 20 with a new Chinese supercomputer at the top. Called Sunway TaihuLight, the machine replaced Tianhe-2, a Chinese supercomputer that had claimed the top spot on the previous six editions of the list. Sunway TaihuLight can perform 93 quadrillion calculations per second, or petaflops. With 10,649,600 computing cores, it is almost three times as fast as Tianhe-2, which can handle 33.86 petaflops. Moreover, unlike the Intel-based Tianhe-2, the Sunway TaihuLight uses processors designed and made in China.
- Deep-sea research submersible:
Deep-sea manned submersible Jiaolong returned to its homeport of Qingdao, east China's Shandong Province, on July 13 after a 94-day scientific
expedition to the Yap Trench and the Mariana Trench in the Pacific Ocean. During this expedition, the submersible descended as far as 6,796 meters. Jiaolong ventured down to a record depth of 7,062 meters in 2012. During its latest exploration, it filmed video and took samples from a mud volcano in the Mariana Trench. The submersible's findings, which show the prevalence of cobalt in the local seabed, will support China's identification of areas suitable for future deep-sea prospecting.
(Compiled by Beijing Review)
Copyedited by Chris Surtees
Comments to yanwei@bjreview.com