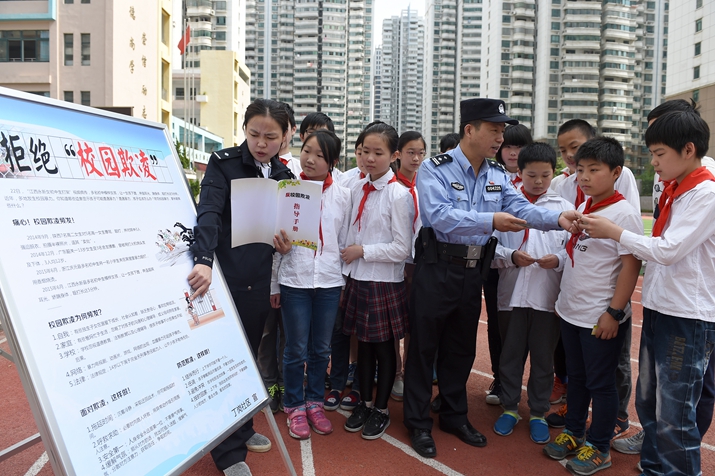 Police officers instruct students in a primary school in Hefei, Anhui Province, how to prevent campus bullying, on May 18 (XINHUA)
On November 23, in a small courtroom in Beijing's Haidian District, the judge read out the verdict in a campus violence case. The accused, three teens, were sentenced to prison for eight, seven and six months respectively.
The court found them, two young women and a man, all 18 at the time of the crime, guilty of beating up a 15-year-old girl last year. The incident occurred near Beijing Aquarium in Haidian and video clips of the attack began to be circulated on the Internet soon after that. The victim and the attackers, all of whom were in their school uniform, were later confirmed to be students of a local middle school.
According to court records, the trio called the police themselves and admitted beating up the younger girl. Later, the victim "forgave" them after they apologized and she was paid an unspecified compensation.
Growing cases of violence on the campus have started attracting public attention, making people aware of the spurt in campus bullying. At a national meeting in Nanchang, a city in east China's Jiangxi Province, on October 10-11, Vice Education Minister Shen Xiaoming said between May and August, 68 cases of campus bullying had been recorded.
But this could be just the tip of the iceberg. The actual number could be much higher, with many cases going unreported.
Worrying facts
There is still no uniform official mechanism to report incidents of school violence and maintain statistics. There have been some surveys and they reveal a pretty high incidence. A few years ago, a survey conducted by China Youth and Children Research Center, an NGO, covering nearly 6,000 primary and middle school students in 10 provinces and municipalities, found about 32.5 percent of the respondents said they had been bullied occasionally; 6.1 percent said they were often bullied by senior students.
Media coverage of school violence, however, has increased remarkably. The public opinion monitoring center of Legaldaily.com.cn, which follows media reports on school violence, found their number jumped from 231 in the beginning of 2013 to 1,830 in the middle of 2015.
A majority of all campus violence was committed by middle school students. The center analyzed 40 incidents and found the lion's share—75 percent—were caused by regular middle school students. The next biggest group of perpetrators were college students (15 percent), followed by vocational school students (7.5 percent) and primary students (2.5 percent).
The center found that 55 percent of the cases were triggered by trivial frictions such as arguments, while 17.5 percent were caused by financial disputes and 15 percent were related to love affairs. Some students bullied or beat others simply because they did not like the victims' appearance or behavior.
The majority of the offenders became physical, pushing, kicking and scratching the victims, and 12.5 percent used actual weapons.
More than 90 percent of the 40 incidents led to injuries. In six instances, the victims died. But offenders in only 27.5 percent of the cases were held criminally responsible. This demonstrates that only a small portion of campus violence cases ends up in the legal system.
According to China's Criminal Law, minors under 14 years do not bear criminal responsibility for their actions. Those between 14 and 16 can be held legally responsible for only eight types of felonies in which the most serious ones are murder, serious injuries, robbery, arson, rape and poisoning. Perpetrators aged between 14 and 18 should be given a lighter or mitigated punishment.
In May, a research team of the Supreme People's Court analyzed 100 campus violence cases in courts across China. The findings, published in Beijing-based People's Court Daily, said 57 percent involved intentional injuries, followed by murder (6 percent), sexual assaults (12 percent), property-related crimes (12 percent), picking quarrels and instigating trouble (10 percent), affray (2 percent) and kidnapping (1 percent).
Sixty-seven percent of the incidents led to deaths or serious injuries. But out of the 32 cases resulting in the victims sustaining serious injuries, the attackers were sentenced to prison for three years or more in only four cases. Of 35 incidents that resulted in death, the culprits were given jail terms longer than 10 years in 10 cases; in 16 cases, they received three to 10 years in prison.
The research team concluded that the laws and regulations on school violence should be improved. Currently, crimes are being committed at a growingly younger age and yet, under the current legal system, murderers under 14 and offenders aged between 14 and 18 who have beaten and insulted victims but not inflicted serious physical injury are not punishable by law.
The researchers said if behaviors which cause harm without inflicting actual physical injury, such as verbal intimidation and harassment, are not brought under the ambit of the law, it will encourage further misconducts and undermine social stability.
Finally, the team pointed out that some people are not yet sufficiently aware of the harm school violence can cause. A large number of people still believe campus violence is a minor problem during adolescence and their philosophy is that the offenders should be educated and "saved." The researchers have suggested that students who break the law and exert a bad influence should be duly punished.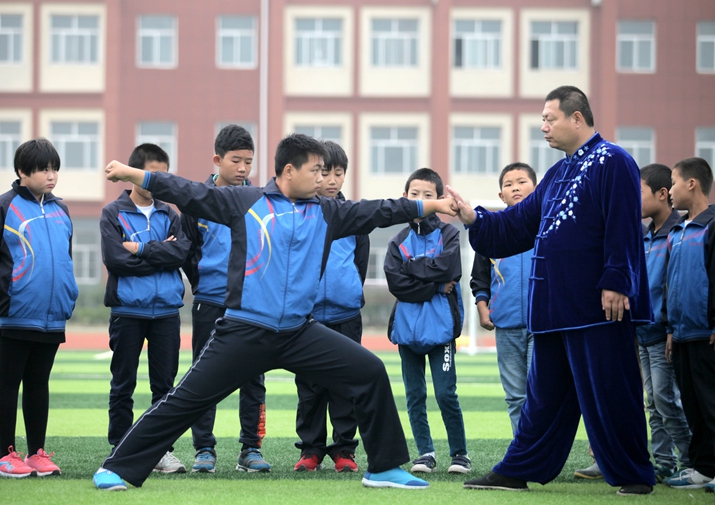 A martial art coach teaches students in a school in Weixian County, Hebei Province, in September 2015 (XINHUA)
Awareness begins at home
The seriousness of the problem has made the government weigh in. In April, the Ministry of Education asked schools and educational departments at different levels to identify cases of bullying and tackle them.
On November 1, nine government organizations, including the Ministry of Education and the Supreme People's Court, jointly released a guideline on preventing bullying and other violence against primary and middle school students.
According to the guideline, moral, legal and psychological education should be strengthened in schools. The conception that minors will not be held responsible for breaking the law should be dispelled. Students should be made aware of the serious harm bullying and violence cause.
It details specific measures schools should adopt. Carrying dangerous items such as knives to school should be prohibited and violence-prone students and areas should be monitored. Special attention should be given to students whose academic performance suddenly drops, who are in an abnormal emotional state, or who play truant.
Besides, schools must report serious bullying and violence to education authorities. If a campus crime causes serious consequences, the culprits must be punished according to law but as most campus violence cases are outside the purview of the law, schools and families must play an active role in handling them.
"To a large extent, the roots of campus bullying lie in families," said Chu Zhaohui, a researcher with the National Institute of Education Sciences. Chu said violent children generally come from two types of families: those that are well off and those that are not. Children from the first category tend to believe that no matter what they do, their parents can settle the issue. In the second type, the children themselves may be suffering from domestic violence and emulate their parents' violent behavior.
Schools, therefore, should have anti-violence training for teachers, especially head teachers, and enhance parents' awareness of campus bullying and their responsibility to prevent it.
An Educator's Perspective
To reduce campus bullying and violence, it is imperative to enhance parents' and teachers' awareness of the issue.
Luke Shen-Tien Chi, a Chinese American spokenologist teaching English spokenology in Shenyang Normal University in northeast China, shared his perspective with Beijing Review. Chi said nowadays instructors tend to focus on imparting knowledge rather than shaping students' behavior. Etiquette education and Chinese cultural tradition studies, he added, are essential for good social behavior and for reducing bullying.
"Confucius enumerated a number of ways of proper living in early Chinese civilization," Chi pointed out. "From ancient time to contemporary society, his unique concepts and graceful manners cultivated and captivated many." Chi proposes that Chinese classics on etiquette be incorporated into school curriculum.
He has created a point system to encourage students to behave. They will gain points by following rules. The system also encourages students to participate in classroom activities.
"Bullying is a type of dysfunctional state that needs correction. Love and care can fix all kinds of pain," he said.
He blamed selfishness, the spirit of today, for the situation. "Much of the general public is divided by self-interests. People of all ethnic backgrounds must embrace love for humanity. Elders should continue to exemplify the persistent energy that makes China great. Their skills should not be neglected. Youngsters should follow their example to retain the richness of the Chinese tradition. Parents should teach their children to behave in an orderly way, so that the next generation will achieve success in academic study, their career and in their life."
Copyedited by Sudeshna Sarkar
Comments to wanghairong@bjreview.com