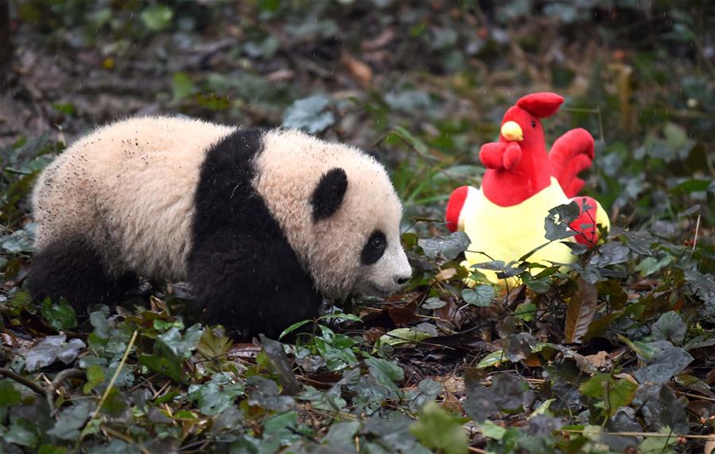 A baby giant panda at the Ya'an Bifeng Gorge base of the China Conservation and Research Center for the Giant Panda in southwest China's Sichuan Province, on January 11, 2017 (XINHUA)
Eight giant panda cubs posed for Lunar New Year greetings on January 11 at a breeding base in southwest China's Sichuan Province.
The eight cubs, including three twin pairs, were all born in 2016. In a festively decorated area of the Bifengxia breeding base of the China Giant Panda Protection and Research Center, the cubs walked, climbed up trees and played with toys in the presence of keepers.
Last year, 27 cubs were born at the center and 22 of them survived.
Two giant pandas in the Bifengxia base, Na Na and Yun Duo, are showing mating signs, said Zhang Guiquan, an official of the base.
Giant pandas are still an endangered species. Fewer than 2,000 pandas live in the wild, mostly in the provinces of Sichuan, Shaanxi and Gansu. At the end of 2013 China had an estimated 1,864 giant pandas in the wild. There are also 422 in captivity, China's State Forestry Administration said.
(Xinhua News Agency January 11, 2017)