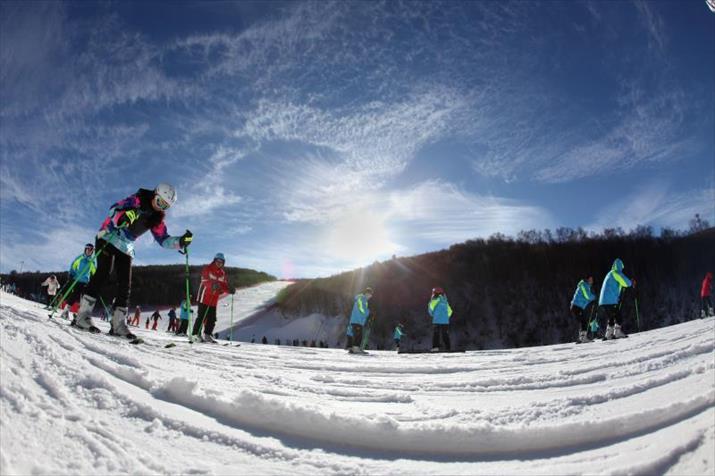 Tourists ski in Chongli, Hebei Province, on December 15, 2016. Chongli will host several events during the 2022 Winter Olympics (XINHUA)
Xia Yu, an 11-year-old student from Yanqing District in Beijing, has been learning to ski for one year now. "At the beginning, I was afraid. But now, I have fallen in love with the sport," Xia said. "I [especially] enjoy the exciting downhill journey."
Xia Yang, his father, encourages his choice of sport. "I'm glad to see my son derive happiness and confidence from it," he said. "If he chooses skiing as his profession one day, I will support him."
Today, more and more people like the Xia father-and-son duo are taking up ice and snow sports—these have become hot after Beijing and Zhangjiakou in neighboring Hebei Province were named hosts of the 2022 Winter Olympics by the International Olympic Committee in 2015.
Allocation of venues
According to Beijing's bid plan, curling, ice hockey and skating events will be held in its urban venues, while alpine skiing, bobsled, luge and skeleton events will be held in Yanqing in the suburb.
Chongli, a small county in Zhangjiakou blessed with large areas of natural snow fields, will host freestyle skiing, snowboarding, cross-country skiing, ski jumping, Nordic combined (a mix of cross-country skiing and ski jumping) and biathlon (cross-country skiing and rifle-shooting) events.
However, compared with events at the Summer Olympics, China has fewer excellent athletes and coaches for the winter edition, said Yang Shu'an, Vice Minister of the General Administration of Sport of China (GAS). Yang said GAS, together with the organizing committee of the 2022 Games, will create training programs for athletes, particularly promising youngsters.
China plans to get 300 million people involved in winter sports. In November, the National Development and Reform Commission and GAS jointly issued a 10-year program (2016-25) for winter sports development. Its focus is on promoting ice and snow sports education, infrastructure and management.
By 2025 there will be 650 skating gyms, of which 500 will be completed by 2022. Also by 2025, 800 skiing resorts will be built across the country.
The Beijing Municipal Government too has initiated a five-year (2016-20) public fitness plan to introduce winter sports to the public. These will include alpine skiing, speed and figure skating, and curling. The target is to attract 5 million Beijing residents to take up winter sports by 2020. Students are a major focus group and winter camps, sports schools, recreation centers and clubs will be organized for them.
Catch 'em young
The Beijing Municipal Bureau of Sport is proposing to make winter sports education compulsory in primary and middle schools. "Each student is expected to do at least one type of winter sport in the future, and they will have at least one hour of winter sports training every week," Sun Xuecai, Director of the bureau, said at the World Winter Sports (Beijing) Expo in October 2016.
In Yanqing, primary and middle school students have been learning to ski and skate during their physical education class from 2014. Last year, nearly 8,000 students took part in these classes.
In Hebei, the number of people participating in winter sports is expected to reach 30 million—40 percent of the local population—by 2022, following government measures. To facilitate this, Hebei is developing its winter sports venues, courting private investment for building winter sports facilities. As a result, as of now, it has 34 ski fields and 29 rinks. New technologies have been introduced to build artificial ski and ice facilities.
Besides participants and venues, guidance plays an important role in winter sports as some events could be dangerous if not undertaken the right way. The province has been encouraging the establishment of winter sports associations and the push has resulted in the formation of a 700-strong team of instructors, according to the Hebei Provincial Bureau of Sports.
During the seven-day Spring Festival holiday this year, almost all snow resorts in north China saw a surge in the number of tourists. Zhang Xiaochun, an office worker in Beijing, said his family had an exciting skiing holiday in Chongli. "Skiing helped revive my youth," Zhang said. "It drew my family outside and gave us a rare opportunity to enjoy its charms."
The venues of the 2008 Summer Olympics will be reused for the Winter Games. According to the organizing committee, of the 12 competition and training venues for the 2022 Games, 11 are venues used in 2008. Gui Lin, Director of the organizing committee's Department of Planning, Construction and Sustainability, said this has helped Beijing stay ahead in the preparatory work.
Enhanced transport infrastructure will add to the Winter Olympic facilities. Construction of a new high-speed railway and freeways to connect Beijing and Zhangjiakou has started and once completed inter-city travel time will be reduced to less than 50 minutes.
This year, Hebei is building venues for the biathlon, cross-country skiing and ski jumping as well as renovating the Yunding Ski Field, a proposed venue for alpine skiing, according to the 2022 Winter Olympics Hebei Office. The construction is expected to be over by 2019.
The Hebei Provincial Government is earmarking 50 million yuan ($7.28 million) each year from 2016 to train professional management and service personnel for the 2022 Games.
As part of the preparations, a team of 236 athletes has been sent to Sapporo in Japan to compete in all events at the Eighth Asian Winter Games, running from February 19 to 26. Gao Zhidan, Vice Minister of GAS, said it is a good opportunity for Chinese athletes to test their strength and learn advanced skills from peers from other countries.
"It will also help us explore more ice and snow talents and further popularize those sports in China," Gao added.
Copyedited by Sudeshna Sarkar
Comments to yinpumin@bjreview.com