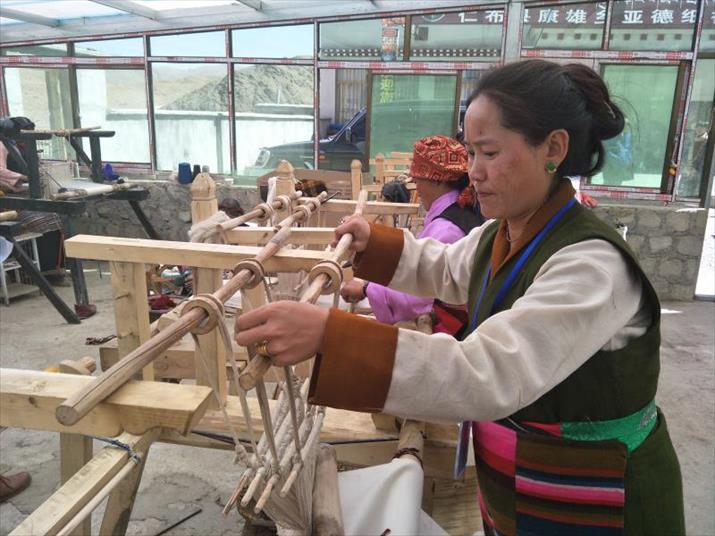 Namdrol, a 30-year-old weaver, tests the weaving machine in a cooperative in Khamshong Township in Tibet Autonomous Region on February 25 (LI NAN)
Lhachung makes nearly 5,000 yuan ($722.6) a month. The rural weaver from southwest China's Tibet Autonomous Region amasses an earning that is 532 yuan ($77) higher than what the nation's urban residents earned on an average per month in 2015, a far cry from the days when her family struggled under the poverty line and subsisted on relief funds.
Once a housewife without any means of income, Lhachung attributes the change to the establishment of a weaving cooperative close to her house in Khamshong, a town in Xigatze, 263 km southwest of Lhasa, capital city of the autonomous region.
The cooperative was founded under Namdrol, a 30-year-old Yadexihe expert, with the help of the local government in 2013. Yadexihe is a fabric made of the wool of sheep living in altitudes of 4,500 meters above sea level. The fluffy and warm fabric, colored with natural dyes, has a 1,200-year-old history and in the past, was used exclusively by local high-ranking religious leaders.
Old crafts, new life
Born into a Yadexihe weaver's family, Namdrol had been making the fabric since 2005 but found that working solo was not productive. "When I weaved and sold my clothes myself, I didn't have a brand and my products fetched a low price," she told Beijing Review. "I could earn only 20,000 yuan ($2,894) a year."
At the end of 2013, the local government encouraged rural housewives to start the Yadexihe Woolens Cooperative led by Namdrol. The government funded their preliminary training and provided basic equipment as well as a soft loan, said Wangla, Chief of Khamshong.
In less than three years, the cooperative has flourished. In 2016, it reported a net profit of 1.35 million yuan ($195,327). Besides making money, it is providing jobs to 30 housewives and people with disabilities from nearby villages, pulling 20 households out of poverty.
Besides, the cooperative helps to preserve and revitalize the ancient Tibetan weaving craft. "There were only four to five proficient Yadexihe weavers three years ago. The craft was almost lost," Namdrol pointed out.
Once the cooperative was started, orders have been pouring in. "Our supply is falling short," Namdrol said. "And more people are willing to learn the old crafts, which is the best way to preserve it."
Of the 30 employees, 23 are now skillful weavers. In 2013, Namdrol was named regional inheritor of the Yadexihe craft as part of the regional government's effort to protect Tibetan intangible cultural heritage.
Data from the regional government show that 350 intangible cultural heritage inheritors had been named by the end of 2014. Every inheritor is entitled to a 10,000-yuan ($1,446.5) subsidy per year—the third highest inheritor subsidy after Beijing and Guangdong Province in south China—to popularize their crafts and train others.
With the inheritors acting as bellwethers, cooperatives producing traditional Tibetan boots, costumes, mats and paper have sprung up on the roof of the world. In the recent decade, a 160-million-yuan ($23.14 million) fund has been allocated to protect Tibetan intangible cultural heritage.
In the 2017 Report on the Work of the Government released on March 5, Premier Li Keqiang said China's cultural relics and intangible cultural heritage would be given effective protection and enabled to play fuller roles in today's society.
Namdrol's biggest dream is to have more people practice the crafts and increase their incomes. "We will enlarge the cooperative to offer more jobs to the poor and people with disabilities," she said.
Nowadays, through developing industries based on traditional crafts such as wool weaving and making boots and Tibetan handmade paper, rural impoverished Tibetans have shaken off poverty.
"In 2016, 130,000 Tibetans from 1,008 villages were pulled out of poverty," said Qizhala, Chairman of the Tibet Autonomous Region Government.
Incubating rural industries suited to local conditions, relocating inhabitants from isolated high-altitude areas, and providing free professional training are among the key measures the regional government is using to help the impoverished.
"Developing industries is the core driver for a sound cycle of poverty relief. We should not try to lift people out of poverty only by preferential policies and financial support of the government," Qizhala said.
Finding better pastures
While Namdrol is leading rural women to revitalize the ancient weaving craft's in south Tibet, Dorjee Tsering and his fellow herdsmen are churning out profit by raising identified yaks in Damxung County in Lhasa.
With its vast high-altitude pastoral land, Damxung abounds in yaks. In the past, herdsmen lacked access to modern meat processing technology and cold storage, which forced them to sell their yaks at low prices.
At the beginning of 2014, a state-owned modern husbandry company was set up in the county. Lhasa Pure Land Industry Investment and Development Co. Ltd.teamed up with more than 2,000 herders and ordered 3,800 yaks from them. To monitor the herds' growth, Pure Land fitted every yak with a tracking chip and sent 200 veterinarians to keep an eye on their health. When the yaks grew up, they fetched the herders a price of 62 yuan ($8.99) per kg, 5 yuan ($0.73) higher than the average market price.
"In the past, herders operating on their own had to send their yaks to Lhasa 160 km away and wait for buyers in the open markets," Tashi Tsering, Chief of staff of Pure Land, told Beijing Review. "Sometimes they would have to spend the night in Lhasa to find a buyer. Now they can sell their herds from their doorway. They not only earn more money, but also save transport and accommodation costs."
Dorjee Tsering, one of the 2,000 herders, earned more than 10,000 yuan, in 2016, and came out of the poverty line.
Pure Land processes yak meat into 15 products, increasing the profit from a single animal by 9,000 yuan ($1,305), 2.5 times more than the earlier price. It is now selling the meat to many first-tier cities, including Beijing and Shanghai.
This year the company plans to invest 235 million yuan ($34.08 million) to build a modern husbandry park where herds can be raised, animal products processed and husbandry experienced by visitors, all in one stop. It's expected to provide 220 more jobs to local residents.
At the same time, the local government is also controlling the number of livestock so that the meadows are not depleted. Herders and farmers are given grassland protection subsidies and awards to prevent overgrazing.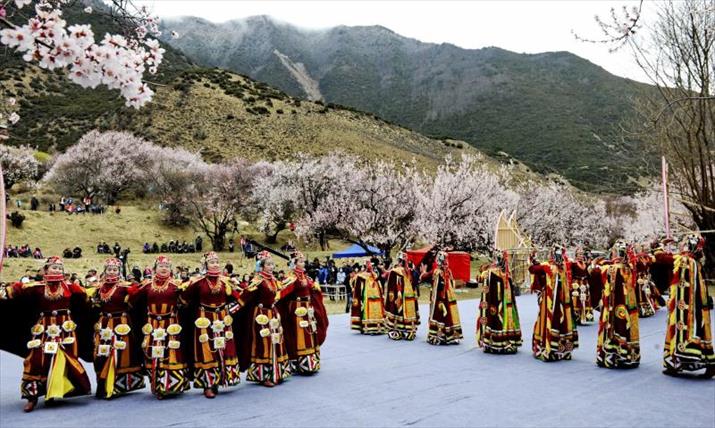 Dancers stages a show to greet tourists in Nyingchi, Tibet Autonomous Region, on March 22, 2016 (XINHUA)
Tourism grows on Web
Developing tourism is another measure the regional government has adopted to lift people out of poverty. Nyingchi in southeast Tibet is a top destination to view peach blossoms. Its residents are encouraged to start farmstays, offering accommodation to tourists. In 2016, the Nyingchi Government invested 1.32 billion yuan ($191.5 million) to improve the infrastructure in 86 scenic spots and nearby villages.
Building smart villages is high on the city's agenda. In May 2016, Nyingchi earmarked over 10 million yuan ($1.45 million) to upgrade 149 farmstays in eight villages which also offer free WiFi. Tourism apps were released to promote the homestays and the local government linked rural homestay owners with online and offline tourism service providers to increase their client base.
Basang Norbu's family runs a homestay in Zursum Village in Mainling County. He described how the Internet and social media have helped his family's business. "The county government has created a WeChat group for homestay owners and travel agencies," Norbu said. "Now most of our rooms are booked via WeChat."
Relocating with benefits
"The most difficult task in poverty relief is to relocate those living in a fragile environment," Qizhala said. From 2016-20, almost 263,000 residents, accounting for 44.6 percent of Tibet's registered impoverished population, would need to be relocated.
Finding new jobs for those relocated is a top priority for the local government. Therefore, new relocation sites are usually seated around towns, industrial parks, and scenic spots so that when people move into their new houses, they can find new jobs or start businesses quickly.
Tsamjor Tashi, who owns a teahouse in Sanyou, a village in Lhasa, had never dreamt that one day he would be able to move into a 140-square-meter house and start a business after becoming a grandfather. The 53-year-old farmer lived in an underdeveloped village which lacked transportation access and his yearly household income was 6,000 yuan ($870).
In 2016, Tibet invested 40 million yuan ($5.8 million) to build the first relocation site for 712 impoverished residents. Sanyou Village, built near the Quxu railway station, also started three cooperatives where the relocated villagers were hired to raise cows and chickens and plant herbs. Villagers were also encouraged to start businesses in stores built by the government where they just need to pay a low preferential rent.
Tsamjor raised cows and also started a teahouse. In addition, his land in the village where he lived before was rented by a local agriculture development company, which brings him an additional 8,000 yuan ($1,161) a year. "Our yearly household income is expected to reach 30,000 yuan ($4,351) this year," he told Beijing Review.
"Relocated villagers are living a better life as they can now work in these different businesses without having to go out to find jobs," Qizhala said. (Reporting from Lhasa)
Nifty Details in Tibet Autonomous Region
• There were 6,076 husbandry cooperatives, a 34.9-percent increase.
• Husbandry product producers generated a gross output of 3.33 billion yuan ($483 million), a 47.4-percent rise.
• 42 percent of Tibet's husbandry has been industrialized.
• In 2016, Tibet had 23.15 million visitors, bringing in a gross income of 33 billion yuan ($4.79 billion).
• Over 100,000 herders and farmers were engaged in tourism services that year.
(Source: 2017 Government Work Report of Tibet Autonomous Region)

Copyedited by Sudeshna Sarkar
Comments to linan@bjreview.com