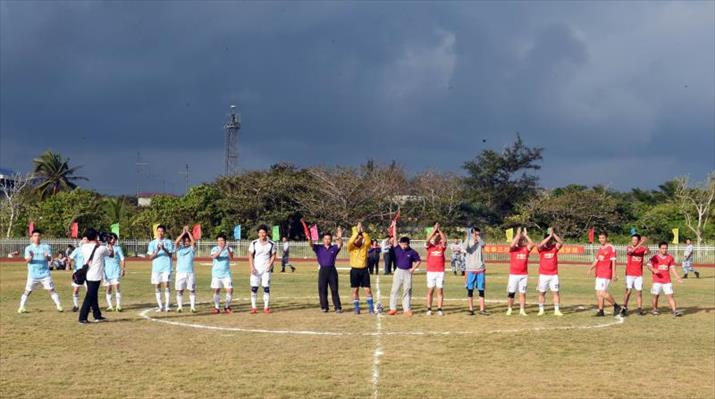 A football match on Yongxing Island on December 31, 2015 (XINHUA)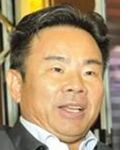 Sansha, the southernmost island city of China, administers three island groups in the South China Sea—Xisha, Zhongsha and Nansha—along with their surrounding waters. Since the city, located on Yongxing, one of the Xisha Islands, underpins China's maritime territory in the South China Sea, its development has captured the attention of the international community. In an exclusive interview with Beijing Review reporter Li Nan, Xiao Jie, Mayor of Sansha and a deputy to the National People's Congress, explained the city's development and its future plans. The following is an edited excerpt of the interview:
Beijing Review: Sansha is one of the youngest cities in China. It has been only five years since it was established in July 2012. How is the city's development faring? What are the main pillars of its economic development?
Xiao Jie: There have been tremendous changes to Sansha's facilities in recent years. There is one inbound or outbound flight at Yongxing Airport every day; a ferry runs twice a week; and telecommunications services have improved remarkably. Residents can make phone calls anywhere, surf the Internet with Wi-Fi or 4G networks and watch TV programs on high-definition screens. Desalination facilities and power supplies have been available on all islands and reefs where conditions allow. Basic needs, including education and health care as well as cultural and sports activities, have been met.
Apart from our traditional fishing industry, tourism is growing quickly and is attaining good returns. Cruise tourism has been flourishing. It is well incorporated with maritime ecosystem protection efforts. Since 2013, 120 cruise trips have brought around 20,000 tourists to Sansha. Such travelers alight from the ships to experience the recreation activities offered by Yagong, Yinyu and Quanfu islands of the Xisha Islands without straining resources or damaging the environment. In the future, we will explore new management mechanisms while optimizing our infrastructure to provide better services for tourists. We are planning to increase the number of cruise routes and diversify tourist products. Old ships will also be phased out in an attempt to improve tourists' safety.
How can the balance between Sansha's economic development and its environmental protection efforts be maintained?
While developing tourism, we also attach great importance to environmental protection. Actually, preservation of the city's environment has been enhanced, as evidenced by cleaner seas, greener islands and more and more turtles coming to lay eggs on our beaches. The fact that these islands are too small to accommodate many tourists and that overcrowded islands would damage the local ecosystem has been at the forefront of our agenda. We therefore adopted many eco-friendly measures in regards to tourism management, such as requiring tourists and cruise crews to bring the waste they produce back on board.
In the three years since the cruises started, the three islands and their surrounding waters have become cleaner and greener. For example, in the beginning, there were only a few trees on Yagong Island. But now there are hundreds. These green islands provide a better landscape. Some tourists are well aware of environmental protection issues and voluntarily remove rubbish which has accumulated along the coast.
Furthermore, the idea of building a turtle protection center is under discussion. Last year alone, more than 200 trees were planted. Our plan of building a beautiful Sansha is becoming a reality.
In addition, we are also cultivating local children's awareness of the need to protect the environment. Schools have initiated new programs to help children learn more about the sea, respect it and make contributions to its protection and development.
Our ecosystem is fragile. But if well protected, the seas and the coral reefs beneath will always stay gorgeous.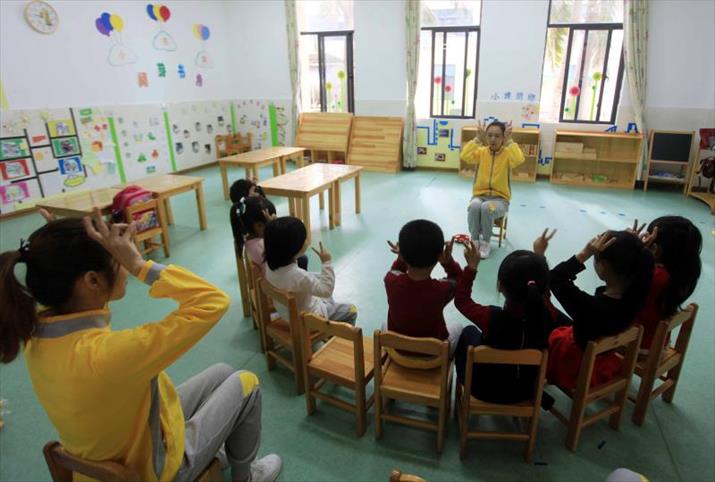 A class at Yongxing School in Sansha, China's southernmost island city in the South China Sea, on February 13 (XINHUA)
Sansha is far from China's mainland, and the work and living conditions there are relatively harsh. Under these circumstances, how does the city retain talents and develop its education system?
I would like to take Yongxing School as an example. The school has won strong support from Haikou, the provincial capital. Haikou has sent several experienced primary school teachers to teach at Yongxing. Now we have eight teachers taking care of 31 students.
Different from many city schools, Yongxing is a comprehensive school offering classes not only to children, but also to adults. Through collaboration with higher learning institutions—which have sent professional teachers to offer career training courses in etiquette, football refereeing and salt water operation—residents can learn the practical skills to help them become skilled professionals. We are also considering the possibility of cooperating with more universities to offer distance education and online training to the residents, as traveling to and from the islands and reefs is not very convenient.
Sansha is in a key geographic location for the Silk Road Economic Belt and 21st-Century Maritime Silk Road—how will the city use that to its advantage?
We will make good use of Sansha's local features and resources to play an active role in the implementation of the national initiative and contribute to China's overall development.
Sansha has proposed the construction of courier stations throughout the islands and reefs under its administration by improving their infrastructure and by designating management staff. In respect to transportation, ships and even helicopters or seaplanes will be provided to connect the islands and reefs. Where conditions allow, airports can be built, just like the one on Yongxing. Besides, several lighthouses have been built in Sansha to provide services and security for passing ships.
The better equipped the courier stations, the better the services we can provide. The stations can also be used to conduct maritime and environmental protection research, for which of course we will need scientific and technological personnel as well as facilities. Through the stations, better services and security for the maritime Silk Road can be provided.
Also, Sansha is capable of offering help or services to passing vessels with existing facilities. A hospital fully equipped with medical facilities and services has been completed. A parking apron for helicopters has been put on the law enforcement vessel Sansha One, which can facilitate emergency rescue at sea in case of accidents caused by typhoons or vessel problems.
What are your plans for Sansha's development? Will there be any preferential policies to attract investment?
Due to limited space on the islands and reefs, it is not possible to build large headquarters or develop real estate. In the future, we plan to adopt a special model of business management in Sansha to build the city into a center for offshore companies. It means we will allow enterprises to register in Sansha but be run in other places.
This is a model that suits Sansha. So far there have been 157 companies registered in Sansha. They are mainly involved in tourism, underwater engineering, construction, fishery, telecommunications, Internet service and so on. There are also some cultural, film and television companies that have registered in an attempt to explore future development paths.
We are thinking about adding more financial service agencies and encouraging some financial institutions to provide loans or insurance services to our residents. China Pacific Insurance, the country's third-largest insurer, has just opened a branch on the island. We hope that local residents can also enjoy state-of-the-art financial services.
At the same time, the infrastructure still needs to be improved, especially with respect to transportation. Marine transportation of goods is not easy. We hope China Post, the state-owned postal service provider, can continue their support to Sansha and provide more convenient services to the city.
In future, we welcome companies involved in businesses such as tourism, environmental protection, fish farming, oil and gas, and telecommunications to develop Sansha. We will introduce preferential policies in terms of taxation and recruitment to attract investment.
Copyedited by Bryan Michael Galvan
Comments to zanjifang@bjreview.com