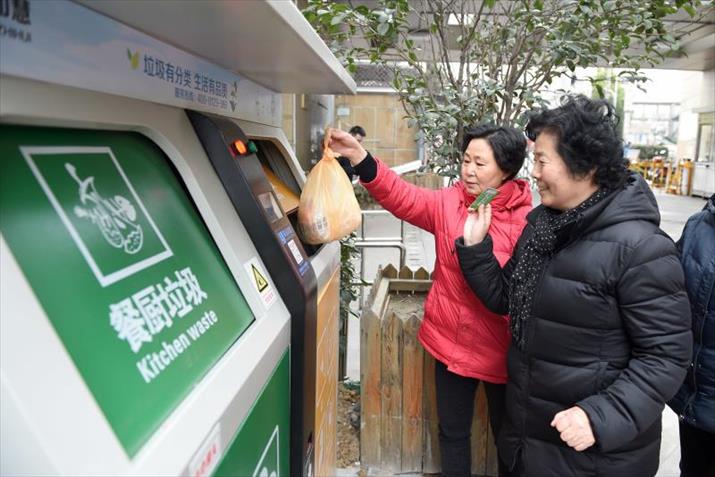 Residents in the Meiyuan apartment complex in Hefei, Anhui Province, use the smart garbage classification equipment in February (XINHUA)
When Beijing resident Huang Mei leaves home for work in the morning, she usually carries two bags of trash in hand. One contains kitchen waste and the other miscellaneous items such as paper, plastics and cans. Behind her apartment building stand three garbage bins in green, blue and grey meant respectively for recyclables, kitchen waste and other garbage. She puts the trash bags into the bins accordingly.
Huang is a staunch supporter of garbage classification. The community she resides in, Shangdi Dongli of Haidian District, is a garbage classification pilot. The project started in October 2013. A bulletin board near the community's property management office informs residents how to classify garbage.
Kitchen waste collected from the community is shipped to an organic resource regeneration center to be made into fertilizer, recyclables are taken to a sorting center, and other trash goes to a landfill, according to the community's property management office.
Different types of waste are shipped out by different parties. In the community where Huang lives, kitchen and other waste are transported by the Beijing Environment and Sanitation Center, and recyclable waste by the Beijing Haidian Material Recycling Company.
From time to time, scavengers wander into the neighborhood, peeking into the garbage bins, especially the one labeled "recyclable," to collect items that can be sold, such as empty mineral water bottles and cardboard.
Cleaners hired by the community's property management office also patrol the neighborhood, picking up recyclables, usually items too big to go into the bins, mostly discarded furniture, styrofoam boxes and the like. These items are collected, piled and shipped out once their volume reaches a truck load.
Garbage classification has been on in Beijing for 16 years. By the end of 2015, it had been introduced in 3,759 communities, nearly 80 percent of the total in Beijing, according to the Beijing Municipal Commission of City Management (BMCCM).
The hidden crisis
In 2010, a young photographer named Wang Jiuliang pedaled a bicycle around Beijing and filmed about 500 landfills on the city's periphery. The documentary he produced, Beijing Besieged by Waste, exposed the grim waste disaster lurking beneath the city's gleaming surface, drawing attention to the practice, back then, of leaving large amounts of solid waste simply piled up or burying them underground.
Chinese cities are producing an alarming amount of waste. The Ministry of Environmental Protection released a report on urban solid waste in November 2016, which revealed that 246 medium and large cities had produced 185.64 million tons of household garbage in 2015. Beijing topped the list with 7.903 million tons, averaging 21,652 tons per day—or around 1 kg per resident per day.
Comprehensively improving the urban and rural environment and implementing the garbage classification system is a task listed in this year's government work report, delivered by Premier Li Keqiang at the annual session of the National People's Congress (NPC) in March.
Hope comes from a study by a research team led by Professor Song Guojun of Renmin University of China which was released on March 22. It says proper waste classification can lower the social cost of household garbage management by 64 percent.
The study estimated the social cost of waste incineration and found it is not lower than that of landfills. Burning 1 ton of household garbage in Beijing costs society 1,089 yuan ($158.2).
In recent years, Beijing has taken various measures to promote garbage reduction, reuse and recycling. This year, through waste reduction and recycling, 57 percent of domestic waste in the capital can be turned into resources, BMCCM Director Sun Xinjun said at a conference on city management on February 16.
By 2020, the percentage will be increased to around 60 percent, according to the BMCCM's plan during the 13th Five-Year Plan (2016-20) period. By then, 35 percent of all household solid waste will be recycled and reused, and more than 99.8 percent will undergo harmless treatment.
The plan also indicates that in the next four years, Beijing's daily domestic garbage treatment capacity will exceed 30,000 tons. It includes daily incineration capacity (24,250 tons) and biochemical treatment capacity (6,350 tons).
Slow progress
"Garbage classification is an important measure to promote Chinese civilization, but many people have not recognized its importance," Chang Jiwen, an NPC deputy and Deputy Director of the Research Institute of Resources and Environment Policies under the Development Research Center of the State Council, told the press at the annual NPC session in March.
In China, high-value recyclables, such as electronics, are usually sold by households or scavengers to recycling centers. What remains to be classified are low-value recyclables, kitchen waste and other waste.
It is especially important to separate kitchen waste, which can be turned into fertilizer, as this remarkably reduces the amount of waste going to landfills and incinerators.
Friends of Nature, a Beijing-based environmental NGO, estimates that kitchen waste accounts for around 60-70 percent of the weight of all trash of an average Chinese household.
Sun illustrated the importance of separating kitchen waste, or wet waste, from dry waste with an example. He said that if used paper is tainted by leftovers, it can only be burnt rather than recycled; combustion of wet paper is difficult, so coal has to be used, emitting sulfides and chlorides, the main components of smog.
Currently, in communities piloting garbage classification, the kitchen garbage that is shipped out makes up little more than 5 percent of total kitchen garbage. This suggests that most kitchen waste is still mixed up with other waste.
Friends of Nature has done site studies on pilot communities in the past years, which showed low resident participation in garbage classification. Classification was mostly carried out by community-designated "garbage classification instructors."
Some residents said they did not have any incentive to sort out garbage after seeing the garbage in different bins was mixed together during removal. On the other hand, those shipping waste argue that because not many residents classify waste correctly, they have to mix the waste and re-sort it.
New measures
At the Beijing city management conference, Sun said from this year, the emphasis will be on separating wet and dry garbage. As domestic waste continues to grow, the main landfills in Beijing are overloaded, he said. Efforts must be stepped up to classify and reduce garbage; otherwise, the city will be besieged by waste again, he warned.
Sun cited data from BMCCM showing that in 2016, the average amount of garbage disposed of daily in Beijing increased by 20 percent compared with two years previously.
He also said that some communities in Beijing have been separating kitchen garbage from other waste.
Kitchen waste has been collected separately in Suzhouqiaoxi Community in Haidian since early 2014, a staff member of the community office, who declined to be named, told Beijing Review. In the community, households are issued cards, and residents who dump kitchen waste in a designated spot according to instruction earn bonus points. The accumulated points can be redeemed for money at the end of every quarter. Li Chunyan, Director of the community management office, said this helps residents to develop a good habit in sorting out kitchen waste.
In addition to encouraging residents to sort out garbage, Beihang Community in Haidian uses automatic garbage sorting equipment to classify garbage.
"The streamline can automatically classify garbage. It works very well," Liu Tonghua, Director of the community management office, told Beijing Review.
He said that the sorting machine, developed by a hi-tech industry in Beijing, can open garbage bags and separate kitchen waste from other waste according to the shape and density of the waste.
The recyclable waste is sold to a recycling center, dehydrated kitchen waste goes to an organic resource regeneration center to be turned into fertilizer, and other waste is transported to landfills. Through classification and recycling, a significant amount of the waste produced by the community can be reduced.
Copyedited by Sudeshna Sarkar
Comments to wanghairong@bjreview.com