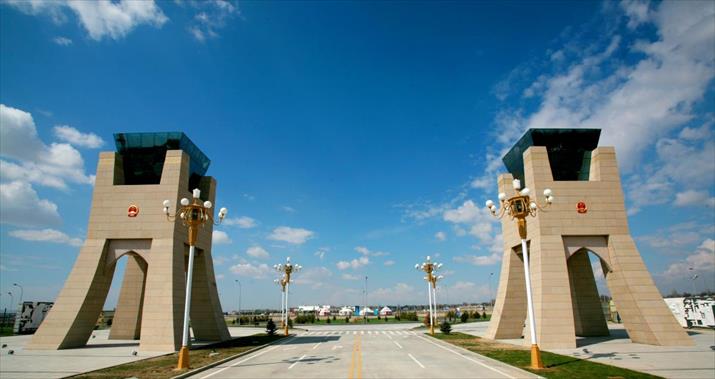 The gate to the China-Kazakhstan Khorgos International Center for Boundary Cooperation (COURTESY OF KHORGOS GOVERNMENT)
Hundreds of coaches carrying tourists in and out every day; cargo buses from China and Kazakhstan shuttling across the border 24/7; Khorgos, a city sprouting from barren dunes, is moving into the spotlight.
Located in northwest China's Xinjiang Uygur Autonomous Region and bordering the far east of Kazakhstan, the site of Khorgos was once a major hub on the ancient Silk Road. Now it is being revived as a new epicenter of the logistics connecting China to countries along the Silk Road Economic Belt.
In July 2014, it was upgraded from a special economic zone to a city, making it the youngest city in the country and a new destination for both tourists and business people.
Visitors at the sqaure of the China-Kazakhstan Khorgos International Center for Boundary Cooperation on April 19 (XINHUA)
Hometown Khorgos
"The changes all came with the Belt and Road Initiative," said Guo Jie, a 24-year-old local in Khorgos. When the initiative was first proposed in 2013, Guo was a college student in Urumqi, the capital city of Xinjiang.
"When the professor discussed what changes the Initiative could bring about, I didn't know much about it, except for being sure that it was definitely a positive sign for Khorgos, as it is the biggest inland port in the west of China," Guo told Beijing Review. He assumed that his hometown might look completely different in 10 years, but he underestimated the pace of change.
The most obvious change in Guo's eyes is the transportation. While going to Urumqi as a freshman in 2012, the only option for him was to take a bus. It took more than 10 hours and stopped almost everywhere on the way to pick up passengers. At the end of 2013, a train connecting Urumqi and Khorgos was launched. It is an overnight train and has made the trip far more comfortable.
Guo remembers Khorgos being a bustling place for business, both for Chinese and Kazaks. "There was a China-Kazakhstan market in the town when I was a kid and my parents sold beverages in those days," he said.
There were many people from other parts of China coming to Khorgos to seek business opportunities, but Khorgos was only a remote and small port area and the commodities in the market were mostly small and cheap daily items like socks, Guo said.
Now, Khorgos is still a strange name for many people, even in Xinjiang. Guo was frequently asked what this word means when he was at college and he replied "it means a place where wealth accumulates."
Today, the port city has gradually come to live up to that name. A large number of tall buildings have appeared in the last two years and tourists as well as business people have swarmed in.
After graduation, Guo went back to the hometown to work. "Everything seems new and fresh here," he said. "Many of my coworkers are of a similar age. It is a young city with hope."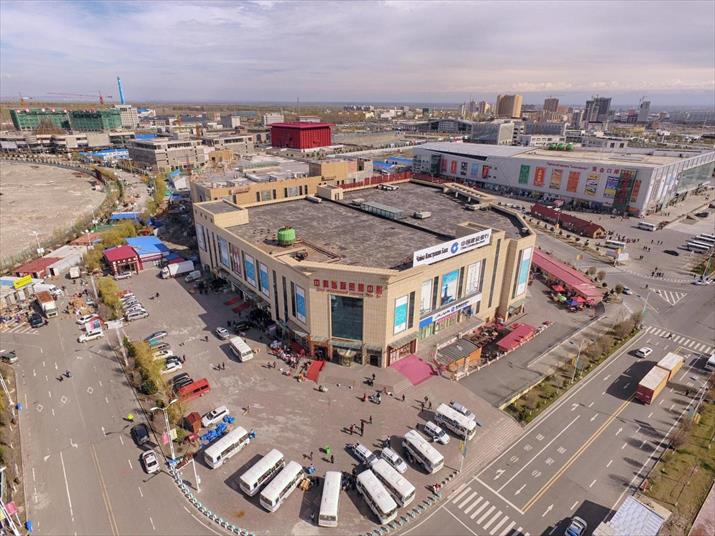 The aerial view of the China-Kazakhstan Khorgos International Center for Boundary Cooperation on April 19 (XINHUA)
A gold miners' paradise
Yu Chengzhong, a farmer from central China's Henan Province, was among the first batch to move from inland China to Xinjiang to seek a new life in the late 1980s. "It was a hard time at first as we were struggling to stay above the poverty line," Yu told Beijing Review. For the first few years, he sold vegetables in Yining, the capital of Ili Kazak Autonomous Prefecture in Xinjiang. "My only goal in those days was not to be hungry."
However, Yu had a future ambition—to buy a Santana car, which was a marker of reasonable prosperity in those days. At the end of the 1990s, Yu moved to Khorgos and started to work on a cross-border fruit and vegetable business with Kazakhstan.
"Clearing customs in those days took a long time," Yu said. "Sometimes it needed quite a few days, which often made the fruits and veggies go bad." This headache was solved in recent years. Today, the applications can be done online, which has greatly shortened the process. "Now, the apples from Khorgos that clear customs in the morning can reach customers' dinner tables in Almaty in Kazakhstan by the evening."
Yu is currently the president of Khorgos Jinyi International Trade Co. Ltd. with an annual sales volume reaching $260 million. Among all the fruits and vegetables exported from the port of Khorgos, 53 percent are from Yu's company. "It is the best time in Khorgos, and I believe it will be even better in the future," he added. "Khorgos is changing every day and this is a place of miracles."
The "miracles" also come from governmental support, with preferential policies on tax reduction, which applies to many industries, including TV and film. In the last two years, the word "Khorgos" appeared in the credits of some major movie companies and films. Figures from the Investment Promotion Bureau in Khorgos show that since 2014, there have been 1,195 movie companies registered in Khorgos. For this March alone, the number was 319.
Ninmon Pictures, a leading movie and TV series production company in China, is among them. Ye Jianyun, who is in charge of the finance department of the company, revealed that they decided to come to Khorgos first because of the tax policy, and the efficiency of the local government impressed them greatly.
"It was our first time to come to the western part of China as we used to do business in Shanghai," Ye said. "We were surprised by how good the government service is, and in the future we plan to bring Belt and Road stories to the screen."
Open trade
Speaking of cultural exchange, Li Honghe, who also migrated to Xinjiang from Henan in the late 1980s, is a pioneer. In contrast to Yu, who stuck with the fruit and vegetable business, he moved to another track. "At that time, commodities that people sold here were quite similar," Li said. "Why couldn't I explore a different category?"
He started to have an eye on calligraphy and painting works, sending about 5,000 letters to calligraphers and painters all over the country, introducing himself and enquiring whether they would want to sell their works in Khorgos.
"The business was very good in the early 2000s," Li said. "Some painters even came to Khorgos to draw on site." In 2016, this newly born city, with a population of merely 85,000, received 2.96 million tourists a year. In 2017, the number of tourists is expected to be around 3.6 million. With the revival of Khorgos, Li believes that tourists and customers coming here will have more diversified demand for commodities, and this will trigger more supplies.
Ren Hexin, who is running two duty-free shops at the China-Kazakhstan Khorgos International Center for Boundary Cooperation (ICBC), echoed Li's opinion. Having been working at the ICBC for two years, Ren witnessed an increase in customer demand for a variety of goods.
Now, Ren's shops mainly sell foreign skincare products, and medical products from Hong Kong. "In the future, I will narrow down the categories," he said. "The trend of almost all the shops selling similar stuff won't last long."
The ICBC, founded in 2012, is the first cross-border cooperation zone in China. It is located right on the China-Kazakhstan border. Visitors don't need a visa to enter this zone.
"The distance between countries has been largely narrowed these days and going abroad has become common and frequent," Ren added.
Copyedited by Dominic James Madar
Comments to yuanyuan@bjreview.com