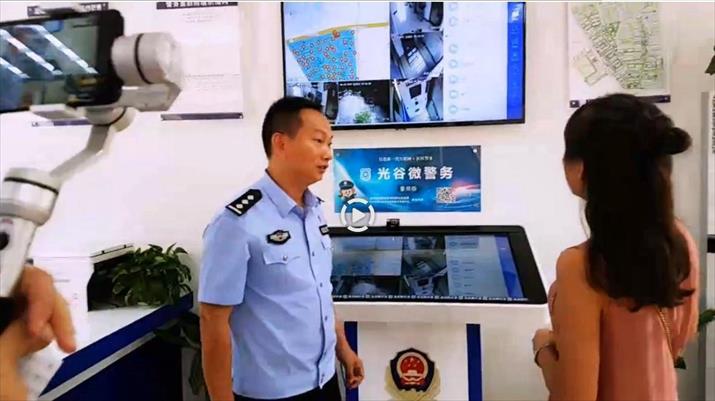 A still-image from a video live streamed at Douyu.com, in which Gu Na (right), Secretary of the online celebrity Party branch, visited a community police station in Wuhan, capital city of central China's Hubei Province, on July 4 (FILE)
Live-streaming website Douyu.com has been recruiting anchors capable of delivering "positive energy" on air, with the aim of broadcasting stories about public works, rural areas, agriculture, farmers, the government and police services.
The Wuhan-based live-streaming platform is looking for potential talent for its nascent "celebrity Party branch," the first of its kind among the 500 live-streaming platforms available in China. The branch, in central China's Hubei Province, was set up on June 30, on the eve of the 96th anniversary of the founding of the Communist Party of China (CPC). So far the scheme has pooled 18 full-time live-streaming anchors—also CPC members—with an average age of less than 24.
"The branch was established to team up online celebrities who are also Party members and engage them in Party activities," said Yuan Gang, Secretary of the CPC Douyu Committee, at the founding ceremony of the branch.
Douyu.com, which was founded in 2014 and raised $2 billion yuan ($300 million) last year, is one of the most popular live-streaming platforms for video games, sports and entertainment events in China.
"Douyu's online celebrity Party branch is part of the CPC's efforts to innovate. It's a pioneering move," Ding Bin, a professor with the Jilin Provincial Party School, told Beijing Review.
Internet Plus activities
"Online anchors can reach more people. Therefore, stricter requirements are applied to members of the online celebrity Party branch," said Gu Na, Secretary of the branch. When live streaming, these anchors wear the Party emblem to show their political affiliation and accept public supervision.
In the past three months, online celebrities visited community policemen, doctors, civil servants, and teachers at work, live streaming their daily lives and highlighting their professional dedication.
"There are many people who have made great contributions to society. But their stories remain unknown because of limited coverage from traditional media," said Yuan.
Poverty alleviation efforts are also being covered. Celebrity anchors have, for example, live streamed village relocations in Wuhan, but also walnut harvests in Dal

i, southwest China's Yunnan Province, to help promote sales of the crop.
Party building activities, such as singing patriotic songs and tours tracing the Party's footprints from its birth to today are also popular live-streaming topics. On July 5, Pan Xueyi, an anchor at Douyu.com live streamed her tour to "red destinations" including the site for the Fifth CPC National Congress in Wuhan. The show attracted 600,000 viewers in two hours. "I know better about the CPC's history and Party affairs after the tour," said Pan.
In addition, the videos produced by members of the branch has attracted more than 80,000 followers in 90 days. "Many people know little about younger generations, and assume that few would watch such programs. In fact, our live-streaming shows have received positive comments and attracted unexpected numbers of followers," said Yuan.
When live streaming, online celebrities remain relaxed even when talking about serious topics, much different from anchors of traditional media. They also salute viewers and interact with them every now and then.
"It's more effective to utilize new media to deliver the Party's policies, the core values of socialism, cover good deeds and promote traditional virtues," said Ding.
Song Shijun, a teacher with Chengdu-based Southwestern University of Finance and Economics, echoed Ding's view. He told Beijing Review that Party organizations should use new media tools, such as Weibo, WeChat and live-streaming platforms, to improve the efficiency of Party building efforts.
Incentives and challenges
Why does an entertainment platform choose to partake in efforts to improve the Party's image? Chen Shaojie, CEO of Douyu.com, told Southern People Weekly that the company aims to form a deterrent against vulgar videos, creating a clean live-streaming environment.
At present, there are numerous live streamers partaking in questionable performances such as erotic dancing to attract followers. Douyu.com was unable to get rid of these activities, which hurt its reputation after various related scandals surfaced in 2016.
Douyu.com therefore opened a feature column to cover public works and Party-related activities in January this year, and created a platform for online celebrity Party members in June to address its shortcomings. The number of CPC members working at Douyu.com increased from 65 to 178 in one year, making up 10 percent of its employees.
"These actions will not only remind Party members to behave better, but also set a conduct code for the live-streaming industry," Ding told Beijing Review.
"Douyu has invested over 10 million yuan ($1.52 million) to build the feature column so far," said Li Zhe, Chief Editor of Douyu.com. It's just the beginning. Douyu's anchors will keep live streaming model Party members' lives, starting from Wuhan and gradually moving out to the whole country.
But some note that the future of the online celebrity Party branch won't all be plain sailing. According to Ding, hurdles including the uncertainty of what viewers' reactions will be and lack of Party-building experience in the private sector await the newborn branch. Keeping a perfect balance between serious Party activities and creating a compelling online experience is another headache.
"On the one hand, Party members should avoid clowning around, which would erode the seriousness of Party-building. On the other hand, they shouldn't be too serious, as it would drive the audience away," said Ding.
Douyu.com is not alone in partaking in such Party building activities. Tencent, China's leading instant messaging service provider, has published a Party periodical for its 3,000-plus CPC members. Alibaba, China's biggest online marketplace has more than 2,000 Party members, and 60 percent of its best performing staff are CPC members. Baidu, the most popular search engine in China, has 10 Party branches with 2,500 CPC members.
The establishment of CPC branches in innovative technology companies has closely connected Party construction efforts with sectors which represent the future direction of China's economy, Zhang Zhihong, a senior official at the Ministry of Science and Technology, said on the ministry's website.
More and more private enterprises have set up Party organizations in recent years. Statistics from the Organization Department of the CPC Central Committee show that 1.855 million private enterprises have set up Party organizations as of December 2016, taking up 67.9 percent of China's private enterprises and increasing 16.1 percent year on year.
Concerning the role of CPC branches in the private sector, Ding said that the goal of setting up Party organizations in private enterprises is to promote upright and active cultures inside companies, not to interfere with the business operation.
According to the CPC Constitution, Party committees should be established in any Chinese organizations that have more than three Party members. "What's there to be surprised about when Internet companies with Party members set up Party branches?" Ding added.
Copyedited by Bryan Michael Galvan
Comments to linan@bjreview.com