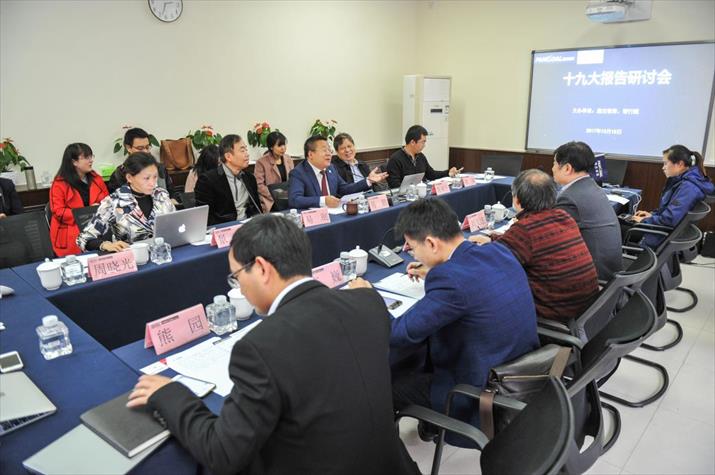 Scholars in the field of economy and diplomatic relations attend a seminar held by the Pangoal Institution to discuss the report to the 19th CPC National Congress on October 18 (WEI YAO)
The eyes of the world are on Beijing, where the 19th National Congress of the Communist Party of China (CPC), one of China's most important political conferences, opened on October 18. The congress, held once every five years, sets the course for the nation.
Xi Jinping, General Secretary of the CPC Central Committee, delivered a report on the first day of the weeklong congress. The report, a development blueprint for the world's second largest economy, has triggered animated discussions both at home and abroad.
How will China's economy maintain steady growth amidst the sluggish world economic recovery? Will China keep advocating its global governance solutions against the mounting anti-globalization tide?
Answering these questions in his report, Xi said China will continue its reform to promote sustained and sound economic growth and develop a modernized economy. Also, China will not close its door to the world and will become more and more open.
A modernized economy
"China's economy has been transitioning from a phase of rapid growth to a stage of high-quality development," the report says. The transition led to medium-to-high-speed growth in the past five years.
According to the National Bureau of Statistics (NBS), the average annual GDP growth rate from 2013 to 2016 was 7.2 percent, higher than the average rate of 2.6 percent of the world economy and that of 4 percent of other developing countries.
"From 2013 to 2016, China's contribution to the world economic growth stood at around 30 percent on average, surpassing the total contribution of the United States, the eurozone and Japan," NBS Commissioner Ning Jizhe said at a press conference held by the State Council Information Office a week ahead of the congress.
He also said China's total GDP of 73.7 trillion yuan ($11.2 trillion) in 2016 accounted for 14.8 percent of the world economy.
The International Monetary Fund (IMF) in October revised its growth forecast for emerging market and developing economies to 4.6 percent in 2017 and 4.9 percent in 2018, a 0.1-percentage-point increase for both 2017 and 2018 relative to the figures forecast in April.
"The upward revisions to the growth forecast primarily reflect stronger projected activity in China and in emerging Europe for 2017 and 2018," the IMF report said.
"It has been a very successful five years," British academic and China watcher Martin Jacques told Beijing Review.
Jacques called China's economic reform since 1978 and the initiatives taken since the 18th CPC National Congress in November 2012 the two drivers for the "formidable" achievements in the last five years. "Think of China in 1978 and think of it today," he said. "The economic transformation of China is the most remarkable transformation in human history."
The initiatives taken since 2012—especially the economic reform, the Chinese dream, the Belt and Road Initiative, and the anti-corruption campaign—account for the rapid development.
"It could not conceivably have happened without the leadership of the CPC. It is quite clear that the governing capacity of the CPC and the government is extremely effective," Jacques told Beijing Review.
But hurdles remain ahead. "Some acute problems caused by unbalanced and inadequate development await solutions; and the quality and effect of the development are not what they should be, " Xi said at the opening session of the congress.
The disparities between China's urban and rural areas, between the affluent southeastern coastal areas and the relatively underdeveloped regions elsewhere, and between state-owned enterprises (SOEs) and small and medium-sized enterprises (SMEs) are three major indicators of unbalanced and inadequate development, said Xiong Yuan, a researcher with the International Monetary Institute of Renmin University of China.
How to address the problem? Xi's report lists six ways. These are: furthering supply-side structural reform, making China a country of innovators, pursuing a rural vitalization strategy, implementing a coordinated regional development strategy, accelerating efforts to improve the socialist market economy, and covering new ground in opening up on all fronts.
"The strategy of pursuing rural vitalization is relatively new," Xiong said. He added that by preserving rural areas and building towns into destinations with featured products or industries, "limpid waters and lush mountains," the characteristics of rural areas, can be turned into invaluable assets.
China has recently rolled out some preferential policies to balance development between SOEs and SMEs, Xiong pointed out. Public-private partnership projects that encourage partnership among SOEs, SMEs and local governments are a good way to support SMEs.
Also, the policy of applying "targeted cutting" to the required reserve ratio of commercial banks that meet certain criteria for lending to rural and micro-enterprises is expected to nurture SMEs. The policy, released on September 30, will go into effect next year.
But Xiong also said that more effective targeted policies are needed to prop up the private sector when carrying out the supply-side reform.
In addition, China aims to cover new ground in opening up further. The private sector and the western region will be opened further and wider. The rights and interests of foreign investors will be better protected. "All businesses registered in China will be treated equally," Xi's report assures.
"It's good news for overseas companies. It shows China's resolve to further open up," Yi Min, chief advisor of Hong Kong-based MTR Corp. Ltd., said at a recent seminar in Beijing. "Equal treatment for companies from home and abroad indicates that China's market is getting mature."
Chinese wisdom, global governance
The world today is full of uncertainties and common challenges such as terrorist threats, cyber insecurity, epidemics and climate change.
"No country alone can address the many challenges facing mankind," Xi said in the report. China is calling on the rest of the world to work together to build a community with a shared future for mankind and usher in better global governance.
The Belt and Road Initiative, proposed by Xi in 2013, is an example of China's effort to promote better global governance. The initiative is promoting international cooperation, aiming to achieve policy, infrastructure, trade, financial and people-to-people connectivity and create new drivers of shared development.
"The Belt and Road Initiative, based on win-win cooperation, shared prosperity, mutual respect and assistance, presents a practical, viable and lasting solution by building new avenues of trade and connectivity through land and sea," Pakistani Ambassador to China Masood Khalid told Beijing Review.
But challenges coexist with hope. Jacques noted that the anti-globalization tide is a major test for participants in the Belt and Road Initiative.
"How to turn all countries into beneficiaries of globalization is another aspect for China to consider when promoting globalization," said Jing Hua, a senior researcher with the Pangoal Institution, a Beijing-based think tank.
Also, more concrete proposals are needed to carry out the global governance solutions proposed by China, and more outcomes are needed to show for them, Liu Youfa, a researcher with China Institute of International Studies, said.
Li Wei, an associate professor with Renmin University of China, echoed Liu. "There is a long way to go in China's pursuit of major-country diplomacy with Chinese characteristics," Li said. "Leaders and scholars need to be patient and come up with more practical plans to advance China's diplomatic agenda."
Copyedited by Sudeshna Sarkar
Comments to linan@bjreview.com