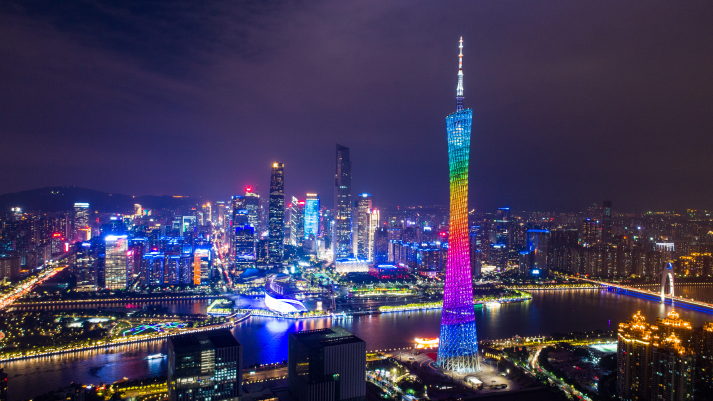 The bird's view of night scene in Guangzhou (XINHUA)
Qiu Yingxia, a manager at the White Swan Hotel in Guangzhou, still remembers the hassle when Microsoft founder Bill Gates first visited her hotel in 1995.
Gates had been invited to deliver a speech at a forum held at White Swan but he did not choose to spend the night there.
"That was 16 years since the reform and opening-up policy had been adopted in China, but in the eyes of many foreigners, China was still poor and underdeveloped," Qiu said while guiding the media around the hotel on December 4.
Lauded as China's first five-star hotel, White Swan was opened in 1983 and has hosted celebrities and heads of state from many countries since then, including former U.S. Presidents Richard Nixon and George H. W. Bush, who both stayed at the hotel on different occasions during the 1980s and 1990s, as well former German Chancellor Gerhard Schröder.
Finally Gates stayed in the hotel for a couple of hours, delivered his speech and promptly left.
"It sounds almost unbelievable now, and in the following decades things have changed so much," Qiu said.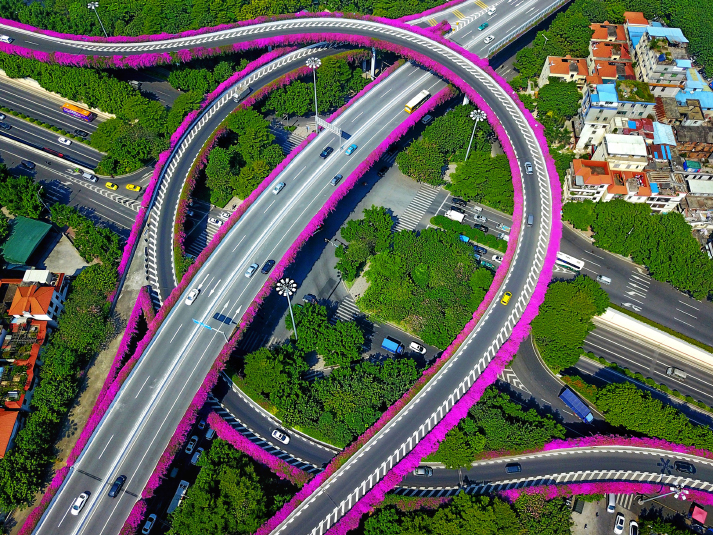 The network of flyover in Guangzhou decorated with flowers on December 5 (XINHUA)
An illustrious past
The construction of the White Swan Hotel in Guangzhou, south China's Guangdong Province, points to its place at the heart of China's reform and opening up in the 1980s. Located in the far south of the country, Guangzhou has been an important port city throughout Chinese history, having played a central role in China's communication with the outside world.
Given their geographic proximity, Guangzhou naturally draws comparisons with Shenzhen, another port megacity in the south, which until the 1980s was just a small fishing village. Guangzhou, however, has a lot more to say, with a history stretching back more than 2,000 years.
Relics unearthed from the tomb of the Nanyue King can be dated back to this time and reflect the development of politics, economy and culture in the Nanyue Kingdom which once encompassed a region including modern day Guangzhou as well as Guangxi Zhuang Autonomous Region and Yunnan Province of China and parts of northern Viet Nam. Since then, Lingnan, or Cantonese, culture has seen its influence spread from present-day Guangdong, Guangxi, Hong Kong and Macau to Chinatowns around the world.
Two thousand years ago, Guangzhou was already a center for foreign trade due to its position on the Maritime Silk Road. Ivory from Africa, frankincense from the Arabian Peninsula, silver boxes from Persia, gold ornaments from Mesopotamia and horn-shaped jade cups from Greece were all found within the tomb.
During the Qing Dynasty (1644-1911), the city was the most bustling in southern China and the nexus of Chinese interactions with European traders. The term "Thirteen Hongs" was coined to describe the area of foreign warehouses and administrative offices from where most foreign trade was conducted in the 19th century.
In 2016, the Guangzhou Thirteen Hongs Museum was opened to the public on the site of the original neighborhood, displaying many items from the Qing Dynasty in Guangzhou. Remarkably, in creating the exhibitions, the local government spent no money to acquire the items, which were instead all donated by the descendants of Guangzhou merchants in the 19th century.
Guangzhou style
"To do business is something we were born with, something we have in our blood," said Chao Aiming, manager of human resources at Pearl River Piano.
In the 1950s, there were many small vendors offering piano repair services around Guangzhou's Qiyi Road. In 1956, the local government set up a collective company by incorporating these vendors and started to produce its own pianos under the brand name Pearl River.
At the time, there were four major piano brands in China, and Pearl River ranked last in terms of production volume. Later, with the adoption of the reform and opening-up policy, Pearl River Piano started to catch up. It implemented numerous internal reforms and its production skyrocketed to 10,000 in the ensuing years, surpassing all the other brands in China.
However, developing a market overseas remained a major challenge to the company. "Piano making had a long history in Europe and enjoyed a much larger market than in China, where many people were still struggling to meet life's basic needs. Pianos were regarded as a luxurious item that only very few would spend money on."
Taking business abroad was no easy task. When Pearl River Piano attended a piano exhibition in Frankfurt in 1985, their stall was tucked away in an unnoticeable corner and occupied only 9 square meters, enough floor space to fit just two pianos.
"There was almost nobody visiting our stall. Eventually we had someone come over. He sat down, played several notes and left silently. It was a very awkward experience," Chao said.
In the 1990s, Pearl River Piano started to focus more on its overseas market. They hired experts from Europe and the U.S. to deal with technical problems in making pianos suitable for the climates of different countries.
"The climate of Guangzhou is mostly humid. The pianos produced in Guangzhou need to be adjusted for different climates in other places. This was a big obstacle for us in expanding our market, both inside and out of the country."
In 1999, Pearl River Piano bought Ritmüller, a time-honored European piano brand, as a means to improve the success of its operation in Europe. It proved to be a successful move and in early 2004, they set up a branch in Munich, Germany. In May 2016, they completed a merger with Schimmel, the largest piano producer in Europe, with a history of more than 130 years. Now Pearl River Piano is the largest piano producer in Asia and the second largest in Europe.
"The story of Pearl River Piano is an embodiment of the development of enterprises in Guangzhou," Chao said. "We work very hard and follow the trend of the times to create a lead."
Ice Lu, General Manager of Ruifeng Electronics, echoed Chao's words. As a local company producing professional audio equipment, their brand LAX is the only domestic equipment installed in the National Stadium, or Bird's Nest, the main venue of the 2008 Beijing Olympics.
"In 2001, after Beijing won the bid for the 2008 Olympic Games, our president said he hoped our audio equipment could be installed in the Olympic stadiums and other venues in Beijing, and so we began to take necessary actions for this aim," Lu said. That was just eight years after the company was founded.
Later that year, they travelled to Beijing, and in order to further promote their product, they went to the Summer Palace and the Palace Museum as well. "Now all the pro audio used in these two places was made by Ruifeng, something we are very proud of," Lu said.
In bidding for their equipment to be used at the National Stadium, they spent months specially designing a set of models for the stadium in order to beat their rivals. Later, Ruifeng became the exclusive supplier of the sound-reinforcement system used at the 2010 Guangzhou Asian Games. In 2015, it became a listed company.
"Empty talk will lead the country astray, but hard work can rejuvenate the nation," Lu said. "We take action and work hard for our goals step by step. This is the spirit of business in Guangzhou."
Rising stars
The state-owned Guangzhou Textile Machinery Factory founded in 1956, the same year as Pearl River Piano, was not quite so lucky. After struggling for survival over many years, it finally declared bankruptcy in 2007, but the plant's story wasn't to end there. In the ruins of the abandoned factory, a creative industrial zone was set up in 2010, and in 2013, Tencent Co. Ltd. moved the headquarters of WeChat there.
Inconspicuously nestled between several trees, WeChat sits unassumingly amongst businesses of far more modest means. Although the company's products are used by around 1 billion people, almost one seventh of the world's population, only a digital screen above the main entrance displaying WeChat's number of global users suggests anything of the company's scale. A star shines when a new user registers and the whole screen becomes a night sky filled with twinkling stars.
For people living in China today, life without WeChat is almost unthinkable, and the social networking platform is gaining popularity in Southeast Asia and Africa as well. Its developer, Zhang Xiaolong, and his teammates at Tencent could not have predicted at the time that in just a few years, their creation would change people's lives in so many ways.
Guangzhou, with WeChat as its crown jewel, has long been regarded as an ideal place for startups. House prices in Guangzhou are one third those in Beijing and Shanghai, a major advantage for young talents setting out on their careers. In addition to this, the local government has implemented a series of policies to attract talent and support entrepreneurs.
According to the local port authority, Guangzhou's status as an important maritime hub has remained constant throughout its history and is now expanding rapidly, having developed links with more than 400 ports in over 100 countries and regions. In addition to the development of Guangzhou's shipping industry, authorities have also mapped out a plan to turn the city into an international aviation hub. Guangzhou Baiyun International Airport, one of the top three civil aviation centers in China, now has more than 110 routes to over 100 domestic and overseas cities.
Official statistics show that Guangzhou's GDP surged from 1.24 trillion yuan ($182 billion) in 2011 to 1.95 trillion yuan ($286.7 billion) in 2016, with average annual growth of 9.4 percent. Gross export revenue is expected to reach 518.6 billion yuan ($76 billion) by 2016. Additionally, the 5.7 billion yuan ($838 million) of foreign investment in 2016 had increased 41.4 percent compared to that in 2011.
The convenience of transportation, preferential policies and vigorous economic development have made Guangzhou a priority choice for foreign investment. Official statistics show that 289 of the world's top 500 companies have established offices in the city.
Terry Gou, CEO of Taiwan company Foxconn, recently revealed that the company plans to invest 45 billion yuan ($6.6 billion) and set up an LCD factory in Guangzhou. The factory will produce LCDs over 78 inches in size to fill a gap in China's manufacturing industry, as most of the large-size LCDs currently sold in China are imported from overseas.
Detailed plans to improve the city's transportation systems were put forward at the recent Guangzhou Municipal Congress of the Communist Party of China. Outlined in these plans were the Guangzhou Port project, the Nansha Port project, the Baiyun International Airport expansion project and 10 railway station construction projects, of which the Nansha Port has attracted the most attention.
Nansha is a wetland area 60 km from Guangzhou and has historically been of relatively little importance or renown. However, according to the official plan, this region looks set to play a pivotal role in the city's future. It boasts an advantageous location as the main gateway for the Guangzhou-Foshan-Zhaoqing economic circle, and after undergoing a three-phase construction project, the Nansha Port now consists of 16 container berths with a handling capacity of 100,000 to 150,000 tons each.
Equipped with the world's tallest shore container crane, Nansha is capable of handling Triple-E container ships, amongst the world's largest cargo vessels. The world's 21 top shipping companies have set up international routes incorporating Nansha into their networks, with the total number of domestic and international routes now reaching 81, making it the largest distribution center for domestic and international trade in south China.
Song Xiaoming, Director of the Port Co. Ltd., told the media on December 6 that Nansha will not develop its real estate industry, as many other port companies do, thus enabling the company to focus exclusively on developing its port business.
"Nansha is a shining star for Guangzhou's future," Song said. "Almost all the key cities of the Guangdong-Hong Kong-Macao Greater Bay Area are situated within a 100-km radius, so shipping and delivery costs will be lower from Nansha Port to these urban centers."
(Reporting from Guangzhou,Guangdong Province)
Copyedited by Laurence Coulton
Comments to yuanyuan@bjreview.com