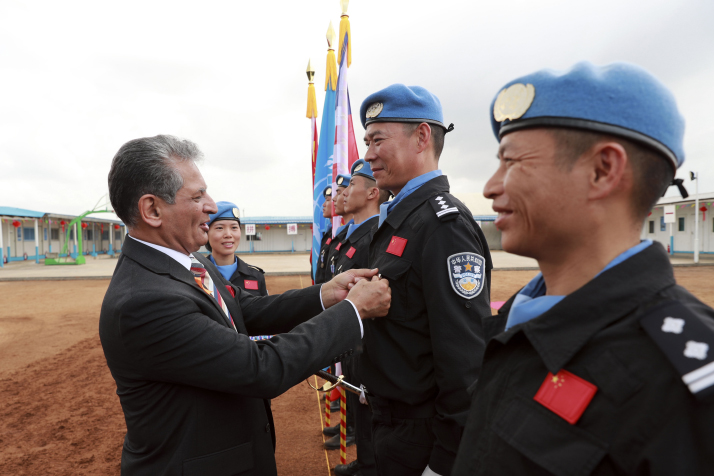 Farid Zarif (left), the UN Secretary-General's special representative and head of the UN Mission in Liberia, presents the UN peacekeeping medals to the fifth Chinese peacekeeping police team to Liberia in Monrovia, Liberia, on November 30 (XINHUA)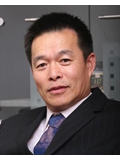 General Secretary of the Communist Party of China (CPC) Central Committee Xi Jinping said during his report to the 19th CPC National Congress that "to make new and greater contributions for mankind is our Party's abiding mission."
As early as 60 years ago in 1956, not long after the founding of the People's Republic of China and whilst the country was still steeped in poverty, Chairman Mao Zedong put forward the idea that China should make more significant contributions to mankind in the 21st century.
In 1978, during the early stages of China's reform and opening up and whilst it was still the country with the world's largest population in absolute poverty, Deng Xiaoping said China should make greater contributions to the third world. At the CPC National Congress held in September 1985, Deng predicted that "by the middle of the next century, when we are approaching the level of the developed countries, then there will have been great changes. At that time, the strength of China and its role in the world will be quite different. We shall be able to make greater contributions to mankind."
In 2002, then General Secretary of the CPC Central Committee Jiang Zemin said in his report to the 16th CPC National Congress that "to build a well-off society in a comprehensive way, step up the socialist modernization drive and make socialist China a stronger and more prosperous country, thus contributing still more to the cause of human progress, this is a historical mission our Party must take on with courage."
In 2007, then General Secretary of the CPC Central Committee Hu Jintao said in the report to the 17th CPC National Congress that by 2020, China will make greater contributions to human civilization.
The CPC is the governing party with the strongest sense of its own historic mission in the world today. The Party constitution sets safeguarding world peace and promoting common development as one of its three primary tasks. Every generation has its own historic opportunities and responsibilities, and makes different contributions to our shared history.
On March 23, 2013, Xi said at the Moscow State Institute of International Relations, "We will always follow the path of peaceful development and pursue an opening-up strategy that brings mutual benefits. We will concentrate both on China's development and on our responsibilities and contributions to the world as a whole. We will bring benefits to both the Chinese people and the people of the rest of the world."
Entering a new era
The new era of socialism with Chinese characteristics is not only an era of stepping up efforts to build a great modern socialist country, but also an era that sees China moving closer to the center of the world stage and making greater contributions to mankind. What is it that now puts China in a position to make greater contributions to mankind? It is not only because of the CPC's historic mission, 60 years in the making, but also because of China's own unique advantages and effects.
The first such effect is known by the term "economies of scale," according to which mechanism a country will make greater contributions to world development with correspondingly larger scales of population, economy, science and technology. The second, the speed effect, dictates that a country will make greater contributions to world economic growth through its own acceleration of economic and social development. Third is the opening-up effect, the rules of which state that a country will bring have an increasingly positive impact on other nations as it becomes more open to world systems and more deeply integrated in global development. Fourth is the effect of mutual benefit, which suggests that a country will see an increase in the mutual benefits of cooperation the more closely connected it is with other countries. The fifth and final effect is that of cooperation, which instructs us that a country will enjoy greater cooperation with other nations as it pursues a policy of mutual benefit and equal collaboration.
The world will benefit as China grows stronger, and the world will grow stronger as China benefits in turn. It is in accordance with this principle that China will have a significant influence on human development in the 21st century. We believe the 21st century will be one in which China will make huge contributions to humanity largely because China has demonstrated itself to have attained the above five conditions and these contributions will manifest themselves in five key areas.
Five contributions
The first of these areas is economic growth, and the 21st century is one that will see significant development in this regard around the world. Recently, China has been playing an important role in the world economy and has been contributing to global development. In the past five years, China's economic growth rates have been among the highest in the world's major economies, contributing more than 30 percent to global economic growth. It thus seems logical to assume that the global economy will be steady as long as China achieves steady growth. By 2050, China will be the world's largest contributor to economic growth, trade growth, investment growth, employment growth and consumption growth. In short, sustainable growth within China will bring huge growth opportunities outside the country as well.
The second such area of contribution will be in science and technology. The 21st century is already one that has seen significant developments in science and technology worldwide. China has been playing a key role as a global innovator and has become a major contributor to technological advancement around the world. Over the past five years, China has ranked among the world's major countries in numbers of patent applications, patent approvals and international patents, contributing more than 40 percent of the world's overall science and technology innovations. By 2050, China will have consolidated its position as a major world power in the science and technology sector as the country with the biggest financial input in research and development, and looks set to be a leader of the global innovation revolution, providing more hi-tech products invented, designed and created in China.
This century is also one that will see the world enter an era of great ecological progress. Right now, China is playing an increasingly important role in addressing climate change. Across the past five years, China has become the biggest green energy investor, producer and consumer, as well as the largest inventor of green technology in the world, contributing more than 40 percent to the world's overall green energy development. China is in the process of developing the largest environmental protection industry and carbon market, and could now be said to be leading the world's green industry and consumption revolution. By 2050, China will have achieved its aims to establish ecosystems based on respect for nature and green development, and will have successfully implemented the Beautiful China initiative to create good working and living environments for the people, [whilst having played] its part in ensuring global ecological security."
The fourth area of contribution is that of culture and civilization, our era being one that will see great exchanges of knowledge and mutual learning between civilizations. This is also an era for the renewal of the Chinese nation, and in the past five years, core socialist values and traditional Chinese culture and virtues have been disseminated more widely than ever before. Public cultural services have benefited the whole population, the culture sector itself has been enthusiastically developed, and the influence of national cultural soft power has steadily increased. By 2050, China will become a modern, culturally sophisticated socialist country, replete with Chinese spirit, Chinese values and Chinese strength, whilst conducting more extensive cultural exchanges with foreign countries and making greater contributions to human civilization.
The fifth and final aspect in which China looks set to make great contributions is world peace, and the 21st century will be one of great concord and harmony. China will continue its efforts to safeguard world peace, contribute to global development, and uphold international order. In the past five years, China has made multifaceted efforts to pursue international diplomacy with Chinese characteristics, advancing China's diplomatic agenda and creating a favorable external environment for development. It has cooperatively implemented the Belt and Road Initiative, taken part in global governance and championed the development of a community with a shared future for mankind by encouraging the evolution of a modern global governance system. With this, we have seen a subsequent rise in China's international influence, its ability to inspire and its power to shape. It is in these ways that China has made and will make great contributions to global peace and development.
Looking forward, Xi has called on the people of all countries to work together to build a community with a shared future for mankind, to build an open, inclusive, clean and beautiful world that enjoys lasting peace, universal security and common prosperity. This represents China's major objective toward resolving the difficulties of human development and building a world of universal harmony.
As mankind has entered the 21st century, we have arrived at a crossroads. In what direction is the world heading? What kind of world do we want to build? How can we build such a world? What contributions should China make, and in what form will it make these contributions? Xi, in analyzing history and the progress of mankind, has provided strategic plans and clear answers. The future of the world rests in the hands of the people of all countries and the future of mankind hinges on the choices they make. We, the Chinese, are ready to work with the people of all other countries to build a community with a shared future for mankind and to create a bright tomorrow for all.
The author is dean of the Institute for Contemporary China Studies at Tsinghua University
Copyedited by Laurence Coulton
Comments to yushujun@bjreview.com