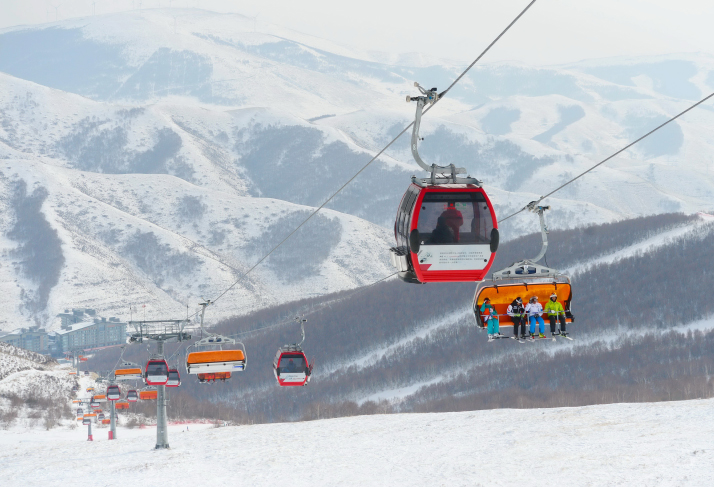 Tourists enjoy the view from the ski lifts in Chongli, the site of the 2022 Winter Olympic Games (XINHUA)
Zhang Zhenlong, a resident of Zhangjiakou, said he would never forget July 31, 2015, the day when the President of the International Olympic Committee Thomas Bach announced in Kula Lumpur that Beijing is to host the 2022 Winter Olympics alongside his home city in north China's Hebei Province.
"My first feeling when I heard the news was that it is the start of a new era for my hometown," Zhang told Beijing Review.
Just as Zhang predicted, Zhangjiakou has witnessed a great transformation over the past two years, especially Chongli, a district located north of the city where several skiing and snowboarding events, including the Olympic biathlon and Nordic combined, will be held in 2022.
Major turnaround
This is the first time Harry Gomil, a sales executive for a pharmaceutical company in Malawi, has seen and touched real snow. As a student on Beijing Normal University's international MBA program, he and his 45 classmates were invited to Chongli in November 2017 to find out how the area has been transformed. Nowadays, walking in Chongli feels like being in a European town, with rows of neat bungalows lining the main street and ski slopes on the mountainside drifting into infinity. "I was told that Chongli was an extremely impoverished district two years ago, which is really hard to imagine," Gomil told Beijing Review.
Located in the intermediary zone between the Inner Mongolia Plateau and the North China Plain, Chongli is a mountainous area that enjoys a long snow season from the middle of October until early April. Yet these natural conditions are largely unfavorable for both agriculture and industry, which has historically hindered the region's development causing widespread poverty. The 2022 Winter Olympic Games, however, are capitalizing on these resources to change Chongli's destiny.
The winter sports tourism industry gained a foothold in Chongli back in 1996, but development since then has been gradual as public interest and the athletic level of professional winter sports in China have both remained relatively low. The Winter Olympics look set to address both of these issues.
"China is rolling out a national plan inspired by President Xi Jinping to encourage 300 million people to participate in winter sports and related activities by 2022. This is a good chance for Chongli to optimize its industrial structure, increase employment and reduce poverty," said Wang Huizeng, Deputy Secretary General of the Beijing Winter Olympic Games Bidding Committee, during the campaign to host the event.
Chongli now has six nationally renowned ski resorts, with ski trails totaling 136.6 km. The district received a total of 3.5 million visitors from China and abroad in 2016, and its income from tourism totaled $373 million, constituting growth of 27 percent year on year, according to data released by the Chongli Development and Reform Bureau.
"Since Chongli was selected to host Olympic events, it has received more and more tourists, with daily visitor volume at certain times even doubled," said Wang Cheng, President of Fulong Four Seasons, a winter tourism resort in Chongli. "Many are families weekending from Beijing."
In the near future, more convenient transportation will add even more impetus to Chongli's tourism drive. The Beijing-Zhangjiakou high-speed railway, a major transportation project for the 2022 Winter Olympics, is expected to be completed by the end of 2019. The new train line, running at a top speed of 350 km per hour, will slash the travel time from Beijing to Chongli to less than one hour from its current duration of more than three hours.
Job creation
The arrival of such a large number of tourists has not only given a boost to the development of accommodation, catering, transportation and other service sectors in Chongli, but has also spawned several new emerging industries, including ski rental and ski equipment manufacturing and maintenance. The outcome is that 20,000 of Chongli's residents are working in the snow sports industry, accounting for 16.7 percent of the local population, according to the Tourism Administration of Chongli. On top of this, the lure of the 2022 Winter Olympics has convinced a large number of local people who had previously left the area to work in big cities to return home and find employment or to start their own businesses.
Official statistics show that from 2010 to 2015, the disposable income of Chongli's urban residents jumped from 12,573 yuan ($1,902) to 24,098 yuan ($3,645), while that of rural residents increased from 3,788 yuan ($573) to 7,695 yuan ($1,164).
Since graduating from university in 2006, Chongli native Zhang Zhenlong has been working in an upmarket hotel in Beijing, but he decided to return to his hometown after it was decided that Chongli would co-host the 2022 Winter Olympic Games.
"My major is hotel management, so it was hard to find a suitable position before in Chongli. Now, however, I believe I can get a job with a good salary quite easily as a lot of hotels are being constructed, and they need well-trained professionals to manage world-class accommodation facilities," Zhang said.
Visitors ski and snowboard at a resort in Chongli, north China's Hebei Province, on November 3, 2017 (XINHUA)
Lives transformed
In north Chongli's Shangwopu Village, 281 villagers will soon be moving into their new homes. In June 2016, the Ministry of Housing and Urban-Rural Development, the National Development and Reform Commission and the Ministry of Finance jointly released a plan for the construction of 1,000 towns by 2020 that can provide professional and distinctive facilities and services. Located near Chongli's ski resorts, Shangwopu has been designed to cater for winter tourism.
In the same year, Fulong Ski Resort initiated a cooperation program with Shangwopu, under which the company will build new houses for the villagers and in return the villagers will transfer their land-use rights to the company to develop ski tourism.
"Our old houses use old fashioned coal stoves for heating, which causes severe air pollution in winter. There is also no facility to take a bath or use indoor sanitary toilets," 62-year-old Li Xiuhong, a Shangwopu resident, told Beijing Review. "The new houses are equipped with a water purification system and gas powered heaters, and there will be a garbage disposal center in the new community."
According to Fulong's plan, the original site of Shangwopu will be developed into a scenic spot and the villagers' old houses will be used as hotels once renovation is completed.
"More urban residents are willing to spend their holidays in the countryside. Thus, developing rural tourism is an important method for poverty alleviation," said Zhang Jianchen, general counsel of Fulong.
Li said he is excited about moving into his new house and plans to open a store to cater for the influx of skiing enthusiasts and other tourists.
Copyedited by Laurence Coulton
Comments to zanjifang@bjreview.com