On February 1, the 40-day 2018 Spring Festival travel season, known as Chunyun in China, officially began. As the most important traditional festival in China, the Spring Festival, Chinese Lunar New Year, is a time for family reunions, and so millions of Chinese people across the country start returning to their hometowns for the celebration.
Chunyun is the world's largest human migration and China's transport authorities estimate that the railways will transport 390 million passengers during this year's travel rush. Unlike previous years, high-speed trains will make many trips home considerably faster.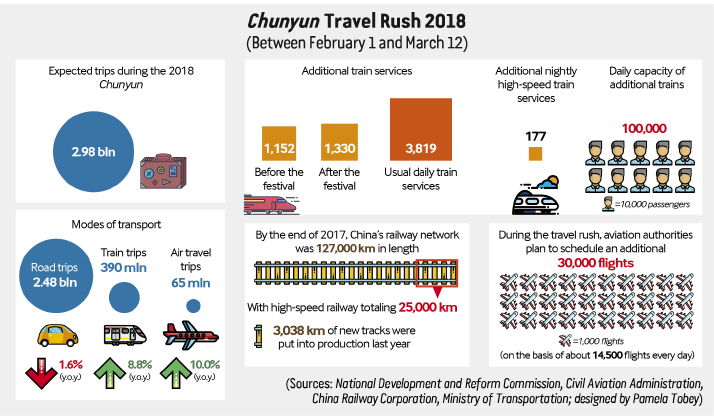 At 4:00 a.m., before day had even broken, passengers began queuing outside the east entrance of the Beijing South Railway Station. Train G4907 destined for Anqing in Anhui Province was the first train departing the station during this year's Chunyun.
"G4907 is a temporary train that will operate throughout this year's Chunyun," the train conductor Yan Tao explained. At its maximum capacity, the train can carry 556 passengers. On the first day of its operation, it had a seat occupancy rate of 80 percent and based on previous years, four or five days into Chunyun will be when passenger volume reaches its peak.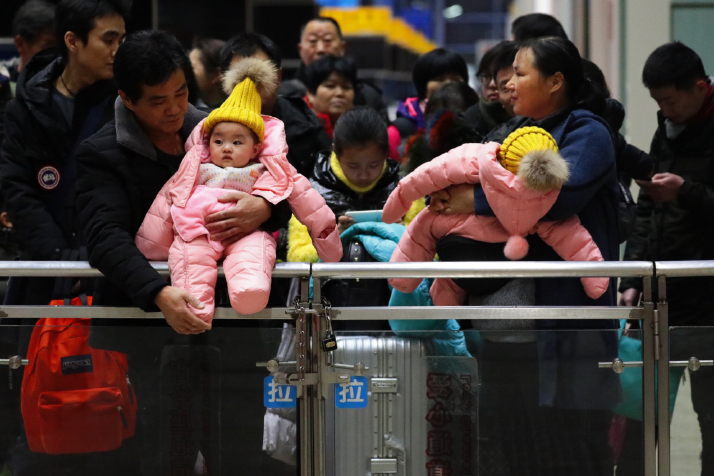 A Beijing-based couple travel with their six-month-old twin daughters to their hometown in Wuwei County, Anhui Province, for the upcoming Spring Festival (XU XUN)
According to the timetable, each day Train G4907 departs from the Beijing South Railway Station at 6:15 a.m. and arrives in Anqing at 1:19 p.m. after a seven-hour and five-minute trip. On its return journey, the train departs from Anqing at 4:45 p.m., arriving at the Beijing South Railway Station at 0:25 a.m. the next day.
Chunyun is a severe test for railway staff. According to Yan, the crew for Train G4907 must be on board as early as 4:00 a.m. on the day of departure. "They need to continue working until the train comes back to Beijing in the small hours of the following day," Yan said.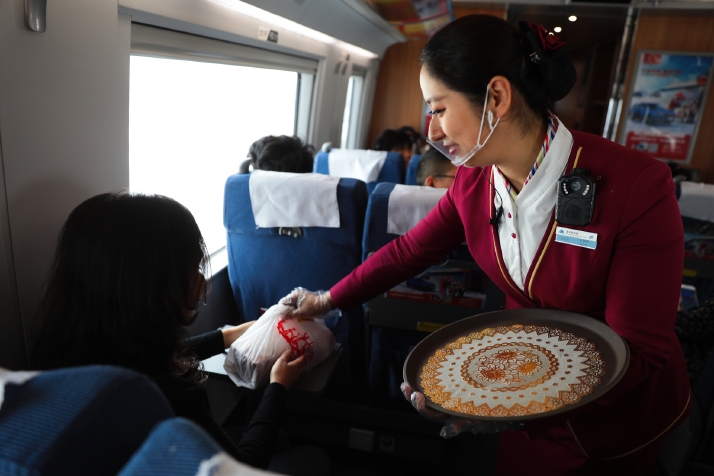 An attendant delivers food to passengers aboard Train G4907 from Beijing to Anqing, east China's Anhui Province, on February 1 (XU XUN)
Zhang Guiqin, 48, is a cleaner aboard the train and like other crew members she must work for 18 hours per shift. Her duty is to keep the carriages, aisles, toilets and seats clean. "Though a tough period, Chunyun lasts for only 40 days," she grinned. "I'm ready for it."
Xu Guozhu, 33, a native of Lujiang County in Anhui, has worked in Beijing for a dozen or so years. He took the train home with his wife and son for a family reunion. According to Xu, it now takes only six hours on a high-speed train from Beijing to Tongling, a county close to his hometown. In 2000, when he began working in Beijing, he spent nearly 24 hours returning home before that year's Spring Festival. "High-speed trains make travel more convenient and comfortable, and cut travel times considerably."
This article was originally published on China Pictorial
Copyedited by Laurence Coulton
Comments to zanjifang@bjreview.com